One of the thing that people seek in riding is comfort. Riding with comfort will help you to enjoy your ride more and also feels safer doing it. If you are often rides on your gravel bike, you may need to read this article to learn more about gravel bike apparel, along with it's clothing cut and fit so that your graver riding experience can be better!
Gravel Bike Apparel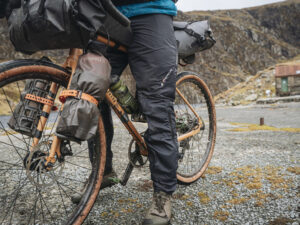 Gravel bikes, also known as adventure bikes, are primarily road bikes designed to handle a variety of surfaces, carry extra gear, and be adequate for all-day riding on less traveled roads. They are designed to be more sturdy and reliable than standard road bikes, with a wider gear spectrum and space for much wider tires. They are strikingly similar to cyclocross bikes, but there are some slight differences to be aware of.
In gravel riding, you to have it's own apparel, since most of the times gravel riding are done in more difficult terrains than road. Gravel riding has it's own gravel cycling gilet, gravel cycling t-shirt, gravel bike shoes, gravel cycling flannel, gravel baggy shorts, and many more that specially designed for a more safety on a rocky and dangerous terrains.
The range of gravel-specific clothing varies greatly, just as gravel bikes fill the gap between road cycling and bike riding, with some quirkier steeds all the way through to even more singletrack-oriented builds.
Your road or mountain bike equipment will likely probably be sufficient for a gravel ride in the very same way that a mountain bike can pleasantly scoot down an asphalt road but a road bike will do it faster. Gravel bike clothing, on the other hand, is specifically designed for the assigned task and will inevitably function better.
Because of the niche's versatility, gravel bike clothing can meet a wide range of needs. A gravel bike day can include everything from forest trails intermixed with singletrack to resilience epics such as the DK200. Gravel embraces all designs into its fold, with a preference for clothing that is at once comfy and functional. Gravel riders can choose from all these sides to make the best outfit with their own gravel expedition.
There are a lot of brands that are famous for their gravel biking apparel products, such as Polygon gravel jersey, Bellwether gravel shorts, and Fulcrum gravel clothing. These brands can be your consideration if you are planning on getting your own gravel apparels for your gravel riding later.
Gravel Clothing Cut and Fit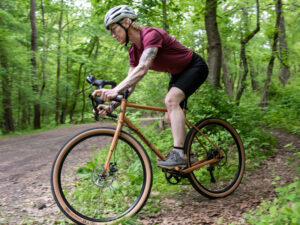 Once it comes to what cycling apparel to wear when going to ride your gravel bike, there is no true or false answer. Nothing prevents you from wearing your full road or mountain bike gear, though some major innovations may make the ride more entertaining if you choose clothing designed specifically for gravel riding.
Mountain and gravel bike setups are optimized for specific disciplines, so are the clothes that go with them, just like what road bike apparel has. The best gravel bike clothing has established its own aesthetic that distinguishes it from other types of riding.
Riders have traditionally gone skin-tight, with brands gloating about the watts saved by features such as dimpled substrates and flat joints. Pocketless skinsuits are at the extreme end of the spectrum for that additional turn of speed. The typical mountain biker, on the other hand, will be dressed in a loose t-shirt and loose fitting shorts or pants, even if there are grippy rubber Bodysuits liner shorts underneath.
Gravel bike gear falls somewhere in the middle, ranging from aerodynamically optimized gravel racing gear to more comfortable, relaxed cycling clothing for discovering that you'd be just as happy wearing to the restaurant.
The use of natural fibers to help with odor control, as well as a greater reliance on pockets for stashing gear, are common themes in gravel cycling clothing. When especially in comparison to race-fit aero road cycling gear, a baggier cut is more common in gravel cycling clothing. T-shirts and baggy shorts are more common here, frequently paired with foam padding liner trousers for saddle comfort.
T-shirts designed for gravel riding typically lack pockets, so when you need to stored spares, tools, and extra layers, it must be stored elsewhere, whether in pockets of shorts, frame bags, saddle bags, or even hip packs, or anywhere you please. Because gravel riders don't use protective gear like mountain bikers, their gear isn't as baggy or as long as Mountain bike options to accommodate knee pads and their shorts are baggy, but at the same time, also slender.
All of the major clothing companies have jumped upon that gravel bike clothing hype train, each with their own shot on what the gravel rider requires. It could be just a change to the road pack line, but there are often distinguishing features that you might find useful for your gravel riding.
Many gravel clothing brands use non-synthetic material mixtures to support with odor control and bloat properties. This is especially useful if you're intending a multi-day bicycle touring trip, and it will ease your journey since you will be smelly along the way. A few other gravel clothing also includes oxide layer materials and paneling to help shield you if you end up getting too close to the mud.
Conclusion
It is actually not mandatory for you to use a specific clothing when it comes to riding your bike. However, it is indeed a better choice to go with a clothing set that has been specially designed for a specific riding, such as gravel riding, since it will offers you more comfort and safety. If you are looking for where to get your apparel to ride your best gravel bikes, especially gravel bike Singapore, you can get it from Rodalink!
Rodalink offers a large variety of gravel bikes, such as Polygon gravel bikes, and Marin gravel bike. Rodalink also provides other riding needs, such as accessories, jersey, bike pants, eyewear, bike gloves, and socks. You can get all of that at the best price and guaranteed original.
You might also think about joining the Rodalink community to receive better discounts and offers. Rodalink can be your dependable cycling partner as you live out your adventurous riding dream right now!
Find Best Gravel Bike Apparel Now!