The trend of using gravel bikes for a ride over singletrack trails or short touring has been a while now. As an all-road bike, the chance of a gravel bike's frame to wear is equal to the potential wear of a mountain bike. Hence, to keep you will need the gravel bike frame protection to extend its lifespan.
But what equipment will you need, and how to protect your gravel bike's frame? Through this article, we will introduce you to the frame protection kit so you can tour around with your gravel bike without worrying about damaging the frame. Here is the information you will need, enjoy the reading.
What is a Gravel Bike Frame?
At a glance, the gravel bike may resemble a road bike with a drop bar handlebar. However, it has a longer wheelbase and knobby tires to allow it to grip rougher terrain better. Some gravel bikes will also come with a flat mount or carrier ready to enable riders to carry some load for daily commutes and short tour trips.
There are three common types of materials used to manufacture a gravel bike frame, such as:
Carbon fiber: the lightest and most durable material to build a bike. However, this material also costs higher than any other material;
Aluminum alloy: is the most common material used to manufacture a bike. This material is more lightweight than steel and more affordable than carbon fiber. It is also durable and stiff;
Steel: the old-fashioned bike is manufactured using this material. Nowadays, steel material is being used to build touring bikes.
Some gravel bikes are built with an aluminum alloy material combined with a carbon fiber fork, for example, the Polygon gravel bike frame. One that differentiates the Polygon gravel bike frame from any other type of bike frame is the material used. This high-quality material has undergone strict quality control before and after the manufacturing process, guaranteeing the most lightweight and durable bike frame material on the market.
Gravel Bike Frame Protector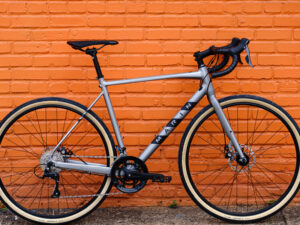 When pedalling around bumpy tracks or trails, especially while carrying a bikepacking kit, there is a higher chance for it to wear out the paint in your bike's frame. With this problem arising, several companies have begun to innovate a product that will help to protect and prevent your bike from unnecessary wear and tear.
Acknowledging that gravel bike riders often ride their bike at various ranges of terrain, these companies initiated the creation of a gravel bike protection tape with the application of mountain bike protection in mind instead of frame protector road bike, even though a gravel bike shares an almost similar geometry as a road bike.
This is because both mountain and gravel bikes can off-road riding over rough terrain. Therefore, they might be facing the same frame scratch and damage issue.
Different companies might offer various bike frame protectors. But if you consider purchasing one designed by DyedBro, for each kit, you will be getting 12 pre-cut sections grouped into:
Two pieces for the seat stay with the measurement of around 39 cm in length and 2.4cm in width;
One piece for chainstays with a maximum of 9cm long and 4.2cm wide;
Two pieces for the fork parts. The measurement is around 39 cm in length and 5.3cm in width. Additionally, this frame wrap for the fork part will be compatible with most types of bikes;
The top tube piece measures about 53cm, with two sections designed to suit longer tubes. The manufacturer says a medium-sized bike with around 54cm will need to use the large section, while the L or XL sized will require extra bits;
Down tube piece will have measurements around 42.5cm in length with a 7.3cm width;
There will also be three additional round patches for a cable rub, and you will get an installation tool.
If your bike frame comes with bottle mounts or bolts, it will be best if you remove them before installing the kit, then use an awl to create a hole for the bolt. This way, you can easily reinstall the bolt back once you have done with the kit. The DyedBro frame wrap comes with various color options that will keep your bike looking stylish while still protecting your bike frame.
Of course, DyedBro isn't the only company that offers a bike frame protection kit. There will be various other companies like All Mountain Style, Ride Wrap, and 3M bike frame protection that you can purchase.
Discover Gravel Bike Frame Protector Now!
Gravel Bike Protection Range
Usually, the protection range of a bike protection kit will cover the frame, fork, and even the area with higher risk, such as the seat post and head tube. If you are considering purchasing from RideWrap, they will have the protection kit tailored explicitly to fit and cover all aspects of your gravel bike, including the fork parts from wear and cable rub.
Conclusion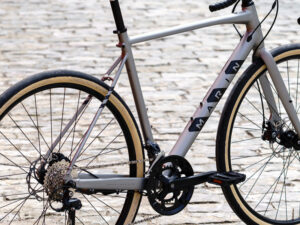 A gravel bike is known as an all-rounder bike. Since it is often being ridden around rough terrain and sometimes being used for touring, there will be a higher chance for the frame paint to wear off as a result of the excessive rub of the bag strap or bike cable.
The protective films of the bike protector kit are self-healing. Therefore, the minor scratches, heel rubbing on the chainstay, abrasion from cable, bags, or straps rubbing, the frame will immediately disappear.
You will also get the installation manual and tools to apply the protection kit to your bike easily. But if you do not have much time to install the bike protector kit, you can bring your bike to Rodalink at Jurong East and East Coast and let the professional team from their one-stop cycling shop help you with the protector kit installation.
If you are yet to own a gravel bike, you can consider purchasing the Polygon gravel bike from Rodalink, too. The Polygon gravel bike is built around a high-quality material equipped with top brands groupset to provide a great cycling experience at affordable pricing. Also you can discover more gravel bikes from another renowned brand like Marin Bikes.
The best benefit you will get by purchasing from Rodalink is that they will ensure to have your bike delivered to you in ready-to-ride form, so you don't have to assemble the bike on your own. At Rodalink, you can also find a wide range of bike accessories, parts, and apparels that will make your cycling journey safer and fun.
Quit thinking and begin to hit the road together with Rodalink. You will not have to worry about breaking your bank account to fulfill your hobbies because Rodalink is the only official distributor guaranteeing their customers the best performing bike at the best pricing. A great experience in cycling is only possible if you start it with Rodalink.
Discover Your Needs at Rodalink Now!