You probably have been familiar with the standard gravel bike that can be ridden on both road trails and gravel terrain but do you know there's also a gravel touring bike designed to support your adventurous light touring activities?
As a beginner, understanding the diversity of bike types alone is already great homework. We know the struggle, as most of us have also been through that phase. Hence, we write this article to help you quickly get the idea of what you should be looking for in a gravel bike if you ever want to ride it for a tour and what kind of setup it should have. Without further introduction, here is the information you might need. Have a good reading.
What is a Gravel Bike?
A gravel bike is the type of bike that combines the characteristics of a road bike, mountain bike, and touring bike all at once. It has flared drop bars around 6° to 20° that will give extra comfort on bumpy terrain. Some gravel bikes will also come with a rack and fender mount, making them one of the best bikepacking bikes.
For the tire parts, gravel bikes adapt the wider tire as found in cross-country mountain bikes. You might either find a gravel bike in a 700c wheel or a 650b wheel, depending on its manufacturer. For the Polygon gravel bike, you will find the 650b wheel with tread specifically designed to offer better grip and more traction over a wide range of road conditions.
The weight of the gravel bike might vary depending on the material used to build the frame. The commonly used material is carbon fiber, aluminum alloy, and sometimes steel. But generally, the gravel bike will still have a lighter weight than the traditional touring bike, widening the range of road riders can explore.
What To Look Out For In A Gravel Bike For Touring
Yes, you can ride a gravel bike for a touring activity, but first and foremost, you will have to know what type of gravel bike you are having. To determine whether or not your gravel bike is a perfect gravel bike for touring, you will need to pay attention to the followings:
Geometry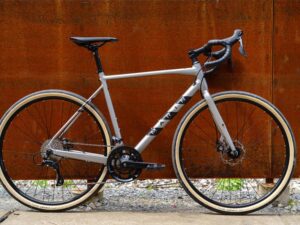 The best gravel touring bike should have a longer wheelbase for the more balanced bike when fully loaded. It should also have an extended chain stay and head tube for upright riding. In other words, when looking for a gravel bike, the geometry should be balanced between aggressive race gravel geometry and traditional touring bike geometry.
Gearing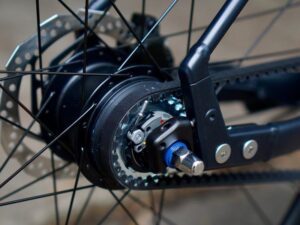 When considering a gravel bike for touring, you must look for a suitable gearing set. To accurately calculate the gear you need, it is essential to know the terrain you will be riding and consider the weight of loads you will be carrying during your trip.
A proper touring bike will come with triple 18-inches gearing on the granny gear to support climbing activity. If it is around 20-inches on the lowest gear, it can make a great loaded gravel bike. To make it an easier job for a beginner to count the gearing you might need, you can fill in details like the rim and tire size through the internet gear calculator.
Other Things Gravel Bikes For Touring Should Have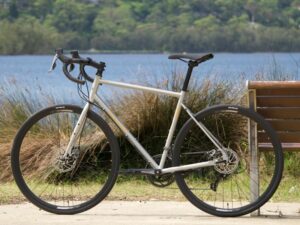 Except for geometry and gearing, when looking for the best gravel touring bikes for sale, you will also need to consider a few other things, such as the bike frame material and whether or not there's an eyelet to mount the rear front rack for panniers.
The traditional touring bike is often built with steel material that makes it robust and durable even when it has to carry lots of heavy loads. However, steel material is heavy and, therefore, doesn't meet the characteristic of gravel which could also offer a comfortable and fast ride around smooth surfaces.
Nowadays, most bikes are manufactured using carbon fiber, aluminum alloy, or a combination of both. If you are looking for the best gravel bikes under $3,000 that are well-built and equipped with high-quality components, you can consider Polygon's gravel bike, the Bend R series.
Bend R series are manufactured using the combination of aluminum alloy frame and carbon fiber fork, guaranteeing a bike that is not only light in weight but also stiff, robust, and durable.
The Polygon Bend R5 combines the lightweight and durable ALX aluminum alloy gravel frame with the group set of the top brands; Shimano GRX allows riders to easily keep their hands over the hood while rattling over rough surfaces. Shimano GRX is equivalent to the Shimano Ultegra on a road bike but with a host of details and options that couldn't be found elsewhere.
Polygon Bend R5's frame also comes with a flat mount and carrier ready, allowing you to take loads for your short trip during the weekend. The tubeless ready 650x47c performance tire enables the trip over rougher terrain with a lower risk of getting a flat. In addition, the hydraulic disc braking system gives a more powerful stopping power regardless of the road conditions.
Are you interested in getting a perfect gravel bike for touring and exploring more places that a traditional touring bike is unable to offer? Come and visit Rodalink at Jurong East and East Coast. Only at Rodalink will you find various bikes from the world's renowned brands that are high in quality at the most reasonable price.
Besides, you can get everything you need to start your cycling journey as Rodalink also offers a wide range of top brands' original accessories, parts, and apparels.
On top of that, you can also get special offers and deals by filling out the registration to be part of Rodalink community members. Start to explore every place you wish to go and begin your cycling journey only with Rodalink.
Touring Bike You Should Know