The versatility of bike types nowadays expands the possibility for the bike to make the cyclist's wish come true. But this wide range of choices might not be a good option for a beginner. To get rid of the confusion, let's learn about the differences between gravel vs touring bike through this article so you can pick your bike wisely. There you go.
What is a Gravel Bike?
A gravel bike is the type of bike manufactured with the mind to be the best of two worlds. The gravel bikes adapt to road and mountain bikes, sometimes touring bikes. At a glance, gravel bikes look like road bikes with their drop bar handlebar, but when you inspect closer, the wheelbase of a gravel bike is longer, combined with wider wheels to offer more stability over rough terrain.
Some gravel bikes come with a mounting rack or fender, making them share a little bit of tour bike functions. The gravel bike is generally better suited for light touring and adventurous rides.
Gravel Bike You Should Know!
What is a Touring Bike?
A touring bike is a type of bike designed for long-distance rides on a paved road. The more relaxed geometry of touring bikes makes them a better option for longer rides. Aside from that, most touring bikes will be slightly heavier because they are usually made of materials that will allow the bike to carry loads over a long distance.
Touring bike is often weather-proof with a load carry potential. You can ride a touring bike not only for your multi-day touring but also suitable to be your everyday commuting vehicle throughout the year, as well as accompany you for your weekly grocery shopping.
Is a Gravel Bike Equals to a Touring Bike?
While it is true that some gravel bikes can compensate as decent touring bikes, both types still differ from one another, which is pretty noticeable on a closer look. For example:
The Geometry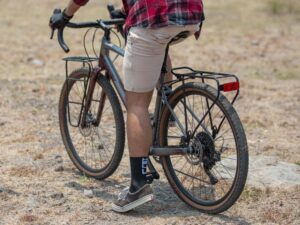 As mentioned above, the touring bike has a relaxed geometry and a longer wheelbase to support stable riding. Typically, a touring bike will have a raised seat that offers more leverage to save riders from neck and fatigue, fulfilling its role of serving endurance for long-distance travel.
In contrast, the gravel bike has a more aggressive geometry that makes it suitable for shorter rides around smooth pavement and rougher terrain. It usually has a lower bottom bracket, longer chain stays, a slacker head tube, and a smaller wheelbase to offer road maneuverability and flexibility. At some point, a gravel bike is also designed to provide endurance, except it takes rough terrain better.
The Bike Features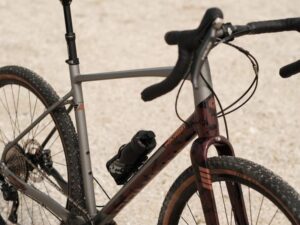 There are a few bike features that differ gravel bikes from touring bikes, such as:
The Tires
When we compare the touring vs gravel tires, the touring bike usually comes with stronger wheels for around 36 spokes to endure longer rides. It also has a robust rim to support the extra spokes and often uses the tubeless tire so it can be puncture-resistance.
On the contrary, the gravel bike comes with the average wheel for around 32 spokes with a regular tire that still offers more puncture resistance. The wider tires a gravel bike has is on par with the mountain bike, especially the cross-country mountain bike, allowing it to have extra stability during off-road riding, especially on rougher surfaces.
The Gearing
Both a touring bike and a gravel bike provide a wide range of gearing, which allow riders to shift smoothly around various types of terrains. Within the average count, the touring bike comes with 24 to 27 gears, while the gravel bike comes with an average of 12 to 18 gears. Through this information, you can conclude that a touring bike will allow riders to shift and go faster compared to a gravel bike.
The Suspension
The touring bike is more likely to rely on its robust steel frame. It rarely comes with any suspension, unlike the gravel bike, which usually has a rigid suspension to help absorb vibration when running on uneven roads like gravel roads.
The Dynamo Power
Be it the best touring bike in town or just an average one, each is designed with dynamo features to give extra power so it can illuminate the road during night riding. A gravel bike doesn't have this installed on it, but you can always substitute it with the USB bike light to illuminate your way during a night stroll around the countryside.
Are Gravel Bikes Good for Touring and Long Distances?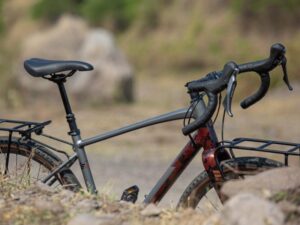 After the explanation above, you might wonder whether there's a need to convert touring bike to gravel bike. Some touring bikes might not be able to explore much terrain as gravel can take you. The traditional touring bike is specifically designed to be ridden over pavements and tarmac roads.
On the other hand, a gravel bike, at some points, is indeed capable of being ridden on long-distance touring. The thicker tires of the gravel bike allow it to handle more bumps and be stable on rougher terrain.
Besides, gravel bikes can explore more terrain that a traditional touring bike couldn't. The geometry of a gravel bike resembles a road bike offering a fast-speed ride over smooth terrain. While some people might advise you to upgrade or change some parts of your gravel bike so it can fit for long-distance riding like a proper touring bike, we don't recommend such behavior.
You only need to find a gravel bike for touring manufactured with longer chainstays (usually around 430mm to 455mm) and a stack or reach the ratio of over 1.5, preferably built with the rack and fender's mount to carry loads.
Conclusion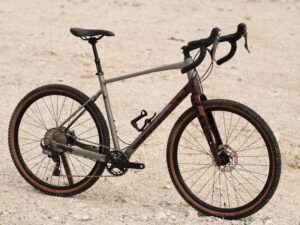 Being able to tackle various terrains makes people confuse a gravel bike with a touring bike. The similarity between gravel bike vs mountain bike is both are built with knobby tires to allow them to have better traction and handle over gravel paths or any other rougher terrain.
This trait, at the same time, makes gravel bikes a little bit more promising for some types of riders as they might be able to take them exploring places that traditional touring bikes are unable to.
On the other hand, a touring bike might share a little similarity as it is more suitable to be ridden around smooth pavement and tarmac roads. But between touring bike vs. road bike, a touring bike can't offer similar aerodynamic rides as the road bike.
If you are looking for a budget touring bike or gravel bike, you can visit Rodalink to find the best bike manufactured with high-quality components at the best pricing. At Rodalink, you can find a wide range of bike selections from renowned brands. Not only bikes, but you can also find accessories, parts, and apparel to complete your gearing and start your cycling journey.
For a beginner who doesn't understand much about bikes, you will not have to worry because the professional team from Rodalink will gladly help you to find the bike that suits your riding style and budget. Besides, your bike will be delivered in ready-to-ride form, so you don't have to struggle with the bike assembling job.
Rodalink also collaborated with Shop Back, allowing customers to buy their desired bike and pay for it later with a 0% installment charge. There will be no other trusted bike dealer that gives so many benefits and best services better than Rodalink. So, visit Rodalink and start your cycling journey right away.
You Might Like This!