As a cyclist, having to change your tire in the middle of a ride is no longer a new thing. While some find it easier to remove a tire using a tool like screwdrivers or tire levers, sometimes you might forget to pack the needed tool in your backpack. Hence you will need this tutorial on how to change a bike tire without tire levers, just in case.
When riding outdoors, there are a few other nearby objects you can turn into a substitute for tire levers, and this article will guide you on how to change a bike tire like a pro. Keep reading this article and bookmark this page to make it easier for you to get back anytime you need.
Things That You Need to Change The Bike Tire
When talking about tire changing, to be very honest, there are two mandatory things that you need to get your bike tire changed: the new tire and hand pump or CO2 inflator. In addition, you might want to prepare gloves, a wrench, and a pointed object to help you completely deflate the tire.
Some cyclists will like to put the bike tire lever on their backpack to get the tire removed quickly without having to strain their muscles. But if you don't have the tire lever prepared, don't get panicked because you can still change your bike even without any tire lever to help.
Things That Can Replace Tire Levers
If you happen to be the type of cyclist who persists in relying on tire lever assistance when it comes to removing their old tire yet happens to lose your tire lever somewhere during your ride miraculously, then you might want to have a sneak peek at this tire lever hack.
Some cyclists might get a recommendation like using spoons or knives as a few DIY tire levers in an emergency, but we don't highly recommend any of our readers to do this. Although spoons and knives are made from an exceedingly soft metal, the former is poorly shaped and isn't suitable as a substitute for a tire lever, while the latter is easy to bend and snap with a high risk of hurting yourself in the process.
Now you might be asking, "what can I use instead of a tire lever, then?" you can consider these few tips:
Use your hand: most bike tires can be easily removed by hand with a bit of elbow grease. You only need that your tire has been fully deflated to push the bead of the tire into the center of the rim all the way around on both sides of the wheel;
Use pump: Some bike pumps might have levers that lock the chuck to the tube valve. You can proceed to use it as a substitute for tire levers;
Quick-release lever: If your bike is using a quick-release axle on the rear hub, the lever can also be used as a tire lever, but you have to be extra careful if you decide to use this as it is made of a hard metal that might accidentally damage your bike;
Woods: for riders who think of using pocket knives as a subsidiary of a tire lever, instead of risking cutting your tire or even yourself when doing so, it will be better if you use the pocket knives to carve a tire lever alike out of a piece of wood you can find nearby.
How to Change Bike Tire Without Tire Levers Like A Pro
Now you have the idea to help yourself change the tire even without any tool prepared beforehand. But anyway, it is more recommended to apply the trick when you are riding an MTB. It is more reasonable to change mountain bike without levers than a road bike because it usually has a more fitted and tight tire that is hard to peel off.
Need guidance on changing tires like a pro even without any additional helping tool? You might want to follow the instructions below:
Flip Your Bike, Deflate the Tire, and Loosen the Bead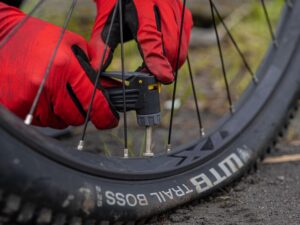 Carefully flip your bike over or put your bike on the bike stand to make you able to change the bike tire easily. If you are wondering about how to change a bike tube without taking wheel off, there is none because it makes it harder to take off the tire from the rim.
If your bike tire has been completely flattened out, you might go to the next steps without following this one. However, if you get a flat with some air left in your tire, you might have to let it out entirely. Usually, people use the pressure gauge or press the top of the valve stem using a tiny and relatively pointed object to deflate the tire properly.
Loosen the Beads and Push The Tire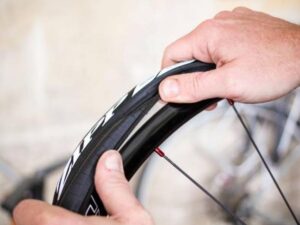 Get one tire bead into the rim's center by pushing it with your fingers and work around the bead of the tire systematically. This method will help you to remove the tire quickly and efficiently.
Once the loose beads have been successfully established, it will be easier to push the tire off the bike rim afterward. You might consider wearing gloves to get a better grip on your bike, but it is optional whether you want to use gloves or don't need them.
To remove your tire off the bead, you will have to take off the wheel from the bike before supporting the wheels of the floor using your feet while your thumb works to push the tire bead off the rim. You can also use your palm as a lever substitute. During these steps, you might want to use extra strength.
Remove the Tube and Tire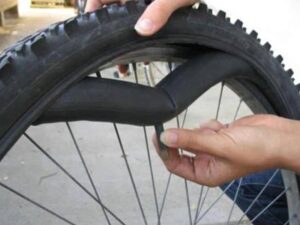 After getting one side of the tire out, it's time to remove the tube by pushing the valve stem up and pulling it out from the side. Keep doing this until the rest of the tube has been separated from the tire and rim. Once the tube has been taken out, it will be easier for you to remove the tire off the rim.
Installing New Tire and Adjust the Valve Stem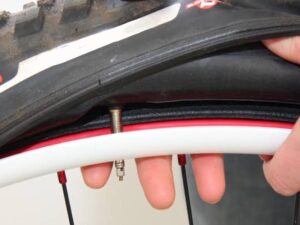 Install the new bike tire and inner tube back on the wheel. To get the inner tube back on the wheel, you can follow these steps:
Lay the tube over the side of the tire, align the valve stem with the stem hole;
Squeeze the tire where the valve stem hole is located and push it through the valve stem hole;
Pull on the valve stem and make sure most of the stem is through the hole;
Lift it up and over the inner tube to put it back on the tire;
Push the rest of the inner tube inside the bike tire.
Once you have finished the steps above, you might want to check whether your valve stem is in the straight position or not. Be careful not to have too much of an angle as it might damage the valve over time. If you need to adjust the stem, you can hold several rim spokes with one hand and pull the tire until the valve stem is straight.
Push the Tire Wall Back Inside the Rim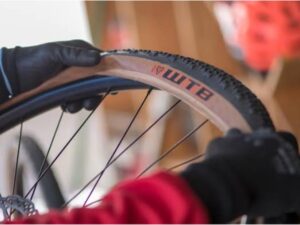 If you have come to these steps, your tube has to be already inside the tire, and it's time to push the tire wall back into the rim by following these steps:
Squeeze the tire's side and push it over the rim wall;
Hold onto the starting point in place by using one of your hands while the other one is working more of the tire inside the rim;
Once the tires have begun to hold themselves, use both hands to work around them.
Recheck and Inflate the New Tire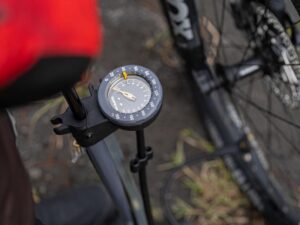 You are now succeeded in changing your bike tire without any tool. But your task hasn't finished yet because you need to check around the bead and ensure your new tire has been seated properly. You can spin your wheel to inspect the bike tire. If your new tire has successfully been installed properly to the rim, the next thing you need to do is inflate the tire to the recommended PSI pressure by using a hand pump or air inflator.
Conclusion
Changing the bike's tire is one of the essential skills any rider should learn. If you don't know how to use tire levers or you forget to get the tire lever prepared inside of your backpack, don't worry because you can still get your old worn-out replaced even without tools.
You only need to pull the wheel off the bike carefully to get better access to removing the tire off the rim. If you are the type of user who finds it hard to change Polygon bike tire—or any bike tire in general without a helping tool, you may carve a lever out from a piece of wood or take your bike to the local bike shop to get it serviced.
If you are looking for a trustworthy bike shop in Singapore, you can visit Rodalink. They have a one-stop cycling shop with a professional and experienced team to assist you with parts replacement and bike maintenance. At Rodalink, you can also find a wide range selection of bikes, accessories, parts, and apparels from the world's renowned brands.
To get a special offer for service fees and the best deal for any purchase at Rodalink, you can complete the free registration to become part of Rodalink community members. You will not only receive the latest newsletter of new arrivals, events, and deals but also get to collect points for every purchase and redeem the points to purchase discounts. There's no other place offering more benefits than Rodalink could.
So what are you waiting for? Get all the support you need for your bike and cycling journey only at Rodalink. Visit their offline store at Jurong East or East Coast right away.