Every person must have a very different needs in choosing their bikes. Sometimes, a person needs a bike that they can use both in road and mountain tracks. Thus, they do not need to own two bikes only for biking in different roads. That is why they started to look for hybrid bike buying guide to find the perfect hybrid bike for them.
If you are one of them and are new to hybrid bike, it must be confusing to choose the best hybrid bikes for yourself. Here we will inform you all of the informations you need to know about hybrid bicycle, from it's definition, features, to the hybrid bike buying guide so you can have the best hybrid bike foe beginners!
What is Hybrid Bike?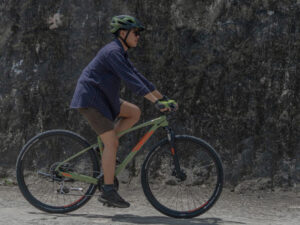 There are so many type of bikes out there in the market. Most of them are differ by its purpose and tracks they are specialize with. The kind of bicycle that can be used both for mountain and road tracks is called as hybrid bikes.
Hybrid bikes are specifically designed for the bikers that likes everything in between. For the bikers who often ride in both tracks and did not want to own two bikes at the same time, hybrid bikes are the best choice for them because they can ride both mountain and road tracks using only one bike.
Combining both mountain and road bikes best features, hybrid bike is specially designed so the bikers would be comfortable riding the bike over different tracks. However, even though hybrid bike is a bike combining the features from mountain and road bikes, the capability of each bike is different depends on it's model.
There are hybrid bikes that are more comfortable ro be rode at road tracks, while there are also the other models that are better to be road at mountain tracks. That is why there is always a debate about hybrid bike vs mountain bike vs road bike, debating which one is better to get.
Hybrid Bike Features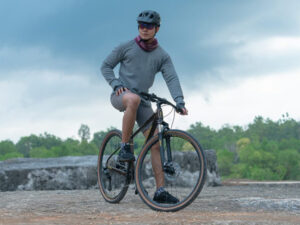 Because hybrid bike is combining the best features from mountain and road bikes, you can expect hybrid bikes to have the best features that fit your needs in biking. There are several features that distinguish hybrid bikes from the other type of bikes.
In general, hybrid bikes have tires that are narrower than those of a mountain bike but wider than those of a pure road bike. The typical thickness ranges from 28 to 32mm, but more rugged materials can reach 50mm.
In comparison to a road bike, hybrid bikes will have flat handlebars and a more upright position that let the rider sit with a straighter back. A hybrid will frequently have disc brakes because they offer more potent stopping power and are more dependable in slick conditions than rim brakes.
Most hybrid bikes will have eyelets for mounting a pannier rack and mudguards, and some may already have a rack and mudguards installed if you intend to use your bike for commuting.
Hybrid Bike Buying Guide
Before deciding to buy one hybrid bike for yourself, here are several tips you need to pay attention to!
Consider Your Budget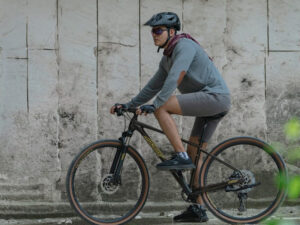 The very first thing before deciding what hybrid bike is the best for you, you need to consider your budget, Hybrid bike's prices are varied based on it's brand and model. There are several bikes that you can get for more than $1000, but there are also a lot of best hybrid bikes under $1000 that you can get if you are really on budget.
Do not push yourself to but the most expensive bike, because the most expensive ones did not always the best one and the most fitted one for you. There are still a lot of things to consider, so you need to go on budget in deciding what hybrid bike you will take.
Consider Your Size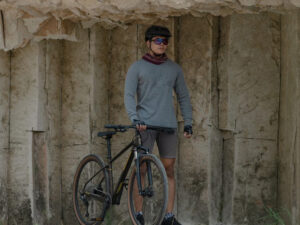 The next thing you need to consider before deciding on what hybrid bike is the best for you is your size. You need to choose the bike that is perfect fitted for your size. If you are a woman, you really need to pay attention to the bikes that are designed for women.
Numerous manufacturers will sell women's hybrid bikes with smaller frame sizes, narrower handlebars, and saddles designed specifically for women. So, you can directly go for best hybrid bikes for women if you are shopping or you can also look for reference from internet to know top 10 hybrid bikes for women before going to shop.
Consider Your Purpose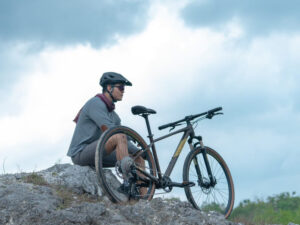 The next thing to consider is your purpose on buying the bike. If you are going to ride them on daily basis, you better get hybrid bikes that are more to the road bike type. However, if you are purposedly going to buy hybrid bike because you are mostly biking on the mountain tracks but also want to ride them on daily basis, you can get the ones that are more to the mountain bikes type.
Consider the Bike's Features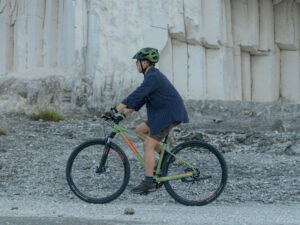 The last but the most important thing is to consider the features of the bike to fit your needs. You need to carefully consider each bike because you are going to use it for a long time. The best bike according to other people did not means it is the best bike for you. You cannot just choose the lightest hybrid bikes because you think it is the best, you need to specifically consider other features to best fitted you.
Conclusion
Hybrid bike is the best choice for riders that are going to ride their bike both in mountain and road tracks. There are several things that you need to consider before choosing the best hybrid bikes for you. If you are looking for the best hybrid bike singapore, you can get it from Rodalink!
In Rodalink, you can get your best hybrid bicycle Singapore for the best price. Not only hybrid bikes, you can also get bike sparepart, bike tire, bike accessories, bike apparel, and most importantly bike protection. All of them are at the best price and also original!
Additionally, if you spend more than S$200 on any products, you will receive free delivery. Moreover, you can buy your bike with the option to pay it off later by selecting Shop Back as your method of payment and paying 0% interest.
If you have a personal vehicle, you won't have to worry about arriving late for work due to slow traffic, and if you purchase your bike from Rodalink, you won't have to worry about its performance and quality.