Riding bikes is about comfort. No matter what tracks you are going to in your biking, you need to prioritize your comfort, because it will also leads to a more safety and fun rides. Thus, you need to upgrade your bikes to your liking and find your comfort in riding them. If you own a hybrid bike, one of the things you can do to improve your comfort is to upgrade your hybrid bike handlebars.
However, if you are new to your hybrid bike, you might still unfamiliar about handlebar. Here we provide you about some informations about handlebar for your hybrid bicycle, type of drop bars on hybrid bike, and also the best handlebars for hybrid bike!
What is Hybrid Bike Handlebars?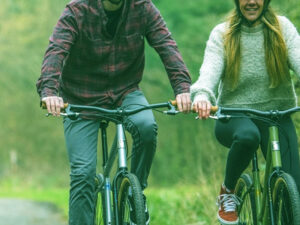 One of the most crucial parts of your road bike is the handlebar. It's one of the three main points of contact, along with your saddle and pedals, and it's extremely important because it regulates your steering and the bike's handling.
The degree of control and leverage you have over the movements of your bike is significantly influenced by the width of the handlebars. For instance, wider road bike handlebar types like drop or aero handlebars typically offer less leverage and rougher steering than handlebar types like risers and flat bars.
Because of that, you need to find the comfort handlebars for hybrid bikes, since handlebar plays a huge role in creating a comfortable rides. You need to grip on your handlebars along the way, so it is important to find the most comfortable one.
Type of Handlebars
All bicycles, including hybrid, road bikes, single-speed fixed-gear bikes, and mountain bikes, use a reliable handlebar. There are so many different kinds. Every one has special benefits and drawbacks that can make or break your biking experience. The handling, stability, and dependability of your bike are greatly influenced by the handlebars, so choosing the proper style for your riding style is crucial.
It is possible for changing handlebars for hybrid bike if you want a more comfortable ride. It is also important for you to know what type of handle bar is the best for your hybrid bike. Here are several type of handlebars that are famously known among bikers!
Flat Handlebars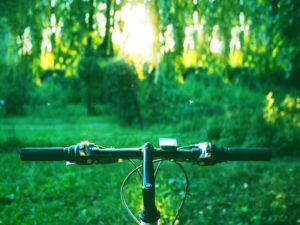 The most prevalent type of bike handlebars are flat bars, which are distinguishable by their horizontal, shallow profile. Flat handlebars are frequently found on mountain, hybrid, and an increasing number of fixed gear and urban bicycles, but the use of flat handlebars for road bike is the most known one, since it supports the use of bike for daily use.
Although flat handlebars only provide a few hand positions, they do have some advantages, including simple for new cyclists to learn on, their increased width makes steering simple and responsive. Ample space should be provided for mounting bike lights and other accessories. and easy to attach to bicycle handlebar extensions or bar ends.
When cycling, your wrists and hands are in a more comfortable position thanks to the small amount of backsweep (a 2–10 degree bend towards the rider) that many flat handlebars offer. Flat bicycle handlebars are available in a variety of sizes, ranging from mini 440mm bars for fixed gear and urban bikes to 800mm bars for downhill and mountain bikes.
Riser Handlebars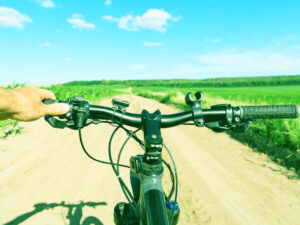 The profile of riser handlebars is similar to that of flat handlebars. However, riser bars are a particular style of bicycle handlebar that have a slight upward angle on either end, providing a raised hand position while cycling.
While riser handlebars can be found on a variety of bicycles, they are most frequently found on mountain bikes, hybrid bikes, and other urban road bikes. Riser handlebars range in width from about 850mm to as narrow as 480mm. Additionally, you can select from a variety of heights, with the typical height falling between 20 and 50 mm.
Bullhorn Handlebars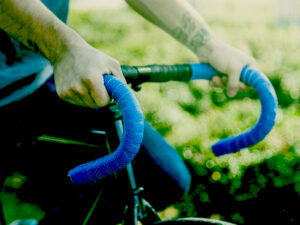 Bike handlebars with a bullhorn shape curve up and forward. Bullhorn bars typically have a slight variation called a pursuit handlebar. A typical bullhorn just curves up and forward. A bullhorn bar in pursuit curves forward, declines slightly, and then curves back up.
Bullhorn bars are not a good option for mountain bike handlebars because they offer less leverage than most due to their narrow profile, which is necessary for technical trails. Bullhorn handlebars typically measure between 360 and 480mm, which is considerably narrower than flat bars.
Drop Handlebars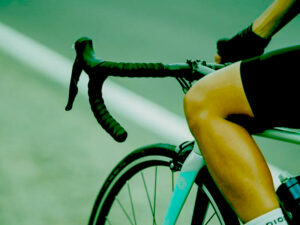 Due to their balance of great looks and versatility, drop bars are very popular among bike enthusiasts. Drops bars typically have a middle section that is straight, much like a flat bar, and an end that curves downward and toward the rider.
Compared to other handlebar types, drop handlebars offer more hand positions. They are therefore the preferred option for handlebars on road bikes because their dropped section encourages an aerodynamic tuck position, especially for drop handlebars with brake levers.
Hybrid Bike Handlebars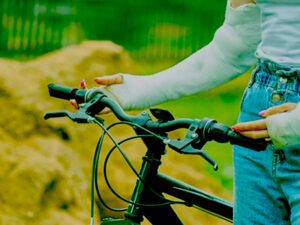 Even though you can modify your hybrid bike handlebars, not all of handlebar types are suitable for hybrid bike. The first handlebars type that is suitable for your hybrid bike is flat handlebars. Since iit is the most common type of handlebars, it goes well for every type of bike, including hybrid bike. So, having flat handlebars on your hybrid bike will most likely be the best choice.
The next type is riser or upright handlebars for hybrid bike. Riser handlebars are popular with road and urban bikes, including urban hybrid bikes, because they are wide and allow for a clear view of the trail or road in front of you. Flat and riser handlebars provide unlimited storage space for bikepacking, enabling you to attach large bike bags to your bars, which is why many cyclists prefer them.
Conclusion
One of the important parts on your hybrid bike that can help you to create a comfortable ride is handlebars. Thus, it is important to know about type of handlebars and what kind of handlebars is the best for your bike. If you have decided of what type of handlebars you are going to get, you now just need to order the best handlebars for your hybrid bicycle Singapore from Rodalink!
Rodalink offers many choices of hybrid bike Singapore, including women's bikes, bike accessories, protection, apparel, and also tires. You can get all of that at the best price and guaranteed original.
You might also think about joining the Rodalink community to receive better discounts and offers. Rodalink can be your dependable cycling partner as you live out your adventurous riding dream right now.