Comfort is one of the most important things to consider when you are biking. If you are comfortable on your hybrid bike, then you can go as far as you wanted to. One of the hybrid bike that you can modify to get the most comfortable bike on you is it's tires. Hybrid bike tires is one thing that can help you define your bike's comfortability.
However, you just cannot change and modify your hybrid bicycle, because there are things to consider before buying a new tires for your bike. Here are what you need to know about hybrid bike treads, puncture protection, hybrid bike tire, and also some easy tips before buying them!
Types of Hybrid Bike Treads
Before buying your best hybrid bike tires, the first thing you need to know is on what surfaces are you going to use it. Thus, you also need to know what type of bike treads are out there to choose that is the most suited with your biking tracks. Here are the type of bike treads you needed to know!
Smooth Tread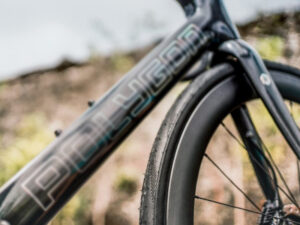 This tread pattern is primarily intended for riding on city streets. On streets and paved paths, the tire's smooth surface aids in efficient rolling and provides good traction. If your hybrid bike is more to the city or road bike type and you are looking for hybrid tires for road bike, the best type of tire tread to get is most probably this smooth treads.
Road bike tires will be slick and quick like a used car salesman, kings of asphalt & spandex. These tires can be thinner and smoother so that they roll faster due to the relative consistency of the road conditions and the bias for efficiency.
Recessed Tread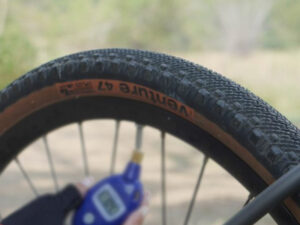 To increase traction in muddy or rainy conditions, some tires have siping or inward/recessed tread. For greater traction and confidence on pavement in all weather conditions, the channels help move water out of the way. This type of bike works really well if your hybrid bike is mostly used for commuting in every day basis.
External Tread
The external tread on commuter and hybrid tires is made with traction in mind. The best grip and confidence will be provided by a treaded design if you find yourself on unpaved or uneven surfaces. This one can fir perfectly for your bike if yours is more to the mountain or gravel bike.
What is Puncture Protection?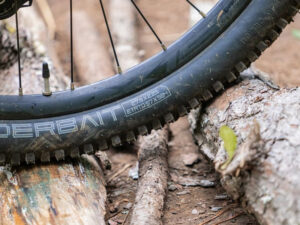 Puncturing a tire is absolutely not something you want to experience. The best way to avoid this inconvenience is to be able to properly protect the bicycle tire. New technological alternatives have recently entered the market, allowing for the prevention and reduction of punctures; however, choosing the product that is best for your needs can be challenging given the variety of options available.
Many hybrid and commuter tires have design elements that can help stop a flat from ruining your ride. Consider tires with anti-cut sidewalls to help prevent cuts and tears, robust construction with extra material in strategic locations, and sub-tread breaker belts if durability is a top priority for you or if you ride on more challenging or uneven terrain.
Hybrid Bike Tires Types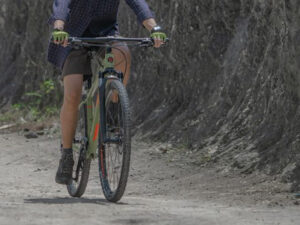 There are so many types for bike tires. They are categorized by size and bike types. However, you just cannot choose any tires for your hybrid bike. In order to provide grip and, more importantly, comfort, hybrid/commuter bike tires have a higher volume than standard road tires. They also have a puncture prevention layer beneath the tread to help prevent punctures.
Because you still want to be effective and quick through the urban jungle without sacrificing grip and comfort, hybrid tires typically still have a slick or semi-slick tread pattern.
The standard road and gravel tire sizes are 700C and 650B, while the most popular tire sizes on contemporary adult mountain bikes are 27.5 inch and 29 inch. For hybrid bike, you can look for recommendation for best hybrid bike tires 700c, or for any hybrid bike tire width you desire, such as hybrid bike tires 26 or 26 x 2 hybrid bike tires.
If you are confused of what size your bike tire is, you can just easily check it. The dimensions of a bicycle tire are easily visible on the tire sidewall. The tire bears the measurements either printed or embossed. Riders can easily determine tire size using this system, whether they are selecting new rubber or calculating the dimensions of their own tire.
Knowing the tire width is important since tire width is essential to traction and speed because the only part of bikes that touch the ground are the tires. More rubber touches the road, trail, or other surface the wider the tire is. Wide tires, like those on mountain bikes or fat bikes, use the extra surface area to provide better traction in challenging conditions. Bikes with wide tires can safely travel on muddy, snowy, or dirt trails.
For the bike tire type, you can try to get the ones for road bikes. In order to maintain a low rolling resistance, road tires are smooth and have little tread. The width of modern road bike tires, which range in size from 23mm to 32mm, is all 700C. Commuter and hybrid bikes typically use 700C tires for paved roads that are wider than 32mm wide.
Other than knowing the size of your bike tires, you also need to consider the price of the tires you are planning to buy. If you are on budget, you can try to look for the recommendation of your tire size and budget that must be plenty on the internet.
Conclusion
Bike tire is one of the most important parts of your hybrid bike. Before buying the new one, you need to know about it's treads, getting the ones with puncture protection, and also getting the right size of your bike tires. You also need to consider your budget in buying it. If you are looking for bike tires for your hybrid bike Singapore, you can get it from Rodalink!
Rodalink offers many choices of hybrid bicycle Singapore, including women's bikes, bike accessories, protection, and apparel. You can get all of that at the best price and guaranteed original.
You might also think about joining the Rodalink community to receive better discounts and offers. Rodalink can be your dependable cycling partner as you live out your adventurous riding dream right now.