Deciding on what bikes might be more confusing than you expected. Moreover, if it is your first ride and you have not decided on what tracks are you going to use the bike for. Thus, going for hybrid commuter bike as your first bike is the wise decision because the bike can be used on varied tracks that can ease you as a beginner rider.
However, buying the best hybrid bike also takes a lot to consider. In order to get the best hybrid bike, here we have the informations you needed, such as the definition of hybrid commuter bike, it's size, and buying guides that you need to pay extra attention to!
What is Hybrid Commuter Bike?
Before you buy a hybrid bicycle, you must need to know what is a hybrid commuter bike is.
Hybrid Commuter Bike Size. Hybrid commuter bike is basically the combination of road bike and mountain bike.
Road, mountain, and touring bike components are combined to create hybrid bikes, which function equally well on different surfaces. They combine the sleek, aerodynamic qualities of a road bike with the strength and robustness of both mountain and touring bikes. These characteristics work together to create a bike that is effective on a variety of surfaces.
Because of the combination that resulting on a great performance of the bike on all surfaces, most people used this hybrid for commuting. Hybrids are the best option if you want to switch to biking for your daily commute or if you want to start cycling as a new hobby.
They will provide you with a variety of terrain for weekend adventures as well as city exploration, and they will be equally at home on the road as they are off it. They appeal to those looking for a city escape while enjoying easier urban mobility because of their comfort-first design.
Hybrid Commuter Bike Size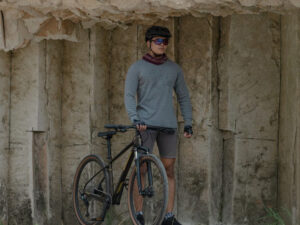 Because hybrid bikes typically have flat bars, wide tyres (28–42 mm), and high gear ratios, riders can feel at ease on a variety of gradients. Many hybrid models also come with front suspension, disc brakes, and flat or leisure handlebar, with various variations across the category. The best modern hybrids have frames made of either carbon fiber or lightweight aluminum and come without suspension.
The geometry of a hybrid bike will vary greatly because it combines elements from multiple bike types. While all hybrids have a design geared toward comfort, the addition of features like front suspension can significantly change the geometry, giving some hybrids a top tube that slopes in a manner reminiscent of mountain bikes while giving others a shape more akin to a road bike.
For the size, hybrid bikes are measured from the top of the seat tube to the center of the bottom bracket (BB). However, depending on the style of the bike, you might find that some hybrid manufacturers measure their bikes slightly differently.
Remember that you will need to know your height and inside leg measurement. Although most hybrid bikes come in sizes S, M, L, and XL, some of them also come in inches. The brand will determine how this varies and explore more Polygon or Marin hybrid bike sizing here. Always check the manufacturer's specifications, or go to our bike store to speak to a knowledgeable staff member.
If you are a woman, you may need to pay more attention to the size of the bike you are going to buy. Male/unisex hybrids are different from female hybrids. They typically have handlebars that are narrower, shorter lengths, and smaller frame sizes. The top tube may drop and meet the seat tube much lower in some instances of a step-through frame. A male/unisex hybrid may work better for you in some situations. We explain more about hybrid bike sizing in another article, click here to read more.
Hybrid Commuter Bike Buying Guide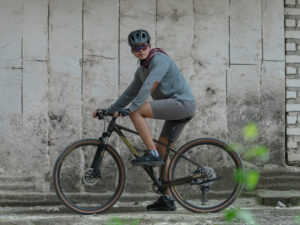 There are several important things that you need to look out for before buying bikes. The first thing is the budget you have. The more expensive the bike does not guarantee you of a better quality. You can still get the best hybrid bikes under $1000 or best hybrid bikes under $500, because you need to find the best-fit for you, and the price is not the key point to that.
The next thing you need to consider is the features and size of the bike. If you are going to use the bike for a long time, you need to get the best bike that occupied with the best features that supports your every need. A hybrid bike is categorized in those that are more to the city bikes and those that are more to the mountain bikes.
So, you need to consider your needs to get the best bikes that has the features that suits your need. You also need to get the bike that is your size, especially if you are looking for hybrid bikes for women. If the size in not matched with you, your ride wil not be as comfortable as you pictured it to be.
The last one is looking for recommendations. Even when not all recommended bikes might be the best for you, at least you can picture what bikes is on your liking. You can search for best hybrid bikes 2022, top 10 hybrid bikes, or if you are going to look for a light and comfortable bike, you can look for the recommendations for lightest hybrid bikes.
Conclusion
Hybrid commuter bike is the best bike choice if you are looking for a new bike. It has the best features from road and mountain bike that suitable for every tracks. There are also several buying guides that you need to consider. If you are looking for the best hybrid bike Singapore, such as Polygon hybrid bike, you can get it from Rodalink!
The official distributor of Polygon bikes, Rodalink, also sells bikes from other well-known brands, so check out our sites for more options of hybrid bicycle Singapore. In addition to bikes, you can find a wide range of gear to finish off your cycling items, including accessories, protection, tires, handlebar, and clothing.
Any products you buy for around $200 Singapore dollars or more will be delivered to you without any additional delivery fees. Regarding the bike purchase, the Rodalink team will see to it that the bike is delivered to your address in a ride-ready condition. In the past, cycling has been simple if you start your trip with Rodalink.
Find Your Best Hybrid Bike Now!