A hybrid bike is a unique type of bike. It comes with a lightweight frame as a road bike, equipped with plenty of mounts like a touring bike, yet having the strength and ruggedness of a mountain bike. Most important of all, there's a hybrid bike with suspension, adding its similarity with the hardtail mountain bike.
Some riders argued that having a suspension on a hybrid bike is adding unnecessary ounces of weight as it is most likely useless when being ridden on smooth streets or paved bike paths. But does it? Let's get to know more about a hybrid bike with front suspension as well as get recommendations of the best hybrid bike within an affordable price range! Have a happy reading.
What is a Hybrid Bike?
A hybrid bike is a combination of mountain, road, and touring bikes altogether, the perfect choice for casual riders, novice cyclists, and commuters who sometimes wish to go for long-distance riding to escape from urban life in their free time.
Typical of a hybrid bike is it has a thinner frame and wider seat which makes it more aerodynamic on roads than a regular mountain bike. It also has a wider threaded tire than a standard road bike. Although it might not be as fast as a performance road bike or as hardy as a mountain bike, it will suffice for riders who seek a comfortable ride for a long distance.
For riding style, a hybrid bike is designed for casual and comfortable upright riding positions making the frame come off more rigid and less lightweight than a standard road bike. They also have a shorter top tube and reach from the saddle while keeping most of the rider's weight on the saddle.
The hybrid bike is an answer for riders who couldn't afford to purchase both road bikes and mountain bikes for various reasons such as tight budgeting or doesn't have enough free space to store.
Hybrid Bike Components
When purchasing a hybrid bike, you will have to pay attention to two factors:
Bike features and components:
Bike fits
By having a thorough understanding of these two points, you will be able to find the best hybrid bikes that are worth your investment. Hybrid bike components consist of:
Bike Frame Material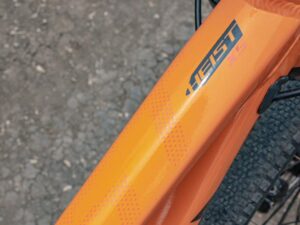 The majority of bikes are manufactured in an aluminum alloy frame. However, it is also common for some bikes to be built with steel or carbon fiber. The differences between the three materials are:
Carbon fiber: very lightweight and stronger than the steel material but is more pricey compared to both. This type of material is commonly used for high-end bikes;
Aluminum alloy: strong, robust, and lightweight. The most common material used to build a bike. It is also more affordable in comparison to carbon fiber;
Steel: heavier than aluminum but is strong with an amount of flex that offers a smooth and comfortable ride.
The Polygon hybrid bike is manufactured with the advanced technology of AL6 aluminum material. What differentiates it from any other aluminum material is it has undergone strict quality control before and after manufacturing and each process includes various tests to make sure the material offers the best quality in its class.
Hence, the bike frame made of this material is guaranteed to be the most durable and lightweight compared to any of its competitors, allowing it to produce the best Polygon hybrid bikes in the market.
Wheel Size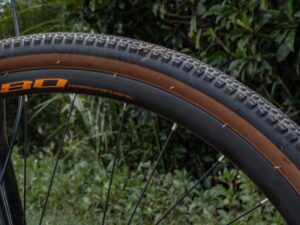 The standard hybrid wheel size is 700c but sometimes there are some exceptions. You might also find the 26-inch wheels being used by a hybrid bike. But anyways, when choosing a hybrid bike, instead of focusing on the size of the wheel, you should focus more on your riding style.
Bike Suspension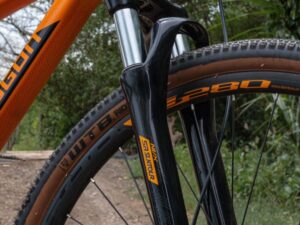 A hybrid sports bike that is mainly being ridden on smooth surface roads, it usually comes with no suspension. But there's also a type of hybrid bike that comes with the front suspension such as found in Polygon Heist X7 to help the bike absorb impact and smoothen the ride through a rougher street.
Handlebars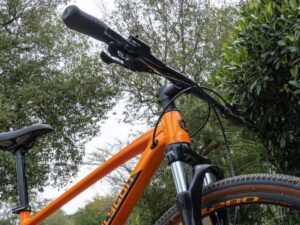 There are only two types of handlebars that are common in the hybrid bike, such as:
Flat handlebar: allowing the riders to have a more upright riding position to see the road and potential hazards, reducing strains on wrist, shoulder, and hands;
Riser handlebar: allowing riders to sit more upright and farther back for the excellent vision of the trail ahead and a good steering control over the bike.
Gears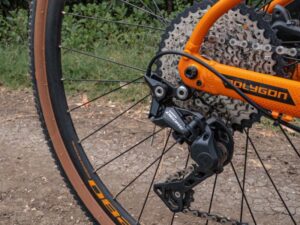 Most hybrid bikes feature the mountain bike style of derailleur gears with triple chainsets in front and a seven to ten-speed rear cassette. The purpose of having this wide range of gears offered is to give riders plenty of options at the lower and make the bike easy for climbing.
Although some higher-end hybrid sports bikes might adapt the road bike derailleur gear with compact double chainsets to accomplish a faster riding bike.
Brake Types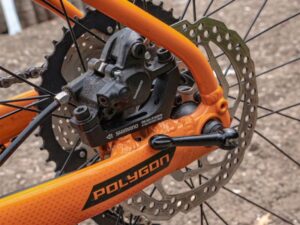 There are two types of the braking system in a hybrid bike, being:
Rim brakes: with pads that grip onto the wheel rim to stop the wheel from moving forward;
Disc brakes: with pads that grip onto the bike rotor mounted to the wheel hub. Disc brakes come in two types: hydraulic and mechanical.
All Polygon hybrid bikes are equipped with a hydraulic disc brake to deliver the most powerful braking system that can perform well under every road condition.
How Does Suspension Work?
As mentioned above, having a suspension hybrid bike benefits riders who often ride their bike on paths with multiple bumps. This is because the suspension lets the wheel move up and down to absorb small bumps while keeping the tire in contact with the ground for better control of the bike.
The suspension as found in Polygon Heist X7 is equipped with a hydraulic lockout in which the riders can lock the fork when they are riding on stable terrain in which the suspension isn't needed.
Conclusion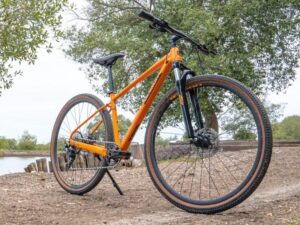 Either getting a hybrid bike with a suspension fork or not is all up to the preferences of each rider. But if you are living in an area where the road is uneven with potholes, having a suspension installed on your hybrid bike will give you a more comfortable ride.
Looking for the best hybrid bike for the money? You should have tried to look at Polygon Path 3 or Polygon Heist X7. The difference between both is that the Path series is made for riders who seek a city bike that combines the efficiency of a road bike with a specific commuter geometry. This is a perfect choice for riders who don't want to have any suspension installed on their bike.
The Heist series, on the other hand, is made for riders who are looking for a mountain bike soul inside a city bike. If you will love to have suspension on your bike, consider having a Heist series in your bike collection.
If you opt to buy the best hybrid bikes under 1000, you can either purchase a Path 3 or Heist X2 at Rodalink. Path 3 is priced at about SG$799 and the Heist X2 is priced at about SG$749.
No matter which kind of bike you are looking for, the best hybrid bike for women, the best performance road bike, the hardtail mountain bike, the full-suspension mountain bike, or even the specialized freestyle bike, you can find all of them at Rodalink.
Rodalink with a wide range of bikes, accessories, parts, and apparels selection will help you to fulfill everything you are looking for to complete your cycling necessities. You can even get special deals and offer and are eligible to join the exclusive event if you are registering to be part of the Rodalink community member.
Shopping without hassle with Rodalink and get your best hybrid bike for women or any other type of bike you need within an affordable price range. Cycling is exciting when you complete it by purchasing from Rodalink.