In riding a bike, comfort is one of the most important thing to look for, especially if you are riding a folding bike, since it's body is quite different from the other type of bikes. One thing that you can do to get the best comfort while riding your foldable bike is by getting the lightweight ones. What is folding bike? What is lightweight folding bike? What are it's type? Find out about those in this article!
What is Folding Bike?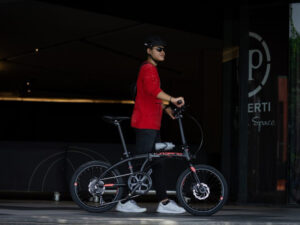 Foldable bicycle, or also often called as folding bike, is maybe the best type of bike you can own if you live in a city and only has a little space for storage. A folding bike is exactly what it sounds like, a bike that folds. They're aimed to be a storage solution for commuters and urban riders who have limited space.
Folding bikes have recently gained popularity as an excellent commuter supplement. It's simple to fold up a bike and take it on a metro train or subway, using it also for the first legs of a long commute or adventure. This convenience, combined with theft prevention and portability, has sparked renewed interest.
To make the bicycles as compact and lightweight as possible, the bike is designed to fold in two or three moves. Folding bikes are typically one-size-fits-all. Most riders will find the seat posts and handlebars adjustable. Many foldable bicycle brand will offer an extended or telescoped seat post version for those taller than a 34-35-inch inseam.
Despite having smaller wheels and different geometry, the bikes function similarly to regular bicycles. The idea is the same: pedal to go, brake to stop. Although some may initially believe that the small wheels and components indicate that the bikes are much slower than a traditional bicycle, this is not always the case.
Folding bikes are not designed for speed; the riding position is upright; however, to compensate for the smaller wheels, folding bikes can use a higher gear ratio. As a result, each pedal stroke is comparable to riding a full-sized bicycle.
There is also some effectiveness in using smaller wheels, especially when gaining speed, which makes for a better urban ride. Not to mention that smaller wheels are bigger and more powerful and can handle heavier loads.
If you have a small storage and only wants a bike for daily commute, folding bike is the best for you. Foldable bicycle price is also less pricey compared to the other bikes, even when you get it from the best folding bike brands, such as Polygon that you can get as affordable foldable bike Singapore. However, there are a lot of folding bike aspects that you can consider before getting them.
What is Lightweight Folding Bike?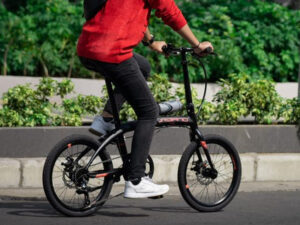 As the name implies, lightweight folding bike is the lightest folding bike you can get that will provides you comfort while riding and bring them everywhere for commuting. This is the exact bike you need if you live in city and needs to commute using several different transportations.
Many of us are not fortunate enough to live right next to a train station, which means that if you take the train to work, you will most likely have to walk or drive to the station. A folding bike can make this additional commuting time much faster and easier. Simply ride your bike to the station, fold it up, and bring it onto the train. It takes up little space and you won't have to worry about getting into the bike carriage on the train.
The average folding bike mostly weighs around 13kg, but they can range from slightly more than 10kg to as much as 15kg. When it comes to weight, fold-up bikes can vary greatly, and it is often due to the components they are made of.
A titanium folding bike, for example, can combine your desire for a lighter bike while remaining sturdy and strong. Aluminium folding bikes are also incredibly light, saving you several kilograms over a steel folding bike.
These lightweight bikes are higher priced than heavier models, but if you're looking for a budget folding bike, your bike will most likely weigh more than 13kg – though there are some affordable and light foldable bikes that you can get if you really looking for it.
Types of Folding Bike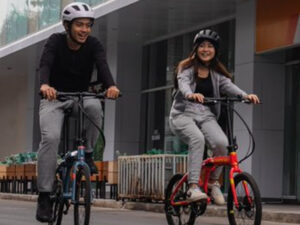 There is no specific category for folding bikes, because they differs by their wheels size. Folding bikes are classified into two types: small-wheeled, dedicated folders with 16″ or 20″ wheels to minimize size when folded, and normal-wheeled, with 26″ or 700c wheels – these are more similar to 'normal' bikes that just happen to fold to make transport easier.
Small-wheeled folders are the 'classics' of the folding bike world, mainly aimed at pedestrians and city dwellers with limited storage space. These bikes typically have 16″ or 20″ wheels and are outfitted with the usual city bike accessories, such as bells, mudguards, chain guards, luggage racks, etcetera.
While the term "folding bike" or "folder" usually conjures up images of small-wheeled urban cycles, many manufacturers have expanded the concept to include all types of bikes, offering better folding mountain bikes and road bikes that allow cyclists to get their fix while away from home. Those bikes are what it is called as full-sized folding bikes.
Conclusion
Getting the lightest folding bike might be every riders dream. However, getting ones of that costs more than the common foldable bike. If you are looking for best foldable bike Singapore (2022), especially the ones from Polygon, you can try to order it from Rodalink!
As the official distributor of Polygon folding bike Singapore, Rodalink also provides other riding needs, such as accessories, child seat, helmet, bike tires, and apparel. You can get all of that at the best price and guaranteed original.
You might also think about joining the Rodalink community to receive better discounts and offers. Rodalink can be your dependable cycling partner as you live out your adventurous riding dream right now!