Hybrid bikes might be the best bike to choose if you are new in biking and looking for the best bike to ride on different surfaces. If you are interested in getting your first hybrid bike, you may consider to get one from Marin. Here are several reviews of Marin hybrid bicycle, ones that might end up as your first hybrid bike!
What is Hybrid Bike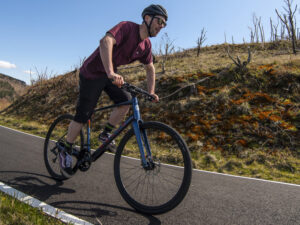 If you are really new into biking, you may never heard about hybrid bike before. A hybrid bike is essentially a cross between a mountain bike and a road bike. Hybrid bikes combine the best features of each to create an all-arounder that is comfortable and suitable for riding on a variety of terrain. They are the ideal city bike, making them extremely popular among commuters.
Due to their strength and durability, hybrid bikes are excellent for some light off-roading. However, they also have relatively thin tires and a variety of gears, making them quick on the road as well. Most hybrid bikes will have space for pannier racks and mudguards for all-weather protection as well as disc brakes for quick and efficient stopping.
Therefore, hybrid bikes are the most adaptable choice for casual cyclists, unless you specifically want a road bike or a mountain bike. They're great for riding to work during the week and ready for adventure at the weekend.
Although hybrid bikes have many advantages, one of the best things about buying one is how reasonably priced they are. A single-purpose bike, like a road bike, typically has a higher price tag due to quality and its lightweight materials and components. Nowadays, even professional riders prefer to use hybrid bikes for their daily use.
While some hybrid bikes are more like road bikes, others are more like mountain bikes. The standard wheel size on most hybrid bikes is 28 inches, which are common for road-style wheels. Some have smaller 26-inch wheels, which are more common on mountain bikes. The features you choose for your hybrid bike are determined by the type of riding you intend to do, though tires and handlebars of your bike can be changed.
To get the best hybrid bike for your first ride, you can look for recommendations such as top 10 hybrid bikes, best hybrid bike 2022, or based on the brand you want to get, such as hybrid bikes from Marin bike. You can also look for the specified recommendations for you, such as lightest hybrid bike, so you can get the exact bike of your dream.
Marin Hybrid Bike Reviews
If you have an interset in getting Marin hybrid bike, here are several reviews of Marin hybrid bikes that might be the best hybrid bike for beginners like you!
Marin Fairfax 1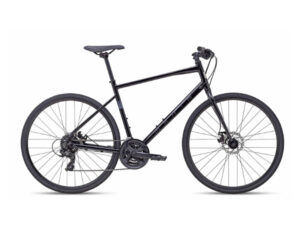 Marin Fairfax 1 was crowned as the best hybrid bike at 2021 by New York Times. This bike might also be the best bike to get if you are just started to get into riding hybrid bikes. The Marin Fairfax 1 is an affordable hybrid bike that's ideal for exercise rides on bikeway routes, mid-distance commute times, and simple weekend excursions.
It's not the most visually appealing thing on the road, but its clean blue and silver colour scheme, with yellow accents on the fork and seat tube, completes a comfortably soft frame to generate something that many will enjoy.
It performed admirably at higher speeds (16 to 18 mph) while climbing moderately steep hills, and it provided all-weather assurance during a rainy evening ride. This bike's aluminum frame, steel fork, Tektro mechanical disc brakes, 35mm tires, and a 3×7-speed Shimano combined groupset make it versatile enough for a variety of rides and riders.
Marin Fairfax weight about 28.5 lb, people who want a bike to grow with that as they begin cycling for workout or relaxation will most likely enjoy it. It also has rack and fender slots, making it simple to convert into a super form of transport. If you're looking for a new bike to ride around town for wellness and enjoyable, this (around) $699 model from Marin could be ideal.
Marin San Anselmo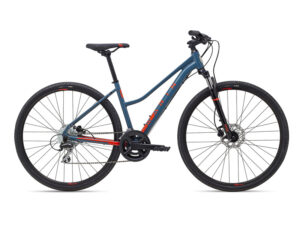 The San Anselmo has a 6061 aluminum frame with clumpy welds, but it also has a SR Suntour NEX Disc HLO, 63mm travel, hydraulic lockout, and preload adjustment fork. It's nice to see mudguard eyelets, and there are plenty of clearing front and rear even with the standard 28mm Continental Contact rubber tires.
The Marin gears occupied with front and rear derailleur, which are Shimano FD-TY710 and Shimano Acera 8-Speed respectively. Shifts are incredibly smooth, because it is occupied with MicroSHIFT TS39, 8-Speed, and Thumb-Tap, making this bike a great ride on any surfaces.
It also makes a lot of sense for more comfortable, less hardcore bike riders. It's not only more compact than a derailleur, but it also allows you to change gears while having to stand still, which is useful for stop-and-go city cycling.
Explore Marin San Anselmo Now!
Marin San Rafael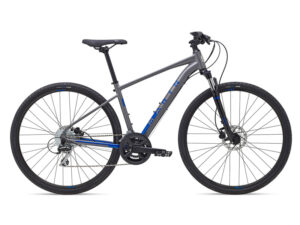 The San Rafael is built around in an upright geometry that maximizes comfort while minimizing speed and handling trade-offs. The frames combine the best of road and mountain bikes to create fast, comfy bikes that are ideal for commuting, carrying belongings, and getting all over town.
The San Rafael line has a strong spec progression, with a focus on quality and longevity at every price point. Shimano drivetrains are repairable for years of riding across the board.
Marin's San Rafael is a very well bike designed for short commutes. The Suntour front suspension fork and Shimano hydraulic brakes are both of high quality. The San Rafael impressed since it's first release, because it is equipped with Shimano FD-TY710 and Shimano Acera 8-Speed as it's derailleur. When the San Rafael was first released, its prices were considered 'on the high end,' but it can now be managed to find for a discounted price.
Conclusion
Marin is one of the best bike brands to get as your first bike. They provide several choices for a lot variety of bikes, including hybrid bike. If you are planning on getting Marin hybrid bike Singapore, and confused where to get hybrid bike Singapore, you can try to order it from Rodalink!
Aside from bicycles, such as the best hybrid bike for women, Rodalink also offers you the best quality of bike handlebar, bike tires, bike apparel, bike protection, and even bike accessories. Rodalink also collaborated with Shop Back to allow customers to purchase desired biking products and pay for them later with a 0% installment charge.
For a more advantageous purchase, you can register to be a member of the Rodalink community and receive special offers as well as be eligible to attend exclusive events reserved for members only. Prepare for a more youthful appearance and a healthier body by cycling, and let Rodalink be a part of your inspiring milestones.