Choosing a bike for your child may be just as important as choosing one for yourself. You probably have heard of the term mountain bikes (or MTBs). It is a type of bike, or style of riding, that has off-road purposes. Not any different from adult mountain bikes—just scaled down!
Mountain biking can provide several benefits for children. Mountain biking can be an enjoyable activity for the whole family. With proper precautions, it can be safe even on difficult trails. Instead, giving your child the opportunity to learn how to mountain bike from a young age will develop their ability and confidence in riding a bicycle on difficult terrain. This will give them both physical fitness and mental strength by doing something fun that challenges their abilities. Find out about Mountain Biking Benefits for Kids in detail in the article.
About Marin Kids Mountain Bikes
If your little one's bike is uncomfortable, heavy or too big for them to handle easily, they'll ride it less and love it less. But if the bike fits well—and feels great under their seat—they might just discover a lifelong passion for cycling!
Marin Bikes manufactures a wide range of children's bikes, including recreational models and more serious rides. Founded in 1986, Marin is one of the first companies to manufacture mountain bikes. Marin is well known for their range of bikes, which includes mountain bikes and kids bikes, adventure, and lifestyle models. Their reputation for innovation and quality makes them one of the most popular brands on the market.
The Bayview Trail 24" and Hidden Canyon 20" bikes are built with durable components and fun graphics—all designed to keep kids riding year after year. But it would be even better if you learn about the specifications of each of these bikes. We will discuss them one by one in this article:
1. Marin Hidden Canyon 20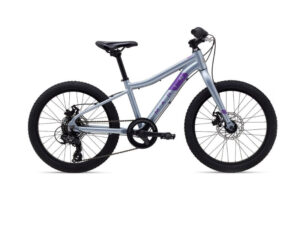 The Hidden Canyon 20″ is a full-featured mountain bike in a smaller package. It's built with quality components and fun graphics to ensure that your child will have years of riding enjoyment—whether they take it to the local trails or ride park jumps at home!
Disc brakes and 6061 aluminum frames provide excellent comfort and control, while the replaceable derailleur hangers allow riders to maintain their bikes under any conditions. The durable Shimano 7-speed drivetrain has the gear choices a kid needs to tackle trails—in an easy-to-master package with a single front chainring and intuitive twist shifter. With a grip shifter makes it easier than ever for kids to ride up the steepest hills.
The disc brakes provide the additional safety and comfort of small-sized levers, ensuring ease of use even in wet or muddy conditions. The Hidden Canyon's lightweight aluminum frame and rigid fork make it a joy to ride. Plus, wide 2.1-inch tires provide comfort that will get your kids hooked on cycling! When you choose this bike, your child will have a safe ride they don't want to end.
Explore Marin Hidden Canyon 20 Now!
2. Marin Bayview Trail 24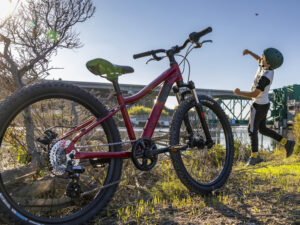 A great choice for your 8 to 12-year-old, the Marin Bayview Trail 24 puts all of the off-road technology found on adult hardtails into a package sized just right for younger riders.
These bikes feature SR Suntour XCT Jr 24″, 50mm Travel suspension forks that are appropriately sprung for small riders, and the adjustable preload springs help ensure a smooth ride. The lightweight double-wall wheels come with quick-release levers for easy maintenance and travel.
The high-quality aluminum construction reduces the bike's overall weight. Better materials are used for parts like handlebars, stems, and seats to make them light—as well as trouble-free. The stem is a threadless model rather than the traditional quill one, and it's easier to adjust.
The bike has a cage for storing a water bottle, and the seat can be raised or lowered by adjusting its height with a screwdriver. The brake and gear cables run down to the handlebars without interruption so that they won't rust if left out in rain. The freewheels found on the back wheel of most kids' bikes are now being replaced with lighter and more durable 7-speed cassette-style gears. The Altus derailleurs and disc brakes offer smooth shifting and braking for small hands.
Marin Bikes, one of the oldest companies in mountain biking, helped to pioneer many MTB technologies and has improved its bicycles over time. That's why it makes sense to choose Marin MTB's bicycles for children; they've been specially designed to ensure comfort and safety. Parents can feel confident in choosing the Marin Bicycle Company for their children's first bikes. So, if you're looking for a great MTB bicycle for your child, look no further than Marin.
If you live in Singapore and lately have been looking for a "mountain bike shop or bike shop near me", or are looking for a Marin MTB Singapore—Rodalink provides quality selections from trusted brand names like Marin. There are many Rodalink promotions running at the moment. These include 0% OCBC installments, free delivery, and Shopback, and Pay Later options. For more details on these promos visit their website now! Not only that, joining Rodalink Singapore will give you many benefits. Come on! Let's start this exciting cycling trip together!
Discover Your Needs at Rodalink Now!