You may have heard of the term mountain bikes or MTB. It is a particular type of bike or riding style that has off-road purposes. Not any different from adult mountain bikes, MTB kids bikes are just a mini version of your normal one. You might wonder, why make a mini one? Is it safe enough for kids? Let's read to find out more about MTB kids bikes and its benefits!
What is an MTB Kids Bike?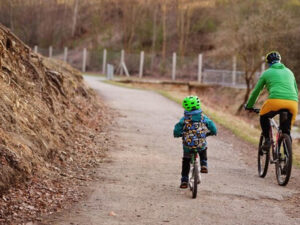 Just like a regular adult mountain bike, MTB kids bikes will have a rougher appearance compared to city or road bikes. The wheels will be taller and wider, with ridges to enhance grip on any surfaces. The frame itself will be bulkier and more rigid to better absorb shocks and stay intact when faced with various obstacles. Another differing part is MTB bikes will have suspension on either the front wheel or both, to further boost comfortability with its shock absorption ability. For MTB kids bikes, the frame size will be around 12 inches to 13 inches, with the smallest wheel size of 20 inches and can go up to 24 inches.
Kids Mountain Biking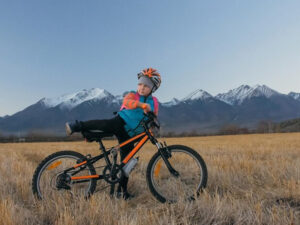 Mountain biking (MTB) is also a recommended activity to do with your kids. Even though it is considered to be in the dangerous sport category, with the right choice of trail, this can be a fun activity to do as a family! Instead, mountain biking from a young age will equip kids with great skills. Being able to ride their bike comfortably and safely on difficult terrains will give them great motoric abilities. It improves both their physical and mental health from doing such fun activities.
Riding Style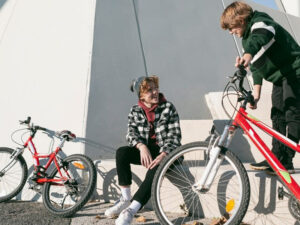 MTB kids biking can start with cycling through light dirt or gravel paths. This will introduce them to uneven terrains and practice the ability to control their bike even more. You can also look for pathways with trees surrounding it. The surrounding trees will provide some turns and serve as an obstacle. Your kids will learn how to navigate their bikes around snakey and narrow tracks instead of the typical wide and straightforward city roads. After this, you can start to take them cycling through some forest where it will have bits of fallen branches and rocks. The transition will take time as they learn further to adjust at first. As they get better, you can take them to trails with some uphill and downhill tracks. The goal is to get them used to the feeling of various rough terrain and enhance the ability to gain control over their bike. The more time they spend practicing, the better equipped they will be to cycle through more advanced trails.
To start MTB kids biking, they will have to master the basic cycling skills first. Normally, MTB kids biking can be started when kids are around 5 years old, assuming they have experienced cycling for a long period of time and have the body measurements (particularly height) to be able to ride an MTB kids bike comfortably.
Benefits of MTB Kids Biking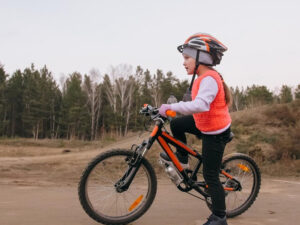 Cycling overall is a very beneficial activity and it is no different for kids. From physical wellbeing to mental health and social skills, let's uncover them one by one.
Physical Health
As the kids are cycling, they get to exercise a little bit, hence increasing their physical health. They sweat a good amount from a proper cycling activity and helps to support better metabolism. Kids are used to being active, strengthening their body and leg muscles, and have a better immune system.
Motoric Skills
Kids that are used to mountain biking will also have better balancing skills. They are used to facing harder terrains, practicing great control over their body movements and coordination.
Focus
Exercising regularly is proven to increase focus. One study found that kids that walk or ride their bike to school are more focused and better at absorbing information compared to the ones that get there by car.
Mental Health
When mountain biking, kids are able to relieve stress from the day-to-day activities. They get to go out with their family and enjoy some fun quality time together. Getting in touch with nature, breathing fresh air, and expressing themselves on top of their bike will support positive emotional and mental attitude in kids.
Social Skills
Mountain biking is usually done in a group. When facing difficult terrains, cyclists are trained to be coordinative to be able to go through the trails. Kids will learn how to communicate and express themselves when they face a challenge, practicing their patience and resilience, and giving them a good feeling when they are able to conquer the challenge.
MTB Kids Bikes Recommendations
At Rodalink Singapore, we offer MTB kids bikes from reputable brands such as Polygon and Marin. Both brands manufacture their products using high quality durable materials, giving the best performance on the market.
For smaller kids, the Marin Hidden Canyon 20 Mountain Bike Junior is the perfect fit. With a 20 inch wheel size from alloy material. It is lightweight but able to absorb shocks effectively, making it comfortable for young cyclists to ride. Even though it is a kids bike, the brand still offers the high quality Shimano Tourney mix components, with 7 speed options, and disk brakes that provide smooth and controlled stopping in all conditions with minimal maintenance.
For bigger kids, you can choose the Polygon Relic 24 Mountain Bike Junior. Made from special Polygon-owned AL6 material, it is rigid and able to handle any obstacles. It has the bigger 24 inch wheel and 12 inch frame size, with Shimano RD mix, offering 8 speed options.
Shop for high quality MTB kids bikes at Rodalink Singapore! You can visit our offline store to browse the selection in person. For easy navigation, look up "bicycle shop near me" and select between the Jurong East or East Coast location. Conveniently shop anytime and anywhere via our Rodalink Singapore website as well. You can enjoy special payment methods from ShopBack It, Pay Later, or 0% installment from OCBC. Also, sign up to become a member of Rodalink Community to collect points and enjoy exclusive promos as well as events, from your very first purchase. By shopping online, you can also enjoy free shipping for non-bike products. There is also a sale live on our website now for bike parts and accessories. Shop now while the promo lasts!