As someone highly interested in mountain biking, you should have been prepared with the knowledge of mountain bike component hierarchy to find the best-performing mountain bike that matches your riding style or upgrade your current mountain bike so it feels like new. You can also use this component hierarchy info to manage your budget before purchasing.
When we talk about bike components, one of the top brands whose quality has been approved by cyclists around the world is Shimano. How many types of Shimano groupsets are there? Do you want to know at which level your current groupset is in the Shimano groupset ranking? Keep reading this article to the very end to discover the answer.
Component of Mountain Bike Groupset
When it comes to mountain bikes, most bike manufacturers will mix and match parts from various groups to build a bike. Sometimes, the parts come from a different group of the same brand, while others are from entirely different brands. The goal is to help the bike meet the intended use criteria within a specific price point.
The components inside of a mountain bike groupset include:
Mountain Bike Crankset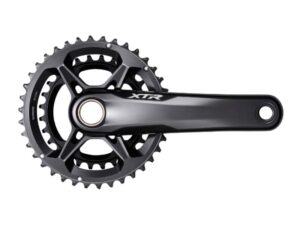 In general, the mountain bike crankset can be divided into three categories according to the number of its chainrings, such:
Triple Crankset
The old and classic one is this triple crankset with three chainrings. The largest chainring is usually around 42T to 44T outer ring, while the middle chainring ranges between 32T to 34T, and the smallest chainring is often around 22T to 24T.
However, you will hardly find this type of crankset on a higher-end mountain bike in the modern era as the popularity of single and double cranksets has slowly dominated the market.
Double Crankset
Back then, when both Shimano and SRAM, two of the top companies to manufacture bike components, announced the release of 10-speed drivetrains, the popularity of double cranksets has also become successful in replacing the triple crankset.
With the smaller inner ring that comes around 22T to 28T with larger outside cogs around 34T to 36T, the double crankset is well-suited for mountain bikers who also seek a light speed. You can find this double crankset from entry-level bikes through higher-end models.
Single Crankset
When talking about the most recent trends for mountain bikes in recent years, most cyclists have been influencing the movement from wide-range drivetrains into a single chainring. The expected introduction of a single crankset is often referred to as "one-by" (1X…—speed). This type of crankset is extremely popular among downhill mountain bike cyclists.
The chainring size ranges vary depending on the intended use. For example, the 38T chainrings are suitable for cross-country racers, or the 26T to 28T chainrings are used for some fat bikes. However, the 1x drivetrain commonly uses 30T to 32T chainrings.
Mountain Bike Bottom Bracket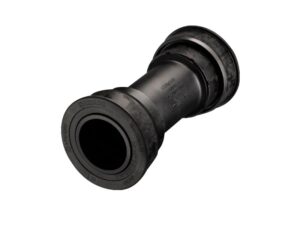 This part connects the bicycle crankset to the bike frame so it can rotate independently. The bottom brackets are either threaded or pressed into the bottom bracket's shell. In modern design, the bottom bracket is usually a service item.
Mountain Bike Cassettes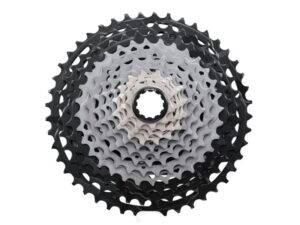 The bike's intended speed and price determines the choice of cassettes. These cassettes usually refer from the smallest to largest cogs to label their total range, for example, the 11-32T spread, 10-50T spread, 10-51T spread, and many more. Most mountain bikes favor the usage of widespread gears to make climbing easier, except the downhill bike, which is often equipped with narrow-range cassettes.
The Shimano XT groupset and SLX groupset, for example, offer an 11-speed with 11-46T ranges of gears. The XTR, XT, and latest SLX of 12-speed are coming with 10-51T gearing options.
Mountain Bike Chain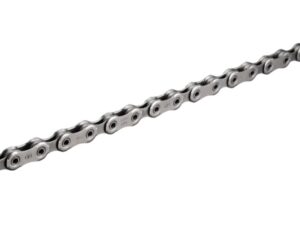 The type of chain needed for your bike will depend on the number of your gear. Hence, it is crucial to run a chain designed according to the number of your drivetrain set. The chain of higher price range often offers smoother and more durable. It also usually comes with corrosion-resistance coatings and weight-saving hollow links and pins.
Mountain Bike Derailleur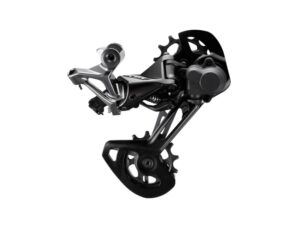 The components that move the chain between cogs on the cassette and chainring on the crankset are called derailleurs. This component moves along with the shifter cables and repositions the chain into a different gear. However, cables aren't the only trigger to control derailleurs of a modern mountain bike as there are innovations of electrical actuated derailleurs.
Mountain Bike Shifter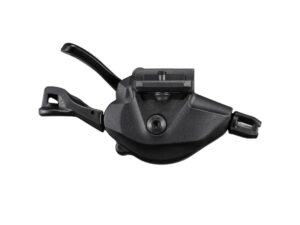 The Shimano groupset has an ergonomic lever that allows riders to shift the lever using their thumbs so riders can shift the gear without leaving their index finger off the brake lever. The Shimano Di2 groupset uses electronic switches with Synchro Shift technology, allowing riders to use a single shift lever to control the front and rear derailleur.
Mountain Bike Component Hierarchy
Shimano, as one of the biggest bike components manufacturing companies, has produced a wide range of groupsets for mountain bikes, road bikes, gravel bikes, commuter bikes, and other types of bikes.
The price range of these groupset differs from one another, depending on the performance quality and technology it offers. Before talking about price range, here is the Shimano groupset MTB hierarchy to help you differentiate each type:
Shimano XTR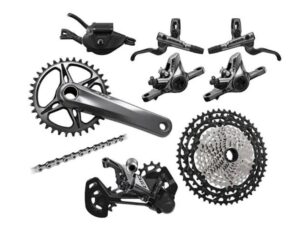 Shimano XTR is one of the flagship components of the Shimano groupset. It features multiple-click shifters also available in the Shimano Di2 electric shaving setup. Usually, the Shimano XTR groupset is installed for cross-country mountain bikes, marathon, trail, and enduro bikes.
If we were to talk about the Shimano MTB groupset price list, these Shimano XTR groupsets would command a price of around $1,300 and above.
Shimano Deore XT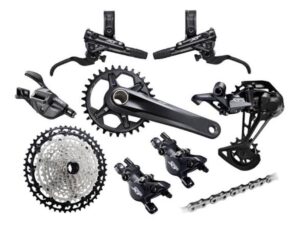 This Shimano XT groupset is suitable for a cross-country mountain bike, trail mountain bike, and all-mountain type of bike. It has a crisper shifting, increasing power transfer, and general refinement. The Shimano XT is usually equipped with a 12-speed cassette and 10-51T crankset with single or double chainring options.
Shimano SLX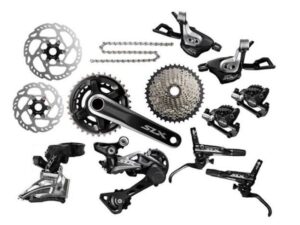 Shimano SLX is the top three groupsets of Shimano's mountain bike components hierarchy suitable for cross-country, trail, and enduro types of mountain bikes. It offers a smooth shifting and durable option packed with the high technology features of Shimano's groupset. The Ice Technology disc brakes maintain the bike rotors to keep cool despite the long rides over rough terrain.
Shimano Deore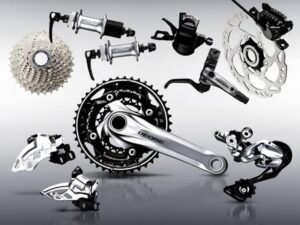 Shimano Deore groupset is known as the most approachable mountain bike core component. The 12-speed crankset only had one front chainring, while the 10-speed and 11-speed options came with single and double chainrings, often equipped for cross-country, trail, and enduro mountain bikes.
Despite it being one tier lower than the SLX, Shimano Deore is also offering quality performance and reliability. While some people label it the entry-level groupset, it serves a quality that is just as satisfying as the higher flagship.
Aside from Shimano Deore groupsets, there are also Shimano Alivio, Acera, and Altus that are usually found in cross-country bikes.
Conclusion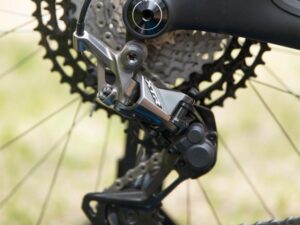 Different types of groupsets will affect the quality of your rides. Most bike manufacturers will also combine parts of a groupset while building a bike so it can meet up the request to offer a quality ride in certain terrains at the desired price range.
If you are looking for a mountain bike that offers a high-performing quality suitable for your riding style, you should try visiting Rodalink and looking at their mountain bike collection. Most Polygon mountain bikes are equipped with top brands like Shimano, SRAM, or Tektro.
The interesting part is that each Polygon bike offers an affordable price range. It is not exaggerating to say that the Polygon mountain bikes are not only the lightest and most durable product but also provide the best pricing among other bikes from competitors within the same level.
By purchasing at Rodalink, you will be guaranteed only to get the original products. For every SG$200 purchase amount for non-bike products, riders will get free shipping services. If you are under tight budget control, you can also opt for their buy now and pay it later using the Shop Back payment method and get the 0% installment fee.
You can also consult with the professional team at Rodalink and let them assist you in finding the best bike that suits your riding style and budget. Start your incredible cycling journey by directly paying a visit to Rodalink at Jurong East and East Coast.
Mountain Bike You Should Know!