If you wish to have a capable bike for daily commuters exploring local parks and trails that are beginner friendly, the cross-country mountain bike should be one of the best options. But before you impulsively buy any cross-country mountain bike shoved by sales, read this Polygon Cascade 4 review to widen your options and consider having the one suitable for you.
Get to Know About Cross-Country Mountain Bike
A cross-country mountain bike is often put in the range of easy to intermediate-level mountain bikes known to be beginner friendly. With a cross-country mountain bike, riders' physical progress is more needed than the technical abilities—riding on technical terrains requires another type of mountain bike, anyways.
Typically, cross-country bikes will come with one suspension on the front fork, known as the hardtail mountain bike, while some others come with full suspension in the front and rear, which is known as the full-suspension mountain bike. The length of suspension in a cross-country mountain bike is usually 120mm, and the geometry of a cross-country mountain bike tends to offer more upright riding than a road bike.
The Polygon Cascade Series
Polygon, one of the biggest bike manufacturing companies in Asia, is releasing a series of bikes to fulfill the riders' wish to have an all-rounder bike that will perform well on everyday commutes while giving a great experience of feeling the mountain during weekends.
The modern geometry of the Cascade series, combined with the lightweight and durable AL6 alloy materials, offers a more comfortable ride. For more detail, you can read the description of Polygon Cascade 4 2022 specifications below. But before that, there's trivia for beginners to ease confusion.
It is common for manufacturers to attach the year ahead to the production year. For example, the Polygon Cascade 4 2021 might not be manufactured and released in 2021 but a year before.
So, without furthering the introduction, here is the detail of Polygon Cascade 4 bikes:
Bike Frame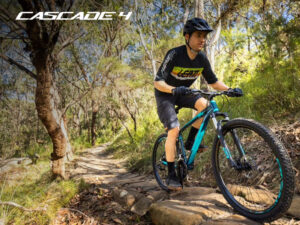 The Polygon Cascade 4 2022, or its older version is manufactured with a full AL6 6061 aluminum alloy frame. It has a modern cross-country mountain bike geometry, providing more upright riding positions that boost comfort during the ride with a slanting top tube and taller built for more clearance off the ground.
The best part of Polygon bikes in terms of aesthetics is that their bikes always have a beautiful glossy paint finish in the best color choices that will fit both men and women cyclists.
It has thin seat stays and chain stays, making the bike lighter in weight yet still strong enough to withstand the vibration from the surface.
Suspension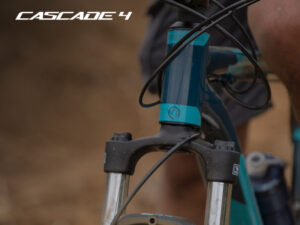 The Cascade 4 is a hardtail cross-country mountain bike with front fork suspension. If you have read about the 2021 Polygon Cascade 4 review before, you will discover that this bike is equipped with the Suntour XCE front travel in 100mm and a pre-load adjuster. This suspension gives riders a more comfortable ride with better handling and control over rough terrain.
Wheel Size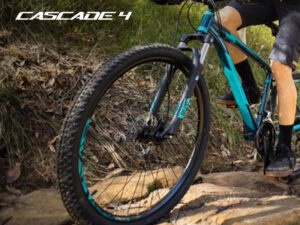 The 27.5-inches wheels of Cascade 4 come with heavily treaded tires for the 27.5″ standard, offering more grips and support for better rollovers. The tires can also generate lots of tractions, even over wet trails.
Groupset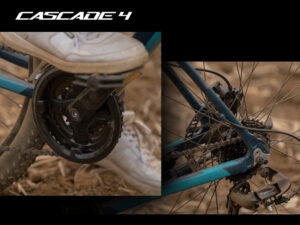 The Cascade 4 is coming with the Shimano Altus MIX groupset in 3×8-speed, offering a comfortable ride at any speed across various terrains. The Rapidfire Plus features in the shifter allow riders to downshift three gears in one stroke.
Braking System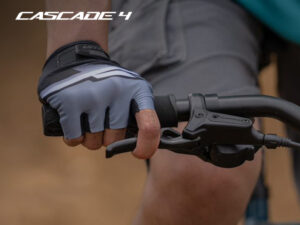 Cascade 4 is equipped with the Tektro Hydraulic Disc Brake, giving the powerful and balanced feel that is very dependable, especially when riding over wet weather conditions. It allows you to perform powerful braking even during fast-paced trail rides, improving your confidence during the ride.
Handlebar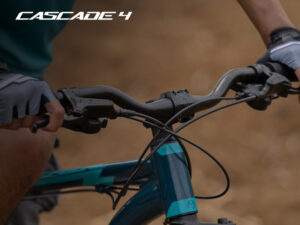 The Entity handlebar in 680mm is wide enough for a comfortable ride with a slight raise from the middle to keep riders in comfortable upright riding positions.
3 Reasons to Get Polygon Cascade 4
After reading the 2022 Polygon Cascade 4 review, you can see that this bike is a reliable bike for beginners. To make you more confident in making purchase decisions, here are a few reasons why you should get Polygon Cascade 4:
Light and Durable
Cascade 4 is manufactured with an AL6 alloy frame. The AL6 alloy material is the 6061 aluminum which the tubing process has undergone the strict quality control process by the manufacturing team of Polygon. Once the frame is built, the team will work on the impact testing to ensure that the bike is not only lightweight but also strong and rigid.
Best Components
Cyclists worldwide should agree that the Shimano groupset is long-lasting with high performance. Although Cascade 4 is equipped with the entry-level groupset used for a cross-country mountain bike, it indicates that Cascade 4, as a hybrid bike, will perform well for flat trail riding and urban commuting.
It can run fast on flatter surfaces and still be able to roll over rougher terrain while still ensuring the rider's comfort.
Affordable
It is not exaggerating to claim that Polygon is the only bike manufacturer that offers bikes with the best-performing components at the most affordable pricing. Most of their bike components are from the top brands, but cyclists can get the Cascade 4 at only the SG$549 price range. No bike company can offer such an affordable price without compromising the bike quality like Polygon.
Conclusion
Cascade 4 is coming with a 27.5″ wheel for less rolling resistance but combined with the fully treaded tires to grip a rough terrain better, making it one of the perfect choices for riders who want to get a best-performing bike for daily commuting while still wishing to get a better feel of the mountain during the weekend.
If you are looking for a cross-country mountain bike with lower gearing than Cascade 4, you can look at the Polygon Cascade 3 review where you can have the 3×7-speed Shimano groupset with SG$100 cheaper than the Cascade 4.
Whether you are deciding to get Cascade 3 or Cascade 4, get the original piece only at Rodalink. By visiting Rodalink, you can make a consultation with their professional team first. That way, you can get the bike that suits your needs.
Rodalink also has a one-stop cycling shop which makes it easier for your annual bike maintenance. You can also register as part of the Rodalink community members to get special offers and deals. Besides, you will be eligible to join exclusive events for members only and be the first to get an update on the new arrival and latest news of Rodalink's products.
Aside from bikes, Rodalink also offers a wide range of accessories, parts, and apparels products to support your cycling activity, making them the best partner you can rely on for the best cycling experiences. Come and visit Rodalink and get your dream bike right away.
Get Your Free Shipping!