No other bike is perfect for beginners better than the cross-country mountain bike. A cross-country mountain bike, especially the hardtail one, offers a comfortable ride while riding over singletrack and still feels good for daily commutes. However, before you compulsively buy a cross-country mountain bike, you might need to read this Polygon Cascade 4 vs Premier 4 review and put them both on the list of bikes to consider having.
Polygon Cascade 4 Specs
Cascade 4 is manufactured to fulfill riders' wish to have a bike that performs well for daily commutes and can give a great experience to feel the mountain trail during the weekend. Here is a more detailed specification of Polygon Cascade 4:
Bike Frame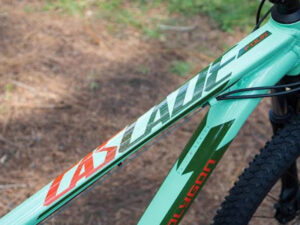 Polygon Cascade 4 is manufactured with a durable and lightweight full AL6 6061 aluminum alloy frame. The slanting top tube and a taller build offer more clearance off the ground. The modern geometry of the cross-country mountain bike from Cascade 4 gives riders a more comfortable ride.
Polygon Cascade 4 comes with a beautiful glossy paint finish in a neutral color choice that will fit both female and male riders. The thin seat stays and chain stays of Cascade 4 make it strong enough to withstand vibrations from rougher surfaces while maintaining the lightweight trait.
Suspension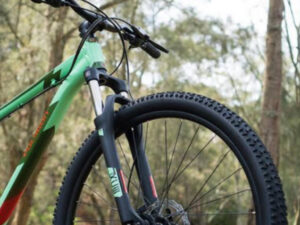 The Polygon Cascade 4 is a hardtail cross-country bike equipped with the Suntour XCE with 100mm travel and a preload adjuster that gives the rider a more comfortable ride with better handling and control over rougher terrain.
Wheel Size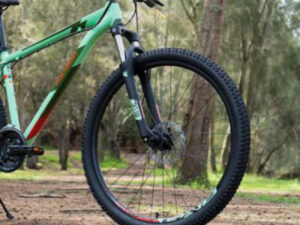 This bike is built with a 27.5″ wheel size with heavily treaded tires allowing the bike to have a better grip over the surface, lower rolling resistance, and support better rollovers.
Groupset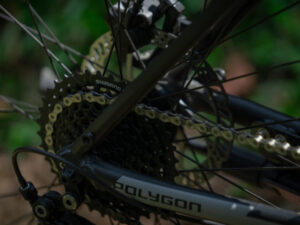 The Polygon Cascade 4 used a Shimano Altus MIX group set in 3×8-speed, which allows riders to ride at any speed across various types of terrain comfortably. This groupset is featured with the Rapidfire+ shifter that enables the rider to downshift three gears in one stroke.
Braking System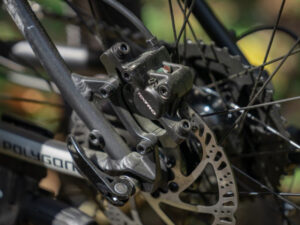 Understanding the need for improvement in confidence level, Polygon Cascade 4 is equipped with Tektro Hydraulic Disc Brakes, giving a powerful and balanced braking system that is highly dependable even when riding over a wet surface.
Handlebar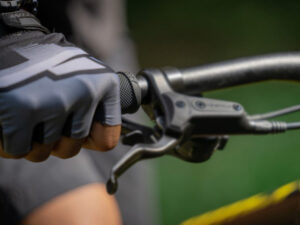 Polygon Cascade 4 is equipped with an Entity alloy handlebar of 680mm in length, slightly raised in the middle, to keep the riders in upright riding positions.
Polygon Premier 4 Specs
Polygon Premier 4 is another series of Polygon cross-country mountain bikes that should also make it to your list when considering the best beginner bike. Below is the detailed specification of Polygon Premier 4:
Bike Frame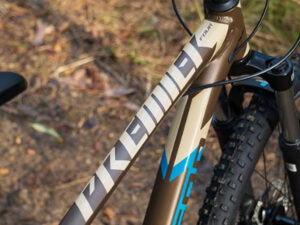 For the frame building material, there's no significant difference between Polygon Premier 4 and Polygon Cascade 4. The Premier 4 bike frame is also built around the durable and lightweight 6061 aluminum alloy material produced through the Alutech technology of Polygon. This manufacturing technology guarantees the Polygon bikes have the most robust and lightweight bike frame that can last the test of time.
Premier 4 has a modern geometry that provides comfortable leisure riding. The semi-internal cable routing also gives this bike a neat and stylish look.
Suspension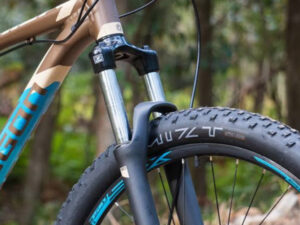 Polygon Premier 4 is also a hardtail mountain bike, equipped with a Suntour XCM suspension fork on 120mm travel which makes a ride over a bumpy road more forgiving and bearable.
Wheel Size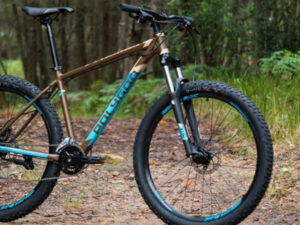 This 27.5″ wheel size cross-country mountain bike is equipped with 27.5″ x 2.10″ tires which are heavily treaded with bulky trades, giving the tire a better grip over rougher terrain and still able to roll faster over smooth pavement and flatter surfaces.
Groupset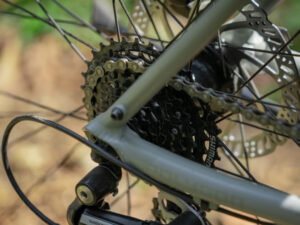 From the 2021 version of Polygon Premier 4, the number of chainrings has changed from three to two. Nowadays, you are more likely to find the Premier 4 series with the Shimano Acera MIX 2×8-speed groupset, which has a reliable and quick shifting operation with a wide range of gearing.
Braking System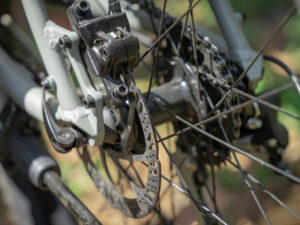 Forget about brakes that will produce scratching noise or bike surge during the braking process because Premier 4 is equipped with the Tektro HD-M275 hydraulic disc brakes, where a slight pull on the lever will slow down the bike at any surface conditions without producing scratching noise.
Handlebar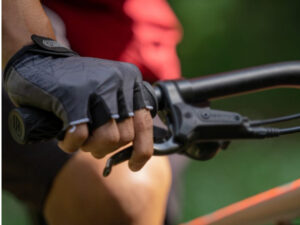 The Polygon Premier 4 is built with an Entity Sport alloy handlebar with 780mm length that provides a comfortable grip and better handling when being ridden for urban commuting or running over rougher trail tracks.
Polygon Cascade 4 vs. Polygon Premier 4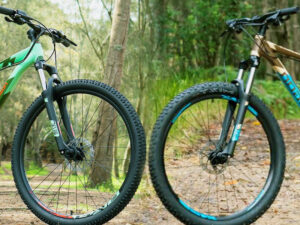 Cascade 4 and Premier 4 fall into the same category as the entry-level cross-country mountain bike. Hence, it is common to compare these two just like how we usually compare Polygon bikes of various series to find the ideal one for you to purchase.
The Premier 4 with Shimano Acera MIX 2×8-speed will provide a smoother feel while climbing over trail tracks. While the Suntour XCM suspension of Premier 4 is yet to feature the hydraulic lockout like those in Polygon Premier 5, it can still absorb the vibration over a bumpy road and provide a comfortable ride for cyclists.
However, this doesn't necessarily mean the Cascade 4 is not any better than the Premier 4. After all, both bikes have significant cost differences, which result in different featured components.
Some groups of people might frown over our decision to write this article while thinking of why we are comparing two bikes with different hierarchies when we can compare Polygon Premier 5 vs Premier 4 instead. To answer your confusion, we want to point out what changes a few hundred dollars can bring to the bike you will get, just like what we did for Polygon Premier 5 vs Xtrada 5.
When you are spending on a higher costing bike, you will get a bike that is worth the cost. But that doesn't mean a bike with a lower price is terrible. Polygon always ensures its customers get the best-performing bike at an affordable price. Regardless of which type of bike you will purchase from Polygon, they are guaranteed to be of higher quality compared to any of their competitor bikes within the same price range.
Polygon Cascade 4 also performs well during daily commuter and occasional rides over rougher terrain. But if you have the extra budget, you can consider getting Polygon Premier 4 or even directly get the Polygon Xtrada 5 for a more advanced riding experience and the cleanest look of the bike.
Despite the types of bikes you decide to purchase, only buy from the official dealer. You can visit Rodalink at Jurong East or East Coast or proceed with your bike purchase through their online website, which is available 24/7.
Rodalink also offers a wide range of bike accessories, spare parts, and even an apparel selection from the world's renowned brands, allowing you to complete your cycling gear all at once. By purchasing through Rodalink, you will have your bike delivered to your address in the ready-to-ride form, so you won't have to go through the hassle of putting your bike together.
There's nothing better than having a little escape and feeling the mountain during the weekend or public holiday. Bring home your cross-country mountain bike today through Rodalink and start your incredible cycling journey right away.