Are you interested in purchasing a gravel bike to support your daily commutes and occasional off-road riding? Before you rush to buy gravel bikes randomly, here is a short review of a Polygon gravel bike that will be worth your money.
What is a Polygon Gravel Bike?
Polygon is an established bike brand that produces a full range of bikes, including gravel bikes. Most Polygon bikes are well designed, race-proven, and affordable compared to most top-end brands.
Polygon gravel bikes offer a feeling of freedom as riders are allowed to cruise anywhere. Most Polygon bikes are manufactured with ALX or AL6 alloy material while sometimes mixed with the carbon fork. The gravel bike of Polygon bikes has a tapered steerer tube full carbon fork with a broad set to allow enough tire clearance.
Reason Why Buy Polygon Gravel Bike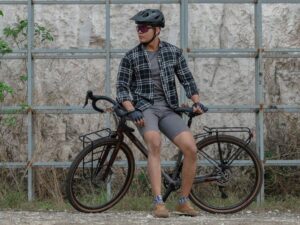 Polygon is known for manufacturing reliable and good-quality bikes with top-end components like Shimano groupset and bike frame materials manufactured through strict quality control. It is not exaggerating to say that Polygon's bike frame is more lightweight and durable than any of its competitors.
The great thing is that Polygon bikes are well made and will last longer than any other bikes with a similar amount of riding. It is also proven to perform at a very high level. But of course, you will have to match your bike's lifespan with how often you bring them for proper maintenance.
Aside from all mentioned above, Polygon bike offers an affordable price that is unbeatable from any of its competitors. This combination of top brand components and reasonable price make them worth being written on your consideration list when finding the best gravel bike Singapore.
2 Best Polygon Gravel Bike
Here is the Polygon bikes review to help you familiarize yourself with the variant of the Polygon gravel bike before deciding which is the best one to buy:
Polygon Bend R2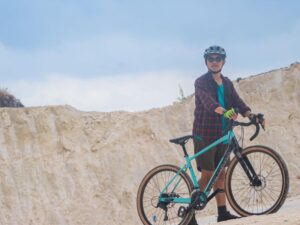 Polygon Bend R2 is said to be one series of Polygon's "demon gravel" bikes which are designed to allow adventurous bikepacking rides. The Polygon Bend R2 comes with a taller head tube for greater comfort and a more upright position during the rides.
Just like the common design of a gravel bike, Polygon Bend R2 comes with a flared drop bar handlebar, improving the aerodynamics geometry without compromising the bike handling over a wider drop.
The vibration-damping carbon fork found in this bike allows a more comfortable riding for its owner as well as the wraps gel pad on the handlebars that make long-distance riding more forgiving for your grip.
With a combination of hydro-formed 6061 aluminum frame and carbon forks that comes with an internal routing and massive tire clearance, this gravel bike has not only become one of the roughest gravel bikes but also the one with the cleanest look. Besides, this bike also comes with carrier and fender eyelets that allow riders to carry their belongings for a short tour out of the hectic city during the weekend and a rear thru-axle to offer extra stiffness.
If the features above are not enough to convince you to get this bike to support your daily commutes to short touring activities, then the combinations of the 2×9-speed Shimano Sora groupset with C400 Tektro mechanical disc brakes should be able to make you consider having this bike.
You can rely on the groupset to carry you through your journey on most terrain while the braking system ensures to keep you safe and always in control no matter how the descents are. The 650b wheels feature a smaller rim diameter that saves weight and allows a larger volume tire and enhances comfort on rougher surfaces.
Polygon Bend R5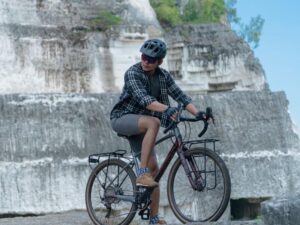 Another series of excellent gravel bikes come with an aerodynamics geometry with a narrower riding position but does not compromise the rider's ability to handle wider drops. The frame material is not any different from the Bend R2 series which combines the hydroformed 6061 aluminum frame with carbon forks. The internal routing gives the bike a neat look.
The 650b wheels allow the bike to run at lower tire pressure and explore various types of terrain as it has a better grip and bumps absorption. However, the Bend R5 still is designed with enough tire clearance to fit either 650bx48 or 700x400c tires, giving riders a chance to handle more types of roads.
Polygon Bend R5 also comes with a dropper seat post so riders can have a perfect pedaling position anytime. While there's not much difference in bike frame and geometry between Bend R2 and Bend R5, both bikes are equipped with different bike components.
This Polygon Bend R5 is coming with a 1×11-speed Shimano GRX groupset that is reliable enough to carry riders through their riding journey. On top of that, Bend R5 also has the Shimano GRX RX810 hydraulic disc brake to keep riders safe and in control regardless of the descent.
Then, the 650b road plus tires allow the bike to increase traction because of the wider contact patch with the ground resulting in more controlled braking and cornering with more grip when clambering up the steep pinches. The Entity flare drop bar handlebars ensure stability and control over rough terrain while still allowing the rider to have a comfortable position during the drop.
Recommendation Polygon Gravel Bike
Conclusion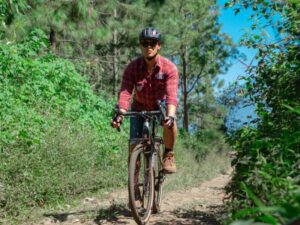 The Polygon Bend series is a ready-for-action-packed bike with a value that will be worth your investment. If you are the type of rider who is looking for a perfect bike for your daily commute and could let you go for a short tour as you escape from the hectic urban life during the weekend or public holidays, then the gravel bike is a great unit to buy.
Polygon Bend R2 and Bend R5 might look similar at a glance but both are coming with different bike components and of course, different price tags. Both are great bikes that offer you a fast commute on the urban pavement as well as confidence when riding on jungle tracks. Purchase decisions should depend on your preference and budget.
However, we can't say the Polygon Bend series is a cheap gravel bike, we can guarantee it is a high-performing bike at an affordable price. Polygon's bike is well-known for its durability and performance, so your investment will be worth what this bike has to offer.
To get the original unit of Polygon bike, you can visit their official distributor: Rodalink, which has its physical stores opened at Jurong East and East Coast. There, you will be assisted by a professional and experienced team to find the perfect bike that suits your preferences starting from your riding style.
Aside from the Polygon gravel bike, you can also take a look at the Polygon road bike, mountain bike, and many other types of bikes from the world's renowned brands. You can also find the needed accessories, parts, and apparel to complete your cycling gears.
Unlike many other distributors who will let you discover and handle how to put your bike on your own, Rodalink will ensure your bike is delivered right to your doorstep in a ready-to-ride form and if you are tight in budget control, you can choose to buy your desired bike now and pay for it later by using Shop Back as your payment method and get the 0% of interest charge. Start your adventurous cycling journey right away only with Rodalink.