Are you the type of cyclist who often rides around mixed terrain and has been looking for a bike that is included in the category of "Jack of All Trade?" If your answer is a yes then a hybrid bike sounds more suitable for your riding style. But before you hurriedly decide to shop for a hybrid bike, do take a look at our article about the Polygon heist review as it might help you to find the best bike option within your budget range.
What is the Polygon Heist and how many models of Polygon Heist have been marketed until today? Find your answer by reading the following article. Enjoy your discoveries!
What is Hybrid Bike
A hybrid bike is a type of bike introduced in 1980 that mixes the quality of both road bikes and mountain bikes altogether, offering a versatile bike that rides well on multiple terrains. Usually, a hybrid bike is highly popular among casual riders or commuters who are looking for a bike that can adapt to various terrain with lower maintenance demand.
Aside from this, a hybrid bike is also suitable for beginners who are just into cycling and haven't found their preferred cycling style. The ability of hybrid bikes to ride around paved roads, urban areas, and up to the road with mild obstacles and bumps allows newbies to experience the feeling of riding on two opposite terrain and determine which type of ride they enjoyed the most before deciding to invest in a more specialized bike.
To put it more simply, a hybrid bike is a perfect choice for commuters who cycle their way to work daily yet still wish to have fun while riding their bike during the weekend. The hybrid bike is also a good starter pack for beginners to discover which riding styles suit them better.
Polygon Hybrid Bike: Introduction to Polygon Heist Series
Polygon is one of the best bike manufacturers in Asia which always tries its best to innovate the best product to fulfill public demands for a bike. The Polygon Heist series is their answer to public demand for a hybrid bike that is best for any urban terrain and light off-road riding.
Polygon Heist series is a hybrid bike with a mountain bike soul which supports riders' wish to have an adventurous ride around the light-trailed terrain while still being reliable to be ridden for daily commutes and running errands.
The front suspension of this hybrid bike series provides riders with a more comfortable ride around both paved and gravel trails. The part that makes Polygon Heist different from any other hybrid bike manufactured by their competitor brands is that while most hybrid bikes in the market tend to trade the comfort and durability of a bike with a less lightweight frame, Polygon Heist offers a bike that is not only comfortable and durable but also lightweight.
For a better understanding of the hybrid bike series of Polygon, look at the Polygon Heist X2, Polygon Heist X5, and Polygon Heist X7 review below:
Polygon Heist X2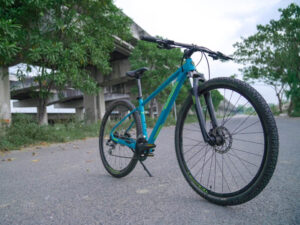 We will begin our article with the Polygon Heist X2 review. The Polygon Heist 2 is a great choice to start your cycling journey. It can offer you a comfortable ride for daily commutes and support your wish to get a short escape on local tracks.
Polygon Heist 2 is built around the light and durable hydroformed 6061 aluminum alloy frame with an internal cable routing, rack, and accessory mounts which not only offer a lightweight bike frame that is rigid and durable, but also capable of carrying some loads for riders who cycle their way to run errands.
The Polygon Heist X2 is also equipped with the adjustable trekking suspension fork: SR Suntour Nex with a travel length of around 63mm, allowing riders to enjoy their ride over various types of terrains.
For the machine, Polygon Heist X2 uses the Shimano Acera MIX groupset at 2×10-speed for a more reliable and quick shifting operation with a wide range of gearing options. Polygon Heist X2 is also using the hydraulic disc braking system from Tektro which allows riders to have more braking power and modulation at the end of their fingertips and is reliable in any weather conditions.
The WTB Riddler tire is 700x45c in size, giving a predictable and fast grip over any road conditions, making the bike ideal for commuters who occasionally ride over rail trails or hard-packed dirt roads.
Rodalink offers the Polygon Heist X2 for only SG$729. By means, you only need to pay SG$729 to have this bike delivered in front of your doorstep in full assembly condition. Consumers are not required to put on the saddle, pedal, or anything else to get the bike ready for unlocking the new journey, arrived with ready to ride.
Polygon Heist X5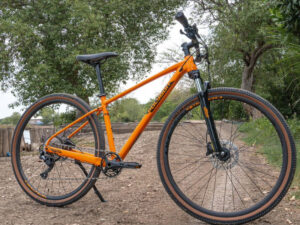 Not quite satisfied with what Polygon Heist X2 has to offer? Don't worry, we will introduce you to the Polygon Heist X5 which comes with higher specifications. For the frame material, the Polygon Heist X5 is also manufactured with the same hydroformed 6061 aluminum alloy frame that is light and durable.
The suspension of Polygon Heist X5 is upgraded to Suntour NVX, a trekking-specific suspension with travel in the optimum 63mm. The lower part of the suspension is made of magnesium to keep the fork of minimum weight. It also has an additional lockout lever, allowing riders to have a smooth ride over paved roads and better handling over steep ascents.
Polygon Heist X5 hybrid bike is equipped with a Shimano Deore 1×10-speed groupset, optimizing the bike's capability for both commuting and touring. This groupset is providing an excellent combination of best performance and durability while keeping the weight down for easier handling over uphill rides.
To ensure riders get better control over the bike, Polygon Heist X5 hybrid bike comes with the Shimano MT2021 hydraulic disc brakes which can give riders the desired braking power without the need to pull hard on the brake lever.
If you are interested in bringing this bike home, you will only need to spend around SG$1,049 for a Polygon Heist X5 hybrid bike where you no need to install the bike's saddle, pedal, or anything else to get it ready for a ride. Additionally, you will get the bike delivered to your doorstep without any additional shipping charges (read more free delivery terms and condition).
Polygon Heist X7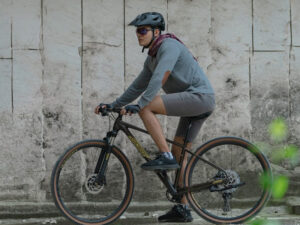 Still unsatisfied with what the Polygon Heist X5 has to offer even after reading the Polygon Xtrada X5 review? Don't worry, we still have another model in store to help you find the type of bike that meets your expectations.
Polygon Heist X7 comes with various advancements compared to any of the previous series. While the bike frame is still built with the same light and durable hydroformed 6061 aluminum alloy material, the suspension has again been upgraded to the SR Suntour NCX Air Fork in 63mm travel that is highly adjustable, lightweight, and offers extra comfort during a ride in the bumpy area.
The hydraulic lockout enables riders to easily lock out the suspension during the ride over smooth terrains and switches the suspension to work for a ride over rougher terrain. The 2022 Polygon Heist X7 hybrid bike is equipped with the Shimano Deore 1×11-speed groupset that offers more stability, maneuverability, and light shifting operations.
Combined with the Shimano MT400 hydraulic brakes, riders are provided with more confidence over varieties of terrains as the braking system is effortlessly powerful and performs well in any type of condition. The most important part is that you can get all this high-performing quality with only SG$1,249.
You can also check out more bike selections from the world's renowned brands at Rodalink. If you purchase bikes online at Rodalink Singapore bicycle shop, buyers will get free shipping, and they no need to install the pedal, saddle, or anything else to get the bike ready for a ride (read more tnc).
Find your desired (any) bikes model only at Rodalink Singapore bicycle shop, don't worry because Rodalink is the only official bike dealer that will guarantee your bike delivered to you in ready-to-ride form so you won't have to go through much hassle in finding a way to put your bike together.
Aside from bikes, you can also shop for varieties of bike accessories, parts, and even apparel to complete your gearing before heading off for an exciting riding journey. You can also consider registering as part of the Rodalink community members for more beneficial offers and special deals. Fulfill your adventurous riding dream today and let Rodalink be your reliable cycling partner.