Are you the type of rider who prioritizes bikes with great pedaling performance that are perfect for both commuting and off-road riding? Or are you a newbie rider who is still exploring which riding style fits you best? Then you probably want to try a cross-country mountain bike. This Polygon Premier 4 review will also provide you with some useful information to consider before making a purchase.
Introduction to Cross-Country Mountain Bike
The cross-country mountain bike is an ideal bike for beginners. The efficiency and ability of this type of bike make it a perfect vehicle for exploring various terrain. If you are the type of cyclist who is seeking pure speed, agility, and efficient ride, the cross-country mountain bike should be your perfect option.
Generally, a cross-country mountain bike is light and stiff, allowing its rider to enjoy even the hardest climb over technical terrain. The cross-country mountain bike usually has a geometry that makes it a perfect fit for both climbing over bumpy trails and performing well over smooth pavement.
Some cross-country mountain bikes are designed with one front fork suspension (hardtail) while some others come with suspension in front and rear (full-suspension). The length of a cross-country mountain bike suspension is around 120mm travel.
Wishing to find a best-performing cross-country mountain bike that is worth the price? You might take a look at our Polygon Premier 4 2022 review below.
Polygon Cross-Country Mountain Bike: Polygon Premier Series
The innovation in the cycling world seems to never end. As one of the best bike manufacturers throughout Asia, Polygon is committed to always taking one step ahead of any of its competitors. The launching of the Premier Series a few years back is to fulfill the demand in the market where lots of cyclists are looking for a versatile mountain bike to ride.
Polygon Premier is specifically designed for a more comfortable leisure ride while ensuring the riders will keep the same enthusiasm for riding a bike even after years of purchase. The main goal of the Premier Series is to help riders determine their mountain before deciding whether to invest in more specialized bikes over certain terrain.
To get a better understanding of what a Polygon Premier 4 has to offer, here is the detailed specification you might need:
Bike Frame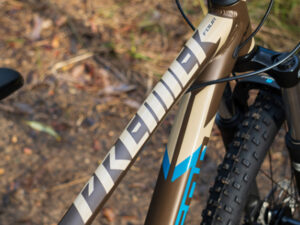 Polygon Premier 4 is manufactured with the light and durable 6061 aluminum alloy material that is produced through Alutech technology by Polygon. The modern geometry of the bike provides a comfortable leisure ride. Combined with the semi-internal cable routing, Premier 4 is also offering a neat and stylish look.
Suspension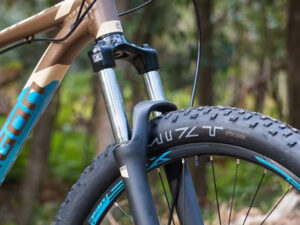 If you are looking at the 2021 Polygon Premier 4 review, you will notice that there's no significant modification with the 2022 version in terms of suspension usage. The Polygon Premier 4 still uses the Suntour XCM suspension fork in 120mm travel, allowing the bike to run over the small imperfect trail at ease.
Wheel Size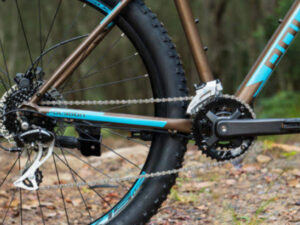 The Polygon Premier 4 is a hardtail cross-country mountain bike equipped with a 27.5″ x 2.10″ sized tire that is heavily treaded with bulky treads that cover the tire evenly, allowing it to roll fast on flatter surfaces while still having a firm grip over rougher terrain.
Groupset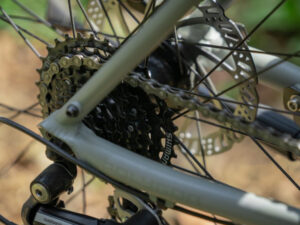 The main difference between the Polygon Premier 4 2021 with the older version is the change in the number of its chainring. Starting from the 2021 version, Polygon Premier 4 is equipped with a Shimano Acera MIX 2×8-speed groupset which provides a reliable and quick shifting operation with a wide range of gearing.
This component is not only going to work in sync to give riders the best-performing vehicle but is also easy to maintain, making the Polygon Premier 4 become one of the best choices for beginners.
Braking System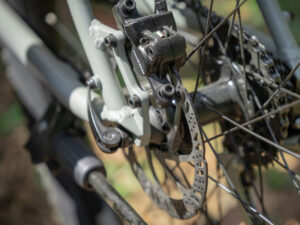 To give riders more confidence during every ride, Polygon Premier 4 is built with Tektro HD-M275 hydraulic disc brakes where riders only need to give the brake lever a slight amount of pressure to slow down the bike under any conditions.
In other words, hydraulic disc brakes are not only providing powerful braking but also consistently reliable performance. Besides, riders won't get any scratching noise or brake surge, making the ride more enjoyable.
Handlebar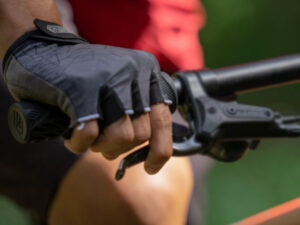 Polygon Premier 4 uses the Entity Sport handlebar whose length is around 740mm, giving a more comfortable hand grip over both urban commuting and trail rides.
Conclusion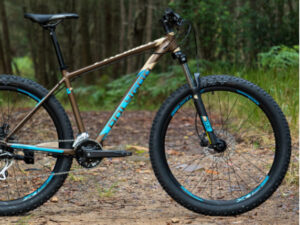 Polygon Premier 4 is an entry-level cross-country mountain bike that is equipped with most of the components usually found in midrange-level bikes. The Polygon Premier 4 weight is predicted to be around 14.9kg, which is light enough to make a climb uphill easier.
If you are looking for a cross-country mountain bike in 2×9-speed, though, we will recommend you to take a look at our other blog post regarding the Polygon Premier 5 review, where you can get a better specification by adding a few dollars more.
Or, you might be interested in taking a look over our comparison between two entry-level cross-country mountain bikes, the Polygon Premier 4 vs Cascade 4 which will give you a wider range of choices in determining which type of bike suits your needs and budget more.
Regardless of your choices among the options of cross-country mountain bikes, deciding to invest in a Polygon bike is a correct choice since you will be guaranteed to get the only high-performing product at an affordable price range that you couldn't get from another brand.
For the original product, you can visit Polygon's official dealer at Rodalink which is located in Jurong East and East Coast. Rodalink is the only official dealer that offers to deliver your bike in front of your door in a ready-to-ride form which means, they will help you assemble your bike before delivering it to you so you won't need to get through the hassle of putting the bike together piece by piece.
Aside from this, Rodalink also offers a wide range of bike accessories, parts, and apparel selections from the world's renowned brands, allowing you to get a complete gearing preparation before hitting the road. For more benefits, you can register to be part of Rodalink community members to get the special deals and offers as well as be eligible to join an exclusive event for members only.
So, if you are ready to go for an adventurous ride between smooth pavement and a little rougher terrain, come and get your cross-country mountain bike today at Rodalink and let us be a part of your amazing riding journey.