Some cyclists will love to start their mountain biking journey from the beginner level, which means looking for a hardtail mountain bike at an entry-level to understand the terrain better before going all in for a more professional ride. If you are also looking for an entry-level hardtail cross-country mountain bike, you might love to read our article about Polygon Premier 5 review.
In this article, we will be giving a detailed overview of Polygon Premier 5 specifications and how it is compared to another entry-level Polygon cross-country bike like the Polygon Xtrada 5. Without more introduction, here is the information you might find useful. Enjoy your ride while deciding which is the best piece of the bike to purchase.
The Cross-Country Mountain Bike and Mountain Biking
While people began to ride off-road in the 1890s, the invention of the mountain bike with a distinct frame and geometry with a supportive wheel size did not surface until the mid-1970s, with the first cross-country mountain biking event taking place in Colorado back in 1978.
A cross-country mountain bike is a discipline of mountain biking defined by the terrain consisting of a mixture of rough forest paths and singletrack, smooth fire roads, and paved paths that connect the other trails.
The characteristic of cross-country mountain bikes is the features of suspensions in the front (hardtail mountain bikes) and sometimes featuring suspension in both front and rear (double-suspension mountain bikes). The suspension travel of cross-country mountain bikes is 120mm.
The geometry of cross-country mountain bikes allows riders to have stable handling and a more upright riding position compared to road bikes.
Polygon Premier Series
The Polygon Premier Series is created for riders looking for a versatile mountain bike. The Premier Series is manufactured with an AL6 alloy frame that is lightweight and durable. The geometry of the Polygon Premier Series bike supports a more comfortable leisure ride which is a perfect fit for cyclists, especially beginners that want to explore mountain biking and define their mountain types.
For a better understanding of the Polygon Premier series, here are the Polygon Premier 5 specifications:
Bike Frame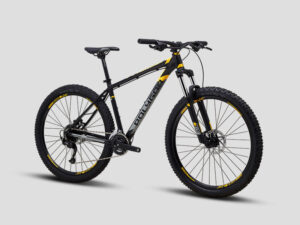 Polygon Premier 5 2022 is manufactured with an Alutech XC sport alloy frame with the 6061 aluminum material or known as the AL6 alloy tubing that is processed under strict quality control by the Polygon manufacturing team, resulting in a strong built and lightweight frame that ensures the bike is capable in handling surface hard-hitting.
Suspension Fork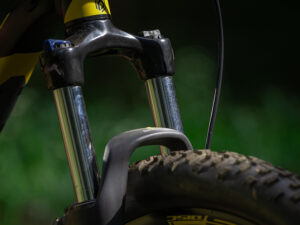 If you have seen the Polygon Premier 5 2021 review from another place, you will realize that this bike is a hardtail cross-country mountain bike with only one suspension in front. Premier 5 is equipped with Suntour XCM HLO suspension with 120mm travel, allowing it to absorb most of the vibrations on the surface. The lockout in the suspension will enable riders to run fast on flatter patches.
Wheel Size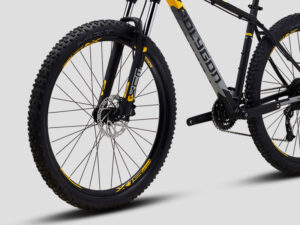 There are only 27.5″ wheel sizing options for the Premier 5 bike. The tire used by this bike is Entity Mitz 27.5″ x 2.25″ with bulky treads that evenly cover the tires allowing the bike to grip the rougher terrain better while still able to roll faster on flat surfaces.
Groupset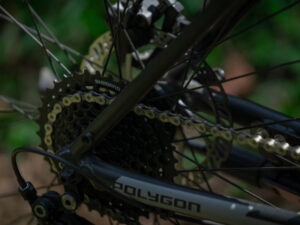 Polygon Premier 5 uses the Shimano Alivio MIX groupset in a 2×9-speed gear range. Despite being the middle-performance level components, this groupset gives a smooth and quick transmission. It can also support riders in riding over steep climbs and quick acceleration.
Braking System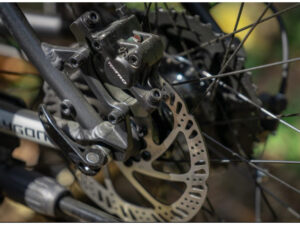 Despite being the entry-level cross-country mountain bike, Premier 5 is equipped with Tektro Hydraulic Disc Brakes, giving it powerful braking with the capability of a middle-level hardtail mountain bike braking system which can be used in both wet and dry road conditions.
Handlebar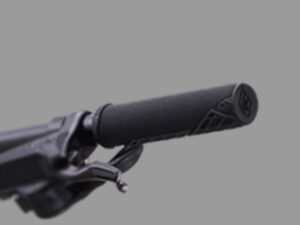 The Entity Sport handlebar in Premier 5 comes with 740mm of length, giving riders a comfortable navigating tool that is suitable to be ridden over both urban and trail terrains. The handlebar is manufactured with a lightweight and durable alloy material, offering riders more confidence during the ride.
Polygon Premier 5 vs Polygon Xtrada 5, Which to Choose?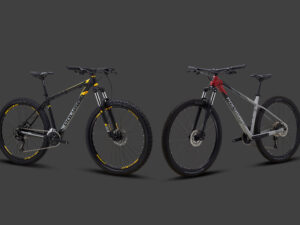 Aside from the Premier series, Polygon also has another hardtail cross-country mountain bike collection, the Xtrada series. Both come from the entry-level tier, making some readers wonder which is better for purchasing the Polygon Premier 5 vs. Xtrada 5.
Price-wise, the Polygon Xtrada 5 and Premier 5 differ by around SG$150, with Polygon Xtrada 5 costing higher than Premier 5. The geometry of both bikes is also different. The Premier 5 looks 4-sided, while the Xtrada 5 looks 3-sided, making the Xtrada 5 more agile to maneuver.
Xtrada 5 has an overall internal cable routing, making the bike looks more stylish and neat, while the Premier 5 only has the downtube internal and top-tube external routing. The groupset used by both bikes is also different. But both Xtrada 5 and Polygon Premier 5 weight is the same, around 13.8kg for the 27.5″ M-sized type.
To conclude, the Premier 5 is an entry-level cross-country mountain bike that is sporty and can still roll fast on a flat surface, although not as far as the road bike. Both bikes are a perfect choice for beginners, but the purchase decision will depend on your preferences and budget.
If you are looking for a 2×8-speed bike, you can head to look for Polygon Premier 4 review, and if you want a more advanced level of cross-country bike, you can consider Xtrada 6 or Xtrada 7.
Are you interested in purchasing Polygon Premier 5? You can visit Rodalink at Jurong East and East Coast. At Rodalink, you will find a wide range of bike selections from renowned brands. Not only bike selections, but you can also find accessories, parts, and apparel that you need for your mountain biking riding preparations.
You will not have to worry about the budget because Rodalink offers the best-performing bike at affordable prices. Rodalink also partnered with Shop Back to enable bike shopping with pay later options at 0% of the installment charge fee.
When purchasing at Rodalink, you will have your bike delivered to you in ready-to-ride form, freeing you from the hassle of finding a tutorial on how to assemble your bike part by parts.