Interested in riding a cross-country bike and looking for a high-quality bike at an affordable price? Before you decide to invest in any type of bike, you may want to read this Polygon Siskiu D7 review as one of your options to consider.
What to Consider When Looking for a Cross-Country Bike?
The cross-country mountain bike in modern days has become lighter, faster, and more capable than when it was first invented. The cross-country mountain bike is specially designed so it can cover various ranges of off-road terrains. It has to be capable of climbing uphill as great as when it is riding downhill. Aside from that, a cross-country bike should also be efficient when ridden on flatter terrain or picking a line through tight singletrack.
When deciding to invest in a cross-country mountain bike, things you should have to consider are:
Hardtail or Full Suspension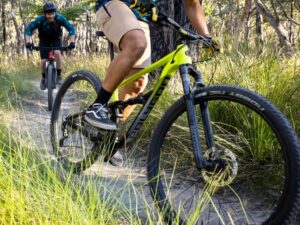 The hardtail mountain bike only has one suspension located on the front fork while the full suspension is built with suspension on the front fork and rear shock. When comparing a hardtail and a full-suspension mountain bike, neither of them is better than one other. Both hardtail and the full-suspension bike are well-suited for certain terrain and riding styles.
If you are looking for a great adventure bike for long rides and back-packing activities or wish to have a bike that can perform well for commuting, then a hardtail mountain bike is the perfect option. In terms of weight, the hardtail mountain bike will usually be lighter compared to the full suspension mountain bike.
But if you wish to have a bike that offers more capability and versatility in performance and can run faster on difficult trails with lots of obstacles, while boosting your confidence during the ride, the full-suspension mountain bike is your best choice.
The Geometry of The Bike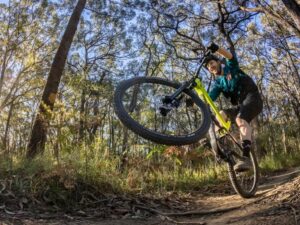 Traditionally, the cross-country mountain bike will have steeper geometry figures in comparison to the other type of mountain bikes such as trail mountain bikes or enduro mountain bikes.
The Frame Material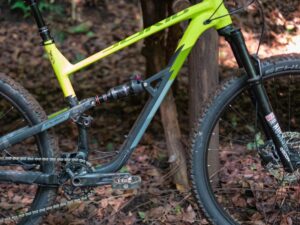 Typically, there are two materials often used to build cross-country mountain bikes: carbon fiber and aluminum alloy. When it comes to weight, carbon fiber is lighter than aluminum alloy, but it also comes with a higher cost.
Aluminum alloy material is often more affordable and better at resisting damage. Moreover, some aluminum alloy frames—for example, the Polygon Siskiu D7 weight— are also lighter and more durable compared to any of its competitors.
The Wheel Size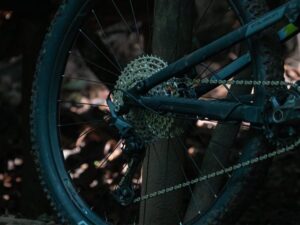 Commonly, the cross-country mountain bike will feature two types of wheel size, the 27.5″ sized one and the 29″ sized one. Some riders might favor the 29″ sized wheel as it arguably rolls over obstacles more easily with a better pedaling speed. But some people, especially those with a shorter height or female riders might want to pick the 27.5″ size wheel mountain bike for a better riding experience.
Polygon Siskiu D7 Review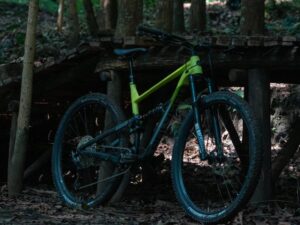 Polygon has been in the bike manufacturing industry for over 33 years and still counting. The main goal of this company is to build a bike that is one step ahead of any of its competitors, with a high-quality component, futuristic design, and most importantly, comes with an affordable pricing range.
Polygon provides a wide range of bikes, be it road bikes, gravel bikes, hybrid bikes, mountain bikes, and many more. For the full suspension mountain bikes, Polygon comes with three variety of mountain bike types, such:
Polygon Siskiu D series for cross-country mountain bike;
Polygon Siskiu T series for trail mountain bike;
Polygon Siskiu N series for an enduro mountain bike.
Examples of the cross-country mountain bike variant are the Polygon Siskiu D series, the Polygon Siskiu D5, Polygon Siskiu D6, and Polygon Siskiu D7. While for the trail mountain bike variant, there are Polygon Siskiu T7 and Polygon Siskiu T8.
To get a better understanding of whether the Polygon Siskiu D7 2021 is worth your investment or not, here is a brief Polygon Siskiu D7 2021 review you will be glad to read.
The frame of Polygon Siskiu D7 is made of a lightweight ALX aluminum frame which is known to be more lightweight and durable than common alloy material. The Polygon Siskiu D7 is designed to have a slack head angle, long reach, and steep seat angle so it can tackle any ride, giving the riders more aggressive riding positions
With the combination of 120mm travel in the rear end and a one-piece linkage system, Polygon Siskiu D7 has minimal lateral flex and twist in the rear triangle, hence improving the suspension performance. The 120mm travel in Polygon Siskiu D7 comes with a lockout to enable the rider to adjust the travel and maximize riding performance.
One thing that differs between the Polygon Siskiu D7 2020 and Polygon Siskiu D7 2021 besides their color is that the Polygon Siskiu D7 2021 comes with RockShox Recon Silver RL 29 for the 29″ sized wheel while Polygon Siskiu D7 2020 uses the RockShox Recon RL.
Performance-wise, there's not much difference between the two, however, the RockShox Recon Silver RL comes with a rebound key that allows the rider to easily adjust the response of fork suspension when hitting the rough road.
Aside from that, Polygon Siskiu D7 is coming with BSA threaded bottom bracket shell which offers a better sealing performance to smoothen rotation and give longer durability. It also comes with a 34.9mm seat clamp with a nut.
For the groupset, Polygon Siskiu D7 of all generations—except the Polygon Siskiu D7 2019— are using the Shimano Deore 1×11-speed which offers consistent shifting performance over rough terrain.
Despite being the entry-level groupset, Shimano Deore's performance and range of functions can catch up with Shimano XTR, XT, and SLX which are all in the higher range. Considering the affordable price, Shimano Deore is the comfort groupset for those who are looking for a mountain bike with high-quality components within the budget.
Conclusion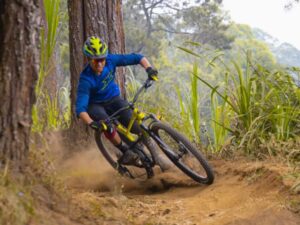 According to GearLab in their Polygon Siskiu D7 2022 review, the Polygon Siskiu D7 has succeeded in creating a versatile cross-country bike at a very reasonable price. They labeled Siskiu D7 as an efficient climber as well as quick and playful descent.
But if you care more about a bike that could handle drops and catch air better, you might want to consider investing in a trail bike instead of a cross country. If you were to ask which to buy between Polygon Siskiu D7 vs T7, we would like to say it depends on your riding style.
While the cross-country bike does ride on trails ranging from fire roads to technical singletrack, the trail bike is more suitable for riders who look for bigger features and obstacles during their ride.
Regardless of your choice, you can get the well-performing and high-quality bike within a competitive price range only at Rodalink. As the official distributor of Polygon, Rodalink also offers a wide range of bike selections from renowned brands that will suit your riding style and budget.
Don't worry about assembling your bike because by purchasing through Rodalink, you will have your bike delivered to you in ready-to-ride form. You can also find various bike accessories, parts, and apparels to complete your preparation to hit the trails.
Rodalink also has a membership program which you can register for free. By becoming a part of the Rodalink community you will get the latest information on new arrival bikes, deals, and events. You will also be granted a special service fee whenever you are maintaining your bike at Rodalink's one-stop cycling shop. So, what are you waiting for? Fulfill your cycling dream alongside Rodalink.