Got a recommendation from a friend to get yourself a trail bike from Polygon but are unsure which to purchase between Polygon Siskiu T7 vs T8? Don't worry, you will find your answer soon. Through this article, we will be giving you a review and comparison of Polygon Siskiu T7 and Polygon Siskiu T8 as a guide to help you make buying decisions. So, here is your manual book, happy reading!
Why Polygon Mountain Bike?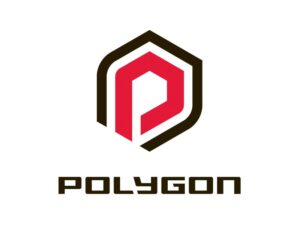 We believe that you have heard a little bit about Polygon, but it won't hurt to have some introduction to understanding the brand better and get confirmation that your decision in picking the Polygon bike is a great choice.
Polygon is an Indonesian bike manufacturing company that has been in the business for over 33 years and still counting. As one of the best bike manufacturing companies throughout Asia, Polygon always aims to be one step ahead of their competitors, hence, they continuously invest in research and innovation and collaborate with creative thinkers, pro riders, and industrial engineers in the hope to create a more futuristic bike.
Polygon has manufacturing facilities all over the world, enabling them to meet the market demand by producing up to one million bikes each year and offering premium bikes for consumers at an incredibly competitive price range. Quoting from Mountain Biking Australia, the Polygon mountain bike is arguably the best performing bike.
Even the three-time gold medalist of freeride mountain biking at RedBull Rampage, Kurt Soge, in his interview in US Magazine stated that the Polygon bike is amazing while approving the Polygon bike as a bike with world-class quality.
Regardless of the price range, all Polygon bikes are made with high-quality components, guaranteed to be more lightweight and durable thanks to their advanced manufacturing technologies, and certainly more affordable compared to any of its competitors that offer the same specification of bike.
Get to Know Polygon Siskiu T7 Parts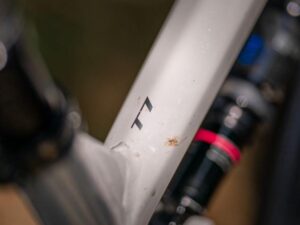 Now after getting a better understanding of Polygon, it is time to get into the topic and talk about the bike. We will be starting with the Polygon Siskiu T7 review by first acknowledging the components the bike has.
The Polygon Siskiu T7 bike is built around the light and durable hydroformed 6061 aluminum frames with a tapered head tube which increases the stiffness, cornering precision, and feedback while riding. The bike also features a rear thru-axle and 73mm threaded bottom bracket with an internal routing that gives the bike a clean and stylish look. The anti-squat kinematic with progressive suspension ratio boosts the pedaling performance of the bike.
When it comes to geometry, Polygon Siskiu T7 balances out the high-speed control and playful handling by utilizing a slack head tube and combining it with short offset forks, longer frame reach, and a steep seat tube improving riders' confidence and stability when riding at a speed on steeper terrain.
Coming with Faux Bar Suspension that builds around the One Piece Unibody Pivot Bridge, allowing the bike to reduce some weight off the bike frame, improving the stiffness, as well as reducing the lateral flex. There's a leverage curve to provide a high level of progression while maintaining the sensitivity for small bump compliance.
Using the modern standard for wheel and drivetrain specifications allows for improvement in frame geometry with shorter chain stays wider and stiffer suspension pivots, a wider range of chainring options, more clearance for bigger tires, and wider, stiffer wheels.
The RockShox Recon RL boost fork gives outstanding stiffness and steering decisions. The New Maxima Plush damping fluid in the RockShox Deluxe rear shock also helps reduce friction and silence damper noise with highly tunable Debor air springs offering a coil-like consistent feel throughout the travel.
The drivetrain/groupset used to build the Siskiu T7 is Shimano Deore 1×12-speed, giving the premium level performance to the value category by bringing the elite MTB technologies. Coming with Tektro Hydraulic Disc Brakes with 4 front pistons and 2 rear pistons caliper and Shimano 180mm centerlock rotors, allowing riders to have a bike with a powerful braking system that will do excellent in every road condition.
The 150mm (S to M sized) and 170mm (L to XL sized) featured a remote lever so riders can easily find the optimal saddle height to increase confidence during the ride be it riding through descents or climbing, it gives you nothing but an efficient and confidence during the ride. The dropper seat post also allows you to adjust your saddle without having to stop your bike.
Get to Know Polygon Siskiu T8 Parts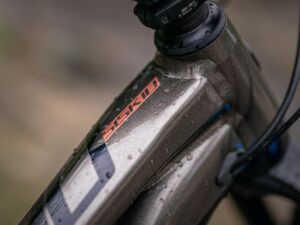 Since we are talking about which to choose between T8 vs T7 Polygon, it will only be fair if we also serve the parts descriptions of the said bike just like what we did for the Siskiu T7 earlier. So here is the Polygon Siskiu T8 review for you:
The Polygon Siskiu T8 is built around ALX aluminum that is durable and lightweight. It has a tapered head tube that increases the stiffness and cornering precision as well as feedback while riding the bike.
Utilizing the slack head angle, short offset forks, longer reach, and a steep seat tube improves the bike stability while retaining the climbing and descending skills. The geometry of this bike allows it to have an agile, responsive, and playful nature for riders who like to jump around during the ride.
The Siskiu T8 also comes with a Faux Bar suspension design that builds around the linkage single driven pivot with the main pivot located on the seat tube—a couple of inches above the bottom bracket. This setting improves the bike's rigidity and lateral stiffness while directly driving the seat stays to compress the rear shock. What makes Siskiu T8 different from Siskiu T7 is instead of the RockShox suspension, this bike is built with FOX Rhythm 34 fork/rear travel of 135mm/140mm (29″) with increasing negative air spring volume that improves sensitivity while the air channel on the back of the casting reducing pressure captured at the lower legs, with both features combined, the spring become more consistent through fork travel.
The FOX Rhythm 34 just feels as light as the XC-fork while giving the performance and stiffness near one found in an enduro bike fork. Siskiu T8 is also equipped with FOX Float DPS 55mm rear shock to improve the pedaling efficiency and allow the bike to feel more planted while cornering hence, riders can carry more speed through corners.
The 780mm wide handlebar and short stem give the Siskiu T8 responsive handling while the Tektro 4-pistons hydraulic disc brakes offer a powerful braking system regardless of the road conditions.
On top of everything, this bike comes with the Shimano SLX 1×12-speed groupset with the 32-T chainring and 10/51-T cassettes, giving the bike a flawless and smooth performance with crisp and precise shifting while making the bike adequate for any steep hill riding. Siskiu T8 also comes with 150mm (S to M sized) and 170mm (L to XL sized) dropper seat posts to maximize the climbing and descending performance.
Polygon Siskiu T7 and T8 Comparison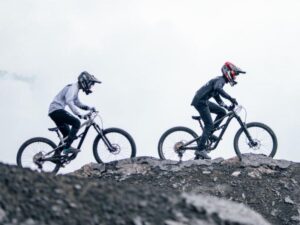 Now that you already got the insight into both Siskiu T7 and Siskiu T8, it's time to compare both bikes side by side to have a better idea of which bike you should've invested in. We will be highlighted the notable differences between both bikes through the table below:
| | | |
| --- | --- | --- |
| Components | Polygon Siskiu T7 | Polygon Siskiu T8 |
| Fork | RockShox Recon RL | FOX Rhythm 34 |
| Rear Suspension | RockShox Deluxe | FOX Float DPS |
| Drivetrain/ Groupsets | Shimano Deore 1×12-speed | Shimano SLX 1×12-speed |
| Brakes | Tektro HD-M735 | Tektro HD-M745 |
Aside from the component, the prices offered for both bikes are also different. The Siskiu T7 is worth around SG$2,599 while the Siskiu T8's price tag is around SG$3,249. Given the differences, we can conclude that the Siskiu T8 comes with a higher price range but is justified considering it comes with a lighter drivetrain as well as a better fork and braking system.
Not that the Siskiu T7 is not better enough, but when we compare RockShox Recon with the FOX Rhythm 34, the latter got an upper hand. But when it comes to buying decisions, of course, the choice is given back to you as the consumer.
If you are a beginner who happens to just dive into mountain biking, you can consider starting with a cross-country bike which happens to be the Siskiu D series. However, as a beginner, if you specifically want a trail mountain bike, the Siskiu T7 series is decent enough.
We have also talked a bit about the 2022 Polygon Siskiu T7 vs D7 in another blog post on our website, the main differences between both are on the trail it is suitable for. The Siskiu D7 is a cross-country bike, so it can't support your biking activity that is mainly focused on climbing and descending at a speed. On the other hand, the Siskiu T7 will perfectly nail the cross-country terrain despite being more focused on more technical terrain.
But anyway, if you wish to invest in a bike with more advanced components that will save you from upgrading parts per part, spending SG$650 more for the Siskiu T8 will be worth the money.
At the end of the day, choosing between Polygon T7 vs T8 will depend on your need and most importantly, consider your budget. As we said before, the glaring difference between both is on the suspensions and groupset. The Fox Rhythm 34 allows the bike to stick on the ground much better, it will be a best choice for long-term investment.
So if you wish to perform well when riding in more technically challenging terrain and you have an extra budget, you will not regret the decision to have the Siskiu T8. Regardless of what your choice is, if you are looking for Polygon Siskiu T7 for sale or Siskiu T8—basically any type of bike, you can visit the official distributor of Polygon at Rodalink.
Although Rodalink is the official distributor of Polygon, they also offer a wide range of bikes, accessories, parts, and apparel from various renowned brands. You can get all the supplies you need to start mountain biking through Rodalink.
You can also choose to buy it now and pay it letter by getting an installment with 0% interest-free if you choose SHOPBACK as your payment method. You also don't have to go through a lot of hassle to put your bikes together because Rodalink will have them delivered in front of your doorstep in ready-to-ride form. So, what are you waiting for? Grab your dream bike at Rodalink today and get into the road faster than ever!