If you are the type of rider who mainly runs through the smooth urban pavement and is seeking a bike that can take you as far and fast as your legs can manage, the road bike should be one of the best bikes you will be interested in purchasing. As one of the considerations, we are writing this Polygon Strattos S5 review so you can have a more comprehensive option before buying your first road bike.
What is a Road Bike?
Back in the early 1900s, biking remained to be the favored activity in most countries in Europe. In 1904, Tour de Frances, a bike racing event, successfully became central to various European cultures. The invention of the derailleur in France around this timeline is like icing on the cake, making bike racing faster and replacing single-speed bikes in the racing arena.
The characteristic of a road bike is it has drop bar handlebars that allow riders to ride in leaning forward and downward positions, which reduces the air resistance, allowing the rider to cut through the wind. Road bikes also have a slick and smooth tires to lower the rolling resistance.
The material used to manufacture a road bike is usually carbon fiber, aluminum alloy, or a combination of both to ensure the bike is lightweight so it can run faster during the race. Generally, road bikes are divided into three main categories, which are:
Performance road bike: a type of bike suitable for racing and climbing. The frameset of a performance road bike is usually manufactured with the lightest material, such as carbon fiber;
All-rounder road bike: this type of road bike is also ideal for climbing with a frameset built around carbon fiber material or a mixture between carbon fiber and aluminum alloy;
Gravel bike: some manufacturers consider gravel bikes into the category of a touring bikes since this bike is indeed capable of being ridden for long-distance off-road travel. However, a gravel bike shares the same drop bar handlebar as a road bike and also easily rolls over smooth terrain.
In today's article, we will introduce more of the all-rounder road bike through the Polygon Strattos review. Keep scrolling so you won't miss out on valuable information.
Polygon Strattos Series
Polygon Strattos series come in two categories of road bikes: the performance road bike and the all-rounder road bike. The difference between a regular all-rounder road bike and a performance road bike in the Strattos series is its frame fork material and braking system.
The Polygon Strattos S5 is manufactured with an alloy frame mixed with a carbon fork. At the same time, the Polygon Strattos S5 Disc Brakes are built with aluminum (frame) and carbon (fork) material. Equipped with a disc brake that is more lightweight hence, maximizes the aerodynamic traits of the bike.
Polygon Strattos S5 is an all-rounder road bike equipped with the rim brake as its braking system, while Strattos S5 Disc Brakes is a performance bike that is built with a hydraulic disc brake that offers a more powerful braking system.
The Polygon Strattos series comes from entry-level components with cheaper pricing, which is the Polygon Strattos S2 series and Strattos S3 series, leveling up at the Polygon Strattos S5 and above. The higher-end parts, such as the Shimano Ultegra groupset, can be found in the Polygon Strattos S8 series. However, in this article, we will introduce the detailed specification of Strattos S5 through this 2022 Polygon Strattos S5 review.
Polygon Strattos S5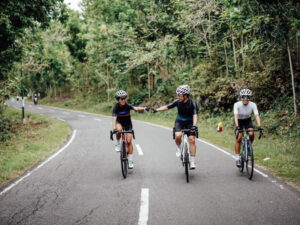 The Polygon Strattos S5 offers a comfortable ride without compromising its performance. At a glance, the geometry of the Strattos S5 is similar to its sibling, the Strattos S4. However, both bikes used different groupsets and brake sets, whereas the Strattos S5 is more upgraded than Strattos S4. Here are the details:
Bike Frame
Polygon Strattos S5 2022 is manufactured with the ALX 6061 alloy frame combined with the ACX endurance carbon fiber fork, making it one of the most lightweight all-rounder road bikes with an improvement in comfort while extinguishing road vibration.
Additionally, the internal cable routing of Polygon Strattos S5 hides the cables and wires within the bike frame, which gives the bike a clean and stylish look. The tapered head tube makes the fork feel stiffer without adding unnecessary weight to the road bike itself.
Wheel Size
Polygon Strattos S5 equipped with Entity XL3 wheelset provides a comfortable ride over thousand miles of road trips and makes it more enjoyable. It also has 700c-sized performance tires with lower rolling resistance, allowing the bike to roll faster when ridden over smooth terrains.
Groupset
As mentioned above, one of the main differences between the Strattos S4 series and the Strattos S5 is the groupset components. The Strattos S5 is equipped with Shimano 105 2×11-speed groupset, the mid-ranged level groupset from Shimano known to be robust, durable, and easy to maintain.
This groupset can withstand harsh conditions, resulting in a more affordable maintenance fee, and using the Shimano 105 groupset aims for riders to focus more on the exciting feel of outdoor rides without considering maintenance fees.
Braking System
If you pay attention to the Polygon Strattos S5 disc 2021 review, you will discover that this bike uses powerful and reliable hydraulic disc brakes as its braking system. Polygon Strattos S5, though, still uses the v-brakes braking system that is equally dependable and, most importantly, comes with more affordable pricing while still giving the best performance.
Handlebar
Polygon Strattos S5 uses the Entity Sport drop bar handlebar made of alloy material with a width of around 400mm for the XS to M sized bike and about 420mm width for the L to XL sized bike.
Conclusion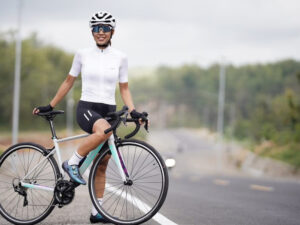 If you are looking for a road bike that could give you optimal comfort during the hours-long ride with your friends without compensating the performance level, the Polygon Strattos S5 should be one of the best road bike options for investment.
However, if you are looking for a road bike that is entirely made for racing purposes, you might want to take a look at the Polygon Strattos S5 Disc 2022 instead. Although both Polygon Strattos S5 and Strattos S5 Disc Brakes are manufactured with the UCI-certified ACX carbon fork mixed with an ALX alloy frame, the hydraulic disc brakes with additional TPR rotor in Strattos S5 Disc Brakes make the bike more suitable for racing. Or you can choose the most lightweight road bike performance, Polygon Helios Road Bike Series.
In terms of lightweight, the Polygon Strattos S5 weight will be slightly lighter than the Polygon Strattos S5 Disc weight because the component material used to build the Strattos S5 is lighter (like v brake which is lighter than the disc brake). If you are looking for a higher-specced all-rounder road bike, you can look at our Polygon Strattos S7 review or consider getting the Polygon Strattos S8.
You can also visit Rodalink at Jurong East and East Coast for a wide range of bike selections from renowned brands. Besides various bike selections, Rodalink offers various bike accessories, spare parts, and apparel to complete your gearing before starting your cycling journey.
Rodalink also partnered with Shop Back to provide a pay-later purchase system with 0% of interest charges. Additionally, customers can consider registering as part of Rodalink's community members to claim the special deals and participate in exclusive events tailored for members only.
There's no other feeling as great as the feel of the wind rushing around you while you ride. Polygon Strattos S5 can be your reliable vehicle supporting scenic rides with your friends and high-adrenaline race around the block. Start your incredible road biking experience today and let Rodalink be your reliable assistance.
Explore Polygon Strattos S5 Now!