When discussing purchasing a bike, it usually ends up being a never-ending discussion. If you happen to read our previous review about Polygon Strattos S5 but still want to look for a better option, we have this Polygon Strattos S7D review that might be able to fulfill your desire to have a reliable and best-performing bike. Without needing a further introduction, here is the information you might find helpful. We hope you have a good read!
Introduction to Polygon Road Bike
Polygon Group is a bike manufacturer from Indonesia that has been building bikes since 1989. For over 30 years, Polygon has been collaborating with industrial designers, engineers, innovative thinkers, and also professional cyclists based in Asia, Europe, and North America with the mission to design, build and manufacture world-class bikes.
Nowadays, Polygon bikes have gained a certain level of trust from many pro-riders as their products are proven to be high in quality with an affordable price and, most importantly, provide the utmost comfort during the ride. Of course, the Polygon bike is not only reliable for pro-riders but also very welcoming for beginners.
Generally, Polygon road bikes come in two categories, the performance bike (also known as the racing bike) and the all-rounder bike. The frameset of the Polygon road bike is manufactured with a UCI-approved design. The material used to build the Polygon road bike is the lightweight ACX carbon fiber, ALX aluminum alloy, or a combination of both.
For the performance road bike, Polygon is coming with the Strattos Disc Brake series, while for the all-rounder road bike, they have the Polygon Strattos Series. But today, we will not be writing the whole Polygon road bike reviews for all types of bikes. Instead, we will be focusing on giving information about Polygon Strattos S7D 2022 review. Keep scrolling so you won't miss the critical part.
Polygon Strattos S7D Review
The Polygon Strattos S7D is designed with road bike geometry, targeted to boost the speed so riders can drive faster over smooth surfaces. While the Polygon Strattos S5 is manufactured with an ALX alloy frame with an ACX carbon fiber fork, Polygon Strattos S7D comes with an advanced design where the frameset is built around the lightweight ACX carbon entirely. Here are the more detailed specifications of the Strattos S7D:
Bike Frame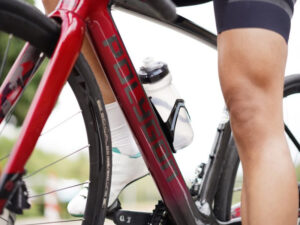 Polygon Strattos S7D is built with a lightweight and durable ACX carbon fiber frame and fork that has surpassed the UCI standard. The frame shape is designed to slice through the air and ride faster.
Additionally, Strattos S7D comes with a seat clamp that is integrated with the top tube, providing riders with comfortable seating and making the bike more aerodynamic. The downtube of Polygon Strattos S7D is 16% stiffer to offer pedaling efficiency that allows riders to ride effortlessly faster.
Strattos S7D takes internal routing to another level by directly entering the frame below the bars resulting in a clean and stylish look with lesser drag.
Wheel Size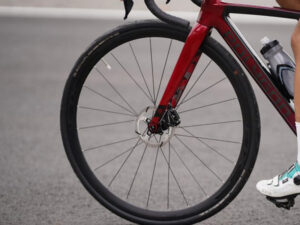 One of the scariest nightmares for outdoor riders is getting a flat bike tire in the middle of the ride. But with Strattos S7D, you can be less worried because this bike is equipped with the Entity tubeless-ready rim or wheel set and alloy hub, so you can alter your bike tire to tubeless whenever you want. Polygon Strattos S7D rolls with PERFORMANCE TIRE 700x28c tire for a smoother ride with lower rolling resistance.
Groupset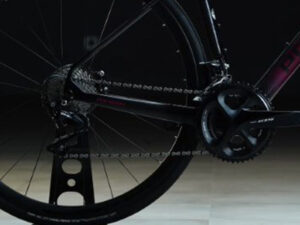 The Polygon Strattos S7D uses the Shimano 105 2×11-speed groupset that offers reliable pro-level shifting at an entry-level value. The great gearing rate can accommodate the riders' need for riding over smooth paved roads or mixed surfaces. The 50/34-T crankset and 11/30 cassette maximize the pedaling performance, resulting in a swifter ride over a flat surface while reducing stress during the uphill ride.
Braking System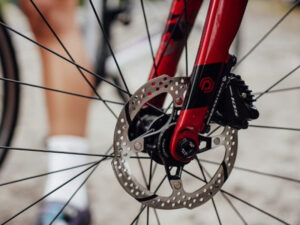 Unlike the Polygon S7 Disc 2020, which uses TRP hydraulic disc brakes with additional TPR rotors, the new performance or racing road bike Polygon S7D has equipped with Shimano 105 R7000 hydraulic disc brakes that stops with a predictable, powerful, and linear braking curve.
Handlebar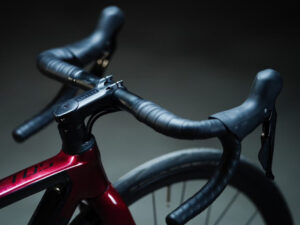 Polygon Strattos S7D is manufactured with the Entity Xpert alloy with a width of around 400mm for XS to S-size road bikes, about 420mm for L to M-sized road bikes, and approximately 440mm for road bikes in XL to XXL-sized. The reach of the handlebar is around 70mm.
Explore More Polygon Strattos S7D Road Bike!
Conclusion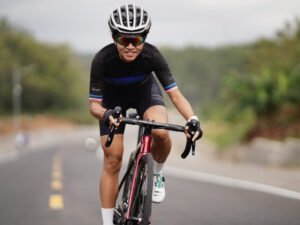 Polygon Strattos S7D is the perfect vehicle designed to accompany its rider on every ride, providing the best racing performance for an extended period and making every ride enjoyable. The Polygon Strattos Disc series, built around the full-carbon material, is lighter than the mix of alloy frame and carbon fork that build the Strattos series.
To widen your option in finding the best road bike that suits your needs and budget, we have written several Polygon Strattos reviews that you can check through our website. And if budget is not your concern and you are looking for more advanced bike components above Strattos S7D, you can consider searching for the Polygon Strattos S8 2022 review.
Or, you can consider visiting Rodalink at Jurong East and East Coast to get assistance from their professional team in finding the best bike that suits your riding style and budget. Aside from various bike selections, Rodalink also offers a wide range of bike accessories, parts, and apparel that you can purchase to complete your preparation before heading off for an outdoor ride.
For a beginner, you will not have to worry about not understanding the step for putting your bike together because Rodalink will ensure you get your bike delivered to your address in the ready-to-ride form so you can directly hop on and hit the road. On top of that, you will get free delivery for every purchase any products at SG$200 or above.
Get ready for an exciting road biking journey, and allow us to accompany you throughout the milestones.