As a Singaporean, one of the most concerning problems is finding a free space to store your vehicle. The innovation of the folding bike is an answer to the market demand for a personal commuting vehicle that is compact for people who live in small apartments. Before purchasing any folding bike model, consider reading this Polygon Urbano 3 review for more options to compare.
Understanding The Folding Bike Better
The first folding bike design was patented by an American inventor named Emmit Latta in 1887, but there is no record of whether this patented design had ever been produced or not. In 1990, Mikael Pederson adapted his Pederson bike into a folding model, which was later used by the British army.
Later in the 1960s, the bike manufacturers started to consider producing the folding bike, and the massive production began in the 1970s. However, the folding bike model is far from what we have today. The folding bike, as we often find in the bike store nowadays, was not produced until the 1980s.
As years passed, the folding bike gained more popularity due to its unique frame and the advantages it offers, such as:
Compatibility: it is common for people living in urban areas to be bothered by the limited storage space. By having a folding bike, people can own their commuting vehicle without worrying about storage since you can tuck the folding bike elsewhere;
Easy to Transport: folding bikes make it possible for you when you need to connect your last trip by public transport such as MRT or bus;
Speed: despite a small appearance, a folding bike can roll pretty fast over the urban pavement, which is helpful for people who cycle their way to work.
Now, it is not hard to find a folding bike in the store. Many manufacturers keep going with their inventions to produce folding bikes that are compact and easy to carry. As one of the biggest bike manufacturers in Asia, Polygon also has collections of folding bikes. Polygon folding bikes are marketed with the name Polygon Urbano, and you can learn more about this bike model by scrolling through the article.
Polygon Urbano 3
Polygon Urbano 3 from Polygon bikes is designed to put riders into a more upright position and improve comfortability and visibility. This bike is suitable for people seeking a unique and straightforward bike design that riders can fold when they want to go for a livelier and more active life. Take a look at Polygon Urbano 3 spec below:
Bike Frame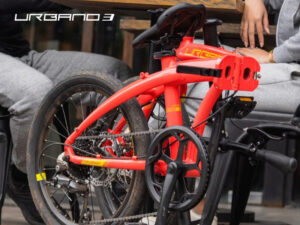 Polygon Urbano 3 2022 is manufactured with a lightweight and robust ALX aluminum alloy frame. Riders can fold this bike around 20 seconds, and this bike has its patented folding clamp technology. Riders can also choose to adjust the saddle and handlebar height along with the handlebar angle to get an ergonomic ride.
The Polygon Urbano 3's frame is equipped with strong folding joints that lock two halves of the frame without sound or movement. On top of that, the strong magnet will keep the Urbano 3 folded in any situation. The fork of Polygon Urbano 3 is made of hi-tensile steel to create a comfortable ride during the downtown cruise.
Wheel Size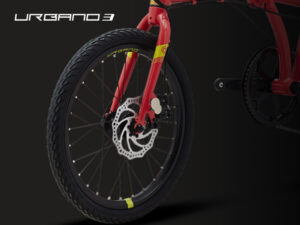 In general, there are two types of wheel sizes of folding bikes: the small-wheeled folding bike and the full-sized wheel folding bike. Polygon Urbano 3 is falling into the small-wheel folding bike with a 20″ wheel size providing a smoother ride with the reduction in rolling resistance and still performing well even for longer rides over bumpy roads.
The wheelset of Polygon Urbano 3 is built with a 28H alloy double-wall technology laced with an alloy hub to create a strong wheel and a durable bike that offers riding comfort.
Groupset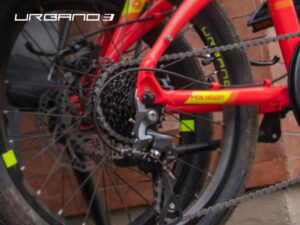 Polygon Urbano 3 uses the Shimano Claris MIX 8-speed groupset, allowing the bike to tackle any uphill without a problem while keeping the speed up so you won't be late for work.
Braking System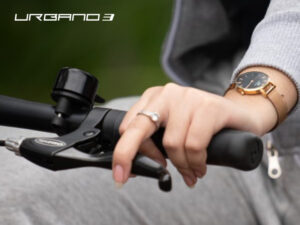 Starting from the Polygon Urbano 3 2021 version, the bike is equipped with mechanical disc brakes for improved modulation and stopping power under any road conditions, giving the riders more control over the bike and boosting their confidence during the rides.
Handlebar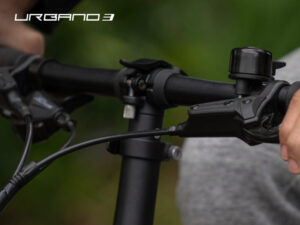 The handlebar of Polygon Urbano 3 is also built with alloy material, ensuring the bike is light in weight to make it easier for riders to carry them around when in folded conditions.
Conclusion
Polygon Urbano 3 is specifically designed for urban commuters with little room to store their vehicle. This bike has become an ideal pick for riders looking for a unique, simple, and portable bike that can support their active lifestyle.
Despite the tiny physical figure, Polygon Urbano 3 is quite sturdy and comfortable. It can also run from around 10mph to 12mph, depending on the rider's fitness level and ability to generate speed. An experienced cyclist can even push the speed of a folding bike to around 14mph to 16mph for 60 minutes of short commutes.
If you wish to have a folding bike with hydraulic disc brakes instead of mechanical disc brakes, you can try to look at the Polygon Urbano 5 review and put them into your purchase list.
Between the Polygon Urbano 5 vs Urbano 3, the former is manufactured with more advanced components than the latter. Price-wise, Polygon Urbano 5 costs around SG$150 higher than Polygon Urbano 3.
To get more options for urban bikes that are suitable for daily commutes and running errands without taking up too much space to store, you can visit Rodalink at Jurong East and East Coast. There, you will get assistance from the professional team of Rodalink, who will kindly help you to find the best bike that suits your need and budget.
Rodalink is also partnering with Shop Back to provide a pay later payment method at 0% of interest charges. This program benefits consumers under strict budget control, but they must get their transportation devices immediately.
There's no more drama of getting late to work due to hectic traffic or stuffy public transportation. Visit Rodalink today and let us help you to get a suitable folding bike to make your daily commute more enjoyable.