Interested in going mountain biking and thinking about starting your first mountain riding journey with a cross-country bike? Allow us to present this Polygon Xtrada 7 review to broaden your choice of cross-country bike before making a purchase.
What is Mountain Biking
Mountain biking is a sports activity of off-road bike riding that crosses over rough terrains such as singletrack, fire roads, back-country roads, wide bike park trail, and any other advanced trails that are specifically designed for jumps, berms, and drop-offs.
Since 1996, mountain biking has officially been included as a part of sports competitions in the Olympics. For mountain biking activities, the rider is usually required to ride a bike designed to take over the rough terrain, known as the mountain bike. Generally, there are four types of mountain bikes, such as:
Cross-country mountain bike: suitable to be ridden over mix rough of rough forest path and singletrack, smooth fire roads, and paved path that connects other trails;
Trail mountain bike: typically ridden over the steep, highly technical, and constructed trails as well as the bridle paths, rail trails, towpaths, steep mountain trails, and high passes;
Enduro mountain bike: known as the all-mountain bike as it performs well on climbing like cross-country and doing great for descending like a downhill bike;
Downhill mountain bike: the typical mountain bike is suitable to be ridden over steep and rough terrain which features jumps, drops, rock gardens, and other obstacles.
Get to Know Cross-Country Bike
The cross-country mountain bike is often deemed as the easy or intermediate level of a mountain bike as it relies more on riders' physical prowess rather than technical abilities. The geometry of a cross-country bike often comes with a more upright riding position than a road bike.
Sometimes the cross-country mountain bike features a front suspension fork (hardtail mountain bike) but there's also a cross-country mountain bike with suspension in both front and rear (dual-suspension mountain bike). The length of the suspension fork in a cross-country mountain bike is usually around 120mm.
Polygon Cross-Country Mountain Bike: Polygon Xtrada Series
Nowadays, there are a variety of cross-country bike options in the market. One of them is the cross-country mountain bike from Polygon, the Xtrada Series. Polygon Xtrada series is born to be versatile, comfortable, and effortlessly fast. The geometry of Polygon Xtrada is specifically designed for stability and speed combined with the tough trail-ready components.
In this article today, we will be giving the Polygon Xtrada review—to be precise, the 2022 Polygon Xtrada 7 review. Here is the breakdown of its details:
Bike Frame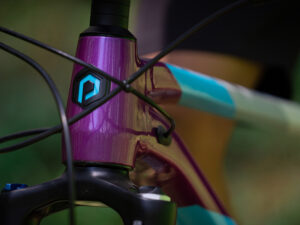 The Polygon Xtrada 7 is built with a light, durable, butted, and hydroformed 6061 aluminum frame that features the 73mm threaded bottom bracket with Boost 148 rear axle for increased wheel strength and wider tire clearance. The Polygon Xtrada 7 also utilizes the steep seat tube angle and slack head tube, ensuring the bike is capable of effortlessly traveling up and down the mountain with a perfect handle.
In addition, the Polygon Xtrada 7 is coming with full internal cable routing, giving the bike a stylish and neat look. Polygon Xtrada 7 comes in two types of wheel sizes: Polygon Xtrada 7 27.5 inches wheel and Polygon Xtrada 7 29 inches wheel.
Suspension Fork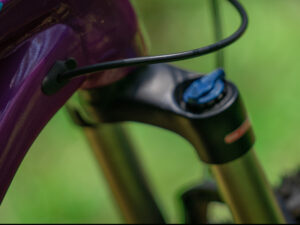 Polygon Xtrada 7 is the hardtail cross-country mountain bike with the Suntour XCR 32 Air suspension of 120mm travel featuring adjustable compression and excellent sensitivity. The 32mm stiff stanchions and lightweight magnesium lower provide durability while the 15x100mm thru-axle combines with a tapered steerer adding extra stiffness.
Wheel Size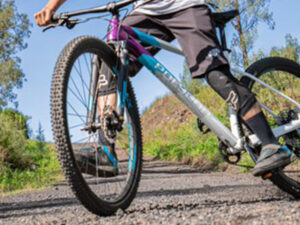 Polygon Xtrada 7 is coming with a Wheel Fit Size System where each frame size is paired with the wheel size that fits the riders and sets it up for power transfer and optimal efficiency. The 29-inches wheel with the 18.5″ is paired with the larger bike while the better fitting 27.5-inch wheels for 17.5″ and smaller bikes.
The tire used is the Entity XL2 30mm with internal width rims to provide better traction and stability caused by the wider contact patch between the tires and the ground. The features of Shimano hubs and Micro Spline freehub complete the wheelset with reliable trail performance.
Groupset
Polygon Xtrada 7 comes with the 1×12-speed Shimano Deore which delivers a new level of premium performance. This groupset offers technology that is almost similar to the flagship groupset the Shimano XTR components, except that Shimano Deore is more affordable. With the Hyperglide+ technology by Shimano, this groupset is guaranteed to have a smooth shifting under load.
Braking System
Polygon Xtrada 7 is equipped with Shimano Hydraulic Disc Brakes that are easy to use even for a beginner. It has a one-way bleeding caliper that makes it easier to maintain. The resin pads are used to reduce noise and heat.
Handlebar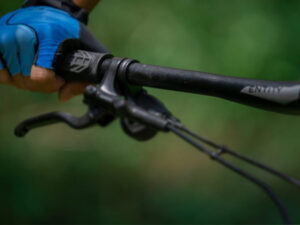 Polygon Xtrada 7 is using Entity Expert handlebars in 760mm width, offering bike stability, stiffness, and handling characteristics that allow riders to handle any kind of singletrack and bring precise cornering in any situation.
Conclusion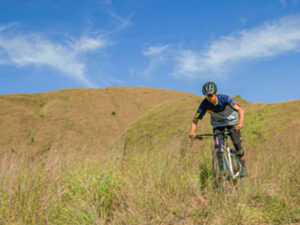 Polygon Xtrada 7 isn't the only Xtrada series of hardtail cross-country mountain bike collections of Polygon bikes. If you are looking for an entry-level cross-country mountain bike at 2×10-speed, you can take a look at our Polygon Xtrada 5 2022 review in the other blog post.
There's also Polygon Xtrada 6 in Shimano Deore 1×11-speed that promotes smooth rear and front shifting to maintain speed in a change of terrain. For a better 1×11-speed groupset, there's Polygon Xtrada 8 that comes in Shimano XT mix 1×11-speed, the higher-end counterparts of Polygon Xtrada 6.
Don't worry about the quality because Polygon bikes have undergone strict quality control before and after the manufacturing process. Each Polygon bike is built around high-quality and best-performing components that guarantee riders have the lightest and most durable bike capable of mastering the corresponding terrain. The best part is Polygon offers affordable prices for the quality it offers.
Interested to invest in the Polygon cross-country mountain bike and looking around for Polygon Xtrada 7 for sale? You can visit the official distributor of Polygon bikes at Rodalink which is located on Jurong East and East Coast. Rodalink is the only official distributor that will ensure to deliver your bike in ready-to-ride form so you won't have to go through the hassle of assembling your bike.
Rodalink also partnered with Shop Back, which enables you to buy your desired bike now and pay for it later with 0% of installment fee charges.
On top of that, you will be eligible for one-time free-tuning within the first 3 months from the date of purchase, just bring your bike to Rodalink and let the team from Rodalink's one-stop cycling shop assist you to get your bike in its best-performing state. Start your cycling journey without worry only with Rodalink.