The "Bike Boom" trend had been resurfacing again during the pandemic in 2020, and the sales of various bikes have rapidly increased since then. The demand has been consistently high since then, and this fact, too, is also growing the popularity of folding bikes. However, although manufacturers have made better and best folding bikes, there are still pros and cons of folding bikes, which have always become a topic of debate in society.
Is it worth buying a folding bike? Why must we choose a folding bike instead of any other bike? What advantages could one gain by purchasing a folding bike? Well, in case you are not really sure whether to invest in a folding bike or not, here's some insight you might find useful to help you make decisions.
Why You Have to Choose Folding Bike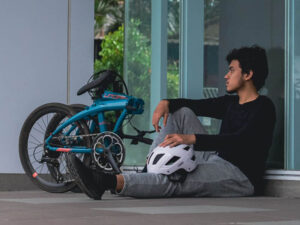 According to Research And Markets, the industry of folding bikes will continue to grow in the year 2024. As folding bikes nowadays become lighter, stronger, and fold up smaller, we can expect to see more of this type of bike in the near future.
Although many debates regarding the usage of folding bikes for a long-distance ride as most people thought folding bikes just were not made for it. "Are folding bikes good for long ride?" you are probably going to get such a question whenever recommending a folding bike for those who are going to get themselves a bike.
We understand the concern of being more selective before deciding to make a purchase on a folding bike, as they tend to cost more than any other traditional bike. However, if you choose the correct folding bike, they will also do just fine for your long-distance touring activity.
Besides, there are a lot of benefits of folding bikes, be it for running an errand or as a savior when your touring doesn't go the way it should.
6 Pros (Advantages) of Having a Folding Bike
Still need more reason as to why you shouldn't hesitate to get yourself a folding bike? Sure enough, here's some info you might find helpful:
Ideal For Commuters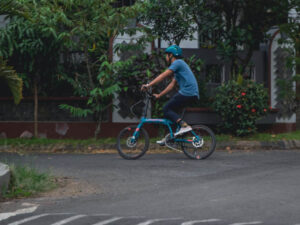 Do you need to take some distance to work regularly? Riding a folding bike might be your best shot. In case you need to switch with public transportation at some point and continue to cycle for the next stop, a folding bike is going to be your savior.
Also, a folded bike offers a healthier lifestyle and, at the same time, better for the environment. So, there's no reason to reject these win-win offers.
Space Saving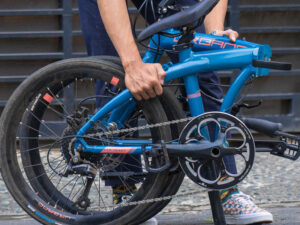 Some people might work in areas where there's not enough parking space. Others might live in a place that is not spacious enough to store a vehicle. By getting yourself a folding bike, you don't have to worry about storage. All you need to do is fold your bike down, bring it to your office or home, tuck it away, and voila, you can rest easily without worry.
These space-saving features also make it easy for your bike to follow you wherever you go. You can travel around by MRT or bus, having to ride an elevator to get to your flat or office, yet still manage to have your beloved folded bike beside you on your journey.
You can also save money by buying an external bike rack in case you need to transport your bike with a car. Just fold it down and put it on a car trunk or backseat of the car, and the problem is solved. What a great deal, don't you think so?
Light in Weight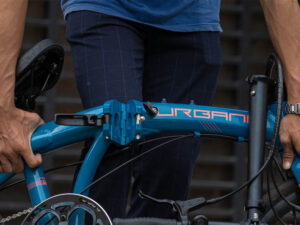 You don't have to worry about straining your back or breaking some ribs. The folded bike is developed to be light and lighter each passing day. Just fold them up and carry them everywhere you go.
High in Quality / Durable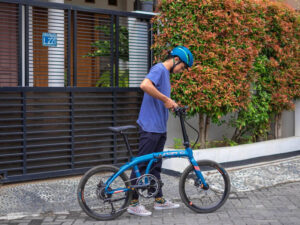 One of the concerns, when someone's going to purchase a folding bike, is the answer to the question "do folding bikes break easily?". Well, if that's also one of your concerns, then we're glad to inform you that folding bikes are subject to stringent manufacturing standards. They are structurally strong and specially crafted to be more durable.
For example, the Polygon Urbano 3 bike is manufactured with a light 6061 aluminum folding frame with a strong folding joint and a durable super-wide-9-speed gearing along with double-wall rims and alloy hubs.
While the Polygon folding bike is light enough to be carried everywhere, it still comes off with a high-quality composition. So you don't need to worry that the bike might break in a few long rides because it simply won't.
Offer a Healthy Lifestyle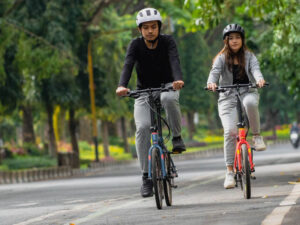 We know that nowadays people move at a high-speed pace. The majority of the people in society barely have time to slow down and take good care of themselves. Cycling your way to work and other places you need to go might be the best solution to maintain a good and healthy lifestyle.
In fact, you don't waste any of your precious working time, but at the same time, you can still get yourself a good minute doing sport. Besides, you don't have to feel anxious about the bike getting stolen as you can carry it inside along with you. This, in fact, is a good thing for your mental health.
Can Be Used for All Ages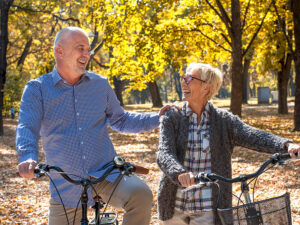 Another benefit of a folding bike is that it's suitable for any range of ages. Some foldable bikes are designed with an adjustable stem and seat post, just like Polygon Urbano 3, that fits riders from 150cm to 170cm. A rider with a height taller than 170 can also consider a bike fitting for a better riding experience.
4 Cons of Folding Bike
Now, after talking about what's the advantage of using a folding bike, it might sound too biased if we only talk about the good side of owning a folding bike while ignoring the drawback. We understand that every pro comes along with cons. So here are some disadvantages of the foldable bicycle as information for you to make a better judgment:
Inconvenient for Racing also Touring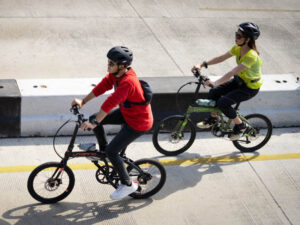 Considering the size of the tires, it makes a foldable bike have a hard time covering a short trip for a long distance. In short, as a biker, you might find it tiresome to cycle your way on a long-distance trip. However, a foldable bike is considerably fast enough for a short commute.
Bikers who have a hobby for long track cycling might find foldable bikes not as good as standard bikes. Foldable bikes have smaller wheels that cause more rolling resistance, not quite suitable for long-distance trips.
However, as the passing time passes, this statement could be debunked as the folded bike industry keeps developing and, now there are enough folded bike options that could be used to accompany your long-distance trip. You need to find the right and best folding bike for that.
Carefully Choosing the Right Wheel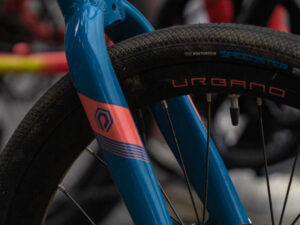 A smaller size of a folding bike's wheel may not run as smoothly as a larger one when it comes to a more than 60 minutes trip. Despite varying from the size of 10 inches wheel to 24 inches wheel, it's highly recommended for users to always prefer the size of 20 inches for a better ride experience as well as better mobility.
Folding a bike in a wheel of 10″ or 16″ worried about not being able to handle a bumpy road as well as 20″ and 24″ while a 24″ is not as convenient in mobility due to its larger size. So, 20″ is the best choice of folding bike wheels to consider.
Require Technical Skill for Maintenance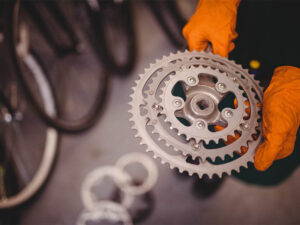 Some people might find that having a foldable bike is troublesome as it needs high periodic maintenance. However, if you already know the guidelines, it won't seem to be a big deal. After all, the maintenance is just like any other bike, including changing the brake pads, repairing the chain, lubricating the parts, and checking the tire pressure.
Need to Calculate the Loads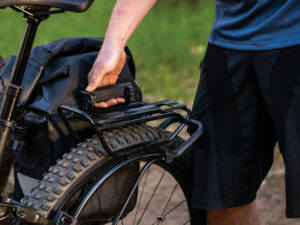 Some other concern is that a foldable bike might not be able to carry heavier riders as it's said that foldable bikes have lower weight limits than conventional ones. The hinges concentrate forces on a few small points rather than distributing them around a tube resulting in more conservative load limits.
Conclusion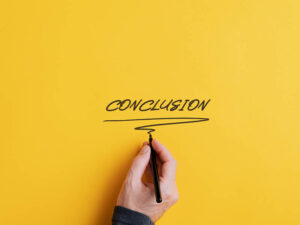 In response to questions like "are folding bikes good?"; we made a compilation of the advantages and disadvantages of having a folding bike. Summarising all the facts mentioned, it is safe to say that the folding bike nowadays has been developed much better than its previous generations.
It has now upgraded to the point where you can consider it to become your tour partner. Besides, having a folding bike for a touring trip may come in handy. If you ever get caught in the middle of heavy rains during your long road trip, you can always have another best option to get home. Just fold the bike down and grab the cab.
Even if you have to get a staycation in a hotel room, bringing in your folded bike won't cause issues, unlike when you do with your conventional bike. So, if you're finding a healthier lifestyle in the middle of hectic city life but still need some long-distance refreshing trip once in a while, getting yourself a folding bike consider as one good option.
No anxiety or fear of your assets going to get stolen because a folded bike can stay under your supervision. And if you ever wonder where to buy a folding bike that is suitable for yourself, you might want to check out Rodalink.
They have a lot of folding bike options that are going to suit you and your needs. You will also get your bike delivered in assembled form so you can immediately run it. Go find your dream foldable bike on Rodalink and get their special promo and lots of best deals today!