As a cyclist or someone who is into the biking world, the terms rim brakes and disc brakes are no longer foreign to you. Despite being usually built with a mountain bike, the disc brakes have somehow made it to be one of the road bike brakes systems.
Realizing that the brakes are one of the most important components of a bike, we will summarize the basic information that will help cyclists, especially beginner cyclists, to understand more about road bike brakes starting from listing out the road bike brake types to breaking down the brake components. So if you ever think of replacing your bike's brakes, make sure you read this through before making a decision.
What Road Bike Brakes Are?
Brakes in general have the purpose of controlling the speed of a bike. By pulling a brake, riders can slow down the rolling of the bike's wheel or put it to a complete stop. The traditional road bike has been using the caliper brake as its braking system. However, in recent years, the road bike disc brake has become more and more popular and making its way to the market.
Road Bike Brakes Type
Most of the time, there are no options to mix and match a brake. Every rider is required to understand what type of brake suits your bike's frame and fork. This is required because a rim brake's frame will not match the disc brake components and vice versa. Making a road bike disc brake conversion through a rim brake origin is unlikely to happen without the riders changing parts of the bike entirely.
Commonly, there are a few types of bike brakes, being:
Caliper Brakes
The most common style of caliper brake is the dual-pivot caliper brake that comprises two arms and offers great stopping power along with an easier braking control option. These road bike brake calipers are easier to maintain with a simple setup. Hence, this type of brake is commonly being the professional's choice.
The reason behind the production of this brake style is to gain the aerodynamic design that is suitable for a road bike, especially a performance (race) road bike.
V-Brakes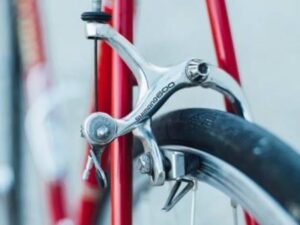 Also known as the direct-pull cantilever brakes, usually mounted onto bosses on the frame or forks. This type of brake is considered to be one of the braking systems which offer a lot of stopping power and good clearance for both mudguards and off-road usage.
It says that v-brakes are similar to cantilever brakes but with a longer arm that was originally fitted for a mountain bike but has gradually been found within touring bikes and commuting bikes.
Cantilever Brake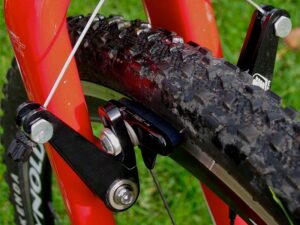 A cantilever brake is a rim brake that is said to be almost similar to V-brakes. The cantilever is designed as a rim brake which has the brake calipers screwed onto bosses at the bike fork blades and seat stays.
Plus score for the cantilever brake is it's designed to give a very wide clearance, is very lightweight, and get the ability to exert lots of leverage on its wheel rim
Disc Brake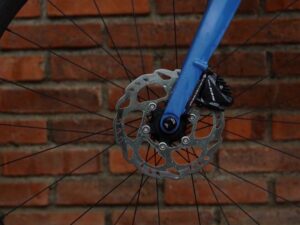 Recently, a disc brake has become a type of braking system that gained the biggest growth. Even though disc brakes once caused a heated controversy among riders back in 2016, bike manufacturers remain producing their latest bikes using a disc brake as their braking system.
Since UCI officially allows professionals to use disc brakes in 2018, the popularity of disc brakes has only grown bigger. Although there are still some groups of professional cyclists who prefer the caliper brakes more since it is more lightweight and has a decent power performance, however, some riders find the consistency of the disc brake allows them to ride in every weather condition is a good offer.
Brake Components
Now back to the topic for cyclists who are going to make an upgrade on their bike and replace parts, here are the brake components you need to know of:
Brake Levers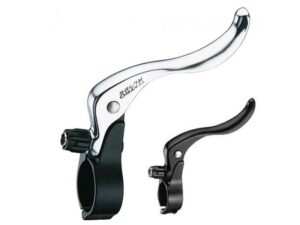 Despite being not specific to brake calipers themselves, riders are recommended to ensure both lever and calipers are compatible pieces with each other to make them work properly. For example, the hydraulic road bike brakes of Shimano Ultegra use mineral oil while SRAM uses a synthetic DOT brake fluid. Hence, mixing one with another is not a recommended move.
Brake Pads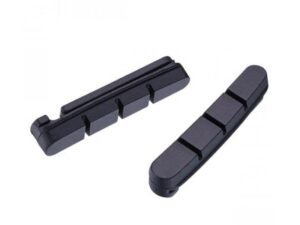 Talking about road bike brake pads, there are different types available to match different rim compounds as well as the weather conditions. Cyclists also have to note that a brake pad for a carbon wheel uses a different pad compound than a bike with an alloy wheel.
Brake Cable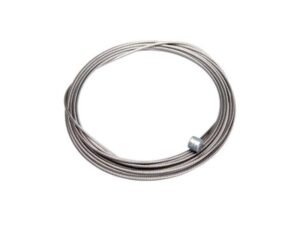 Riders are required to replace the damaged or frayed cable immediately to avoid any unwanted incidents. The bike owner also has to ensure that the cable installed to the road bike is of good quality already fitted and greased upon the installation. A well-maintained brake cable is crucial to your bike riding safety.
Braking Surface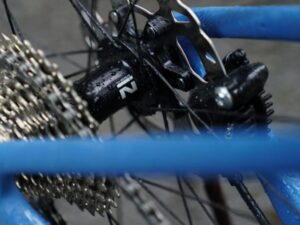 Regardless of the braking surface being either a rotor in the hub or a rim wheel, riders have to ensure that the surface is being kept in clean conditions so the brake can work to its full potential. Don't forget to regularly check whether or not there are gouges and dents on your road bike, make sure your road bike is free from any grime.
Conclusion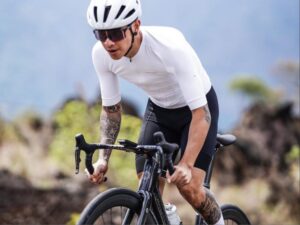 When talking about which type of brakes is better between both rim brakes and disc brakes, we should say that both have their advantages. Many pro cyclists who often participate in road bike racing will prefer rim brakes over disc brakes as it is more lightweight, and perfect for supporting a race.
But for riders who are living in a mountainous area or an area where the surface is extremely wet or muddy, they will certainly love the disc brakes more than any other braking system. To conclude, road bike brakes levers are considered one of the most crucial yet vulnerable parts that often require a replacement. But before making any change to your brake lever and braking system in general, you will have to make sure you understand what kind of parts are suitable for your bike types.
Mix matching a bike braking system is strictly prohibited, moreover, a braking system ensures the biker's safety during the ride and riders have to be certain that the braking system is performing well before hitting the road.
If you are going to invest in a road bike, we will be glad to recommend you consider having a Polygon road bike. The Polygon road bike brake is built with high-quality components from renowned brands such as Shimano and most importantly, they are coming at a competitive price.
You can also find the bike that comes with your preferred braking system as Polygon bikes have the options for it. If you are wishing to ride a road bike with a rim brake, they have the Polygon Strattos series and if you prefer the disc brakes more, Polygon also has the Strattos Disc series.
So, come to take a look and get the original piece at Rodalink which is the official distributor of Polygon. In Singapore, Rodalink is located on the East Coast, and Jurong East. At Rodalink, you will not only find Polygon's bikes because they also offer a wide range of bikes from renowned brands so you are guaranteed to find anything you need based on your preferences.
If you only want to shop for the Polygon bike brake for replacement, you can get the original piece at Rodalink too. Because aside from selling bikes, Rodalink also sells various selections of bike parts, accessories, and even apparels. So even if you are new to the cycling world, you will not have to worry because Rodalink is at your full service.
You can also get the free delivery offer if you spend the non-bike products within SG$200. Shopping in Rodalink, you have the option to buy now and pay later with a 0% installment fee by using ShopBack as the payment system.
Grab your cycling kit from Rodalink now and enjoy hitting the road with the reasonable pricing of original and high-quality products.