Choosing the right bike for a beginner might be a difficult matter. It is because they are still unsure of what purpose and track that they will use their bike for. If you are one of them and still contemplating between choosing road bike vs hybrid bike for beginner, this article might help you to find out! Here we will give you everything you need to know about hybrid bike, road bike, and road bike vs hybrid bike!
What is Road Bike?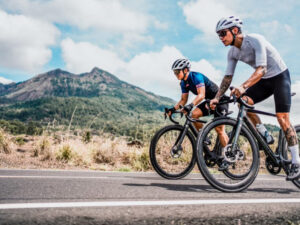 Road bikes are bicycles made for riding on paved surfaces as quickly and as far as your legs can carry you. The name "road bike" refers to the surface that it is intended to be used on: the road. Road bikes typically put the rider in a position where their bum is higher than their hands and have drop handlebars and relatively narrow, slick tires.
The road bike doesn't appear to have undergone much change over time at first glance. It's a conventional bicycle with a nearly identical silhouette to those raced 50 years ago, as opposed to a complicated full-suspension mountain bike. Therefore, people keeps comparing road bike vs mountain bike for it's utility.
The focus of a road bike is performance and speed. They want to ride the fastest bike they can. But the comfort and adaptability that road bikes gain in speed, they lose in other ways. The avid rider who uses their bike primarily for long rides, races, or frequent workouts is likely to use a road bike.
What is Hybrid Bike?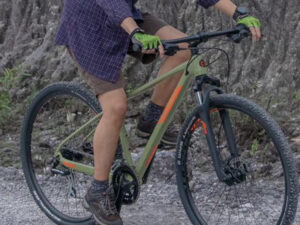 A hybrid bicycle, as its name suggests, combines elements of both a road bike and a mountain bike. The hybrid was initially created to satisfy a variety of bicycle characteristics. In many ways, the hybrid bike took the best features of other bike models and combined them into a single, distinctive design that can be used for a variety of riding experiences.
In terms of structure, some hybrid bikes are more like mountain bikes while others are more like road bike models. Unlike more specialized bicycles, a hybrid bike can ride well on a variety of surfaces thanks to its combination of features.
Due to their low maintenance requirements and environmental adaptability, hybrids are popular among commuting cyclists and recreational cyclists. They're also well-liked by newer cyclists who haven't yet figured out which cycling discipline they prefer.
All paved roads, urban settings, and smooth trails that road bikes can ride on can be easily traversed by hybrid bicycles. They can handle off-roading just like a mountain bike, but they work best on smooth trails with fewer challenging obstacles and bumps. Thus, we cannot compare hybrid vs mountain bike.
Hybrids bike benefits are it is a great option for anyone who commutes to work during the week but frequently goes on weekend bike rides with friends or family. Alternatively, a hybrid will enable you to explore both riding styles while still feeling relatively comfortable if you're new to cycling and are unsure of which riding style best suits you.
The Difference between Road Bike and Hybrid Bike
If you are still unsure of what bike are you goig to get, here are the differences between road and hybrid bike, so you can know everything necessary, including hybrid vs road bike for long distance!
Performance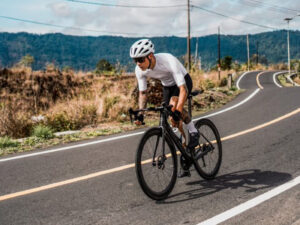 Compared to hybrid bikes, road bikes typically focus much more on performance. The frame's weight has a significant impact on how quickly a bike moves. Carbon fiber bike frames are the industry standard for creating the lightest possible bicycles. Even though aluminum bike frames only weigh between half a pound and a pound more, that slight weight difference can make a big difference.
Both road bikes and hybrids can have carbon or aluminum frames, but you'll find that most road bikes have carbon frames and most hybrids have aluminum or steel frames. Road bikes typically cost more than hybrids because producing a carbon fiber frame is expensive.
Road bikes are more expensive for a variety of reasons, not just this one. We'll go over a few more factors that make road bikes more expensive and hybrid bikes generally more affordable.
Features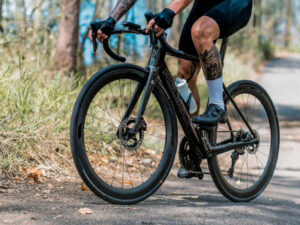 The frames of hybrids are constructed with casual and comfortable upright riding in mind. A hybrid feels shorter and more upright than a road bike, not just in ride feel but also in the actual frame geometry, thanks to a shorter top tube and shorter reach from the saddle to the handlebars compared to that of a road bike.
Speed-oriented road bikes benefit from an aerodynamic position that is low and narrow. In comparison to a hybrid, a road bike frame has a longer top tube and longer reach, which results in a longer and lower rider position.
Road bikes use tires that are lighter, narrower, and thinner than those on hybrid bicycles. The best road bike tires are made to be as quick as possible, so everything here is directly related to speed. Road tires with little tread are quick on tarmac but slick on any off-road surface. Tread refers to the grooves and markings that run along the surface of the tire.
The other feature difference is handlebars. The use of drop bars as opposed to flat bars is one of the distinguishing characteristics of road bikes as opposed to hybrids. The handlebars on hybrid bikes are flat, extending from left to right like mountain bike handlebars with only a slight curve in the middle.
Comfort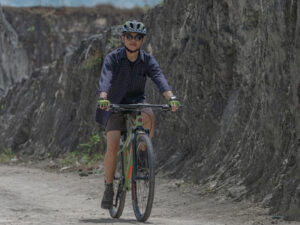 The last difference between two of them is comfort. The hybrid bike triumphs in the comfort department, as you might have guessed based on the geometry of a road bike vs. hybrid bike. Even though a bike's seat can be easily changed or customized, it still has a minor impact on the decision of what bike to buy.
A hybrid seat will typically be bigger and more cushy, whereas a road bike seat will strive to be equally comfortable and stylish. The hybrid's handlebars and geometry play a bigger role in improving ride comfort than the seat does.
Conclusion
Hybrid bike and road bike are often being compared by a lot of riders. If you are new to cycling and looking for your first bike between hybrid and road bike, you need to understand their differences and match it with your needs. If you have decided what kind of bike you are going to get and looking for road or hybrid bike Singapore, you can get the best road bikes or the best hybrid bike for beginners from Rodalink!
Rodalink provides various choice of road and hybrid bicycle Singapore, including hybrid bikes for women, bike accessories, protection, bike tires, and apparel. You can get all of that at the best price and guaranteed original.
You might also think about joining the Rodalink community to receive better discounts and offers. Rodalink can be your dependable cycling partner as you live out your adventurous riding dream right now!