Is It Worth to Have Sport City Bike as Your First Bike?
Commuting around the city might be the only purpose to get a bike for several people. However, there are also some people that wants a bike to ride around the city and also to use it for exercise purpose. If you are one of them, getting a sport city bike might be the best choice for you! Here are what you need to know about sport city bike and the review of one of the most recommended sport city bike, Polygon Sierra Deluxe Sport Gent City Bike!
What is Sport City Bike?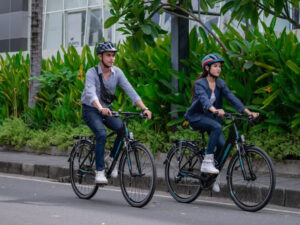 City bikes, as well known as urban or commuter bikes, are designed for short-distance daily commute and inner-city riding. Many of the features of hybrid bikes are combined with features that make moving all around city much easier on city bikes.
City bikes are designed for people who want to commute or accomplish daily tasks with ease. They have flat handlebars and almost all models have mudguards, chain guards, lights, and interconnected pannier racks for luggage or shopping bag.
Whereas traditional city bike designs had little gearing, modern urban designs have efficient drivetrains and a wide range of gearing to prepare riders for even the most hilly city streets.
A city bike is intended to be used for commuting rather than for athletic activities. City bikes are designed to be low-maintenance, get the rider from one place to another rather quickly, and be easy to control while cycling!
While city bikes are primarily intended for use on paved streets and asphalt surfaces. They're ideal for gentle bicycle trails and paths, as well as peaceful nature rides.
City bikes have evolved alongside bicycles as their components have improved over time. Electric city bikes, enhanced suspension systems, hub brakes, and rear racks are now standard features on modern city bikes. These physical conditions indicate the city bike to maintain its goal of being a pleasant, hassle-free mode of transportation in our concrete jungles.
City bikes are ideal for people who live in cities and want to commute without stress or lack of energy. A city bike is a great choice if you prefer to travel comfortably to your destination over speed or off-roading capability. A city bike will offer you well if you don't take cycling seriously and don't want to advance it in a fierce competition.
It is mentioned before that city bike is not really suitable for athletic purposes. However, there is this city bike type that will allows you to pursue your purpose of riding a bike for sports, which often called a sport city bike. It is mainly the same thing with regular city bike, but its features has been advanced to support your riding activity.
There are a lot of city bike brand that has been offering these bikes, such as TVS sport with TVS bike that TVS sport price is also quite competitive in the market. There are also other brands that offer city bike for sale, such as Schwinn city bike and Polygon city bike.
Polygon Sierra Deluxe Sport Gent City Bike Review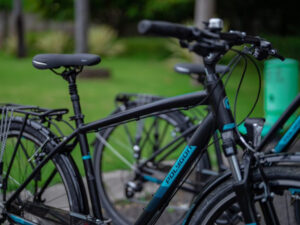 One of the most famous sport city bike is Polygon Sierra Deluxe Sport Gent City Bike. Polygon is a well-known bike brand that manufactures a wide range of bicycles. The company can showcase that their bikes have finished on the podium at both domestic and international races.
Polygon bikes are well-designed, race-proven, and competitively priced when compared to the most expensive brands. The brand consistently develops and innovates their bikes based on feedback from world-class athletes. Many people choose Polygon bikes because they typically provide high-quality elements at a decent cost.
Polygon was founded in 1989 with the intention of producing bicycles for the Southeast Asian market. The Polygon brand is a trademark of PT Inera Sena, an Indonesian bicycle manufacturer based in Sidoarjo (East Java). Since then, Polygon has produced a wide range of bicycle with competitive pricing in the industry.
Polygon Sierra Deluxe Sport Gent City Bike is one of their city bike products that supports both purpose of city biking, which is commuting and exercising. The Polygon Sierra Deluxe Sport Gent bicycle is one of the mainstay commuter bicycles from the Polygon bicycle manufacturer. This bike can be one of your choices for cycling around town or visiting your favorite places.
This Polygon Sierra Delux Sport Gent bicycle has a frame design that is stylish, sturdy, and also light. It is also equipped with a front trunk and rear trunk which makes it easier for you to carry your equipment while driving. Equipped with 3×7 speeds to deal with various incline terrain and a braking system that has discs makes your ride more stable.
The Polygon Sierra Deluxe Sport Gent is a comfortable and easy to ride European-style city bike. Polygon Sierra Deluxe Sport Gent is an urban bike specially designed for men. The appearance of the Polygon Sierra Deluxe Sport Gent bicycle which is very unique will make you more confident through the crowds in the middle of urban roads.
Overall, the Polygon Deluxe Sport Gent bike can pass through a variety of varied terrain, both on bumpy roads and flat asphalt. Thus, this bike is suitable for you if you look for a bike that can provide comforts in any terrains if you plan to use it for sports.
Explore More Polygon Sierra Deluxe Sport Gent City Bike!
Conclusion
City bike is famous for it's used in urban environments. However, there are also what is called as sport city bike that will help you to run errands and also sporting through any terrains in the city. One of the best bike in that class is Polygon Sierra Deluxe Sport Gent City Bike that you can get from the official Singapore distributor, Rodalink!
Rodalink offers a large variety of bikes, including city bikes. Rodalink also provides other riding needs, such as accessories, jersey, bike pants, sunglasees, bike gloves, and socks. You can get all of that at the best price and guaranteed original.
You might also think about joining the Rodalink community to receive better discounts and offers. Rodalink can be your dependable cycling partner as you live out your adventurous riding dream right now!