If you look around the internet, you will get much information about how cycling benefits its rider's physical and psychological health. Knowing that not everyone gets the privilege to do outdoor bike riding, today we will be introducing you to a turbo trainer, a solution for you to keep up with your exercise without leaving the comfort of your home.
Read more detailed information about the types of turbo trainers and their functions, as well as recommendations on where to find the best bike trainer in town. Don't miss out on this helpful information, especially if you are in the phase of considering whether or not you should have a bike trainer at home. So, enjoy your reading.
What is a Turbo Trainer?
Turbo trainers are static devices that provide resistance to help replicate the feeling of outdoor riding, allowing riders to get the sensation of riding on the road while still in the comfort of their living room. There are various amounts of resistance levels of turbo trainers that riders can control based on their workout goals.
By investing in a turbo trainer bike, riders can get the sensation of sprinting, climbing, or long-distance riding without the need to leave the comfort of their house. This exercise equipment is very beneficial, especially for people with a packed-up schedule or house moms who need to watch over their kids at home.
For the installment, riders can hook their bike on the turbo, whether by resting the rear wheel on a platform or connecting the chain to roll the bike over. Some turbo trainers, such as the Polygon turbo trainer, are very compact, so you will not have to worry about where to store the equipment when not used.
What are the Main Types of Turbo Trainers?
In general, there are two types of the turbo trainer, such as:
Direct-Drive Turbo Trainer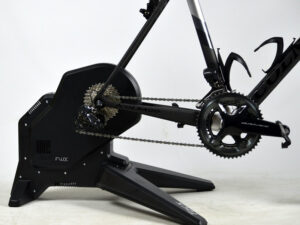 If you wish to create the sensation of outdoor riding during your indoor training, you might consider having this direct-drive turbo trainer (Elite Suito T, Elite Direto XR-T, or Elite Drivo II Turbo Bike Trainer). The direct-drive turbo trainer offers a smooth and quiet ride with various built-in power meters to help you measure your level of exertion. If you purchase the smart direct-drive turbo trainer, you can get an interactive ride experience by connecting to apps like Zwift, for example.
To operate a turbo trainer bike, first, you will need to remove the rear wheel of your bike and attach the chain to the trainer's cassette while you place your bike frame onto the turbo trainer. Releasing the bike's rear-wheel results in a quieter ride and reduces the risk of your tire being worn out.
The setback of this direct-drive turbo trainer is the size and weight is not as compact as the wheel-on type, while riders might still be able to store the device in the corner of the room if your place is not spacious enough; you might be struggling to keep them properly.
Aside from that, the direct-drive turbo trainer is considered the premium quality tier of an indoor bike trainer; by means, you need to pay a higher cost to get this device home. So if you are in tight budget control, the wheel-on type will probably suit you more.
Wheel-On Turbo Trainer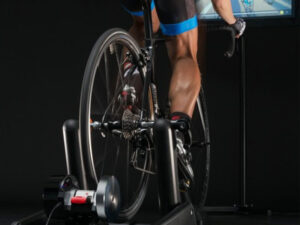 One of the best turbo trainer options to consider is the wheel-on turbo trainer. This model is more portable compared to the direct-drive one. Wheel-on turbo trainers are also lighter and cost lower than their direct-drive counterparts. For the design, wheel-on turbo trainers often come in A-shape frames, making them easier to fold whenever not used.
Wheel-on bike trainer installment is also more effortless since riders don't have to remove their rear wheel for indoor training instead, you only need to replace the quick-release skewer to attach your bike to the turbo trainer through the rear skewer and let the rear tire of your bike press against the rollers that are attached to the resistance unit.
The setback of the wheel-on turbo trainer is that it produces much more noise compared to the direct-drive type hence, you will need to consider riding on this indoor bike trainer during the night, or at least, make sure your living place is soundproof. Additional tips, if you decide to get the wheel-on turbo trainer (Elite Novo Force or Elite Tuo Bike Trainer), you might want to purchase an additional indoor training tire to keep your road bike tire from wearing out during the exercise.
Conclusion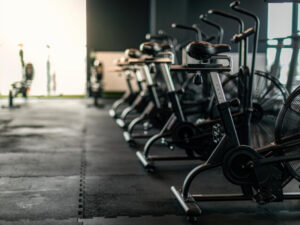 When outdoor riding seems not achievable for your current situation, indoor bike equipment is innovated to make sure you can still hop on your bike without leaving the comfort of your house. You no longer have to worry about who watches over your kids if you are going for an outdoor ride because turbo trainer is letting you get the same result of outdoor training in the comfort of your house.
Nowadays, there are lots of indoor bike trainers being offered in the market. But if you are looking for the best turbo trainer for sale, we suggest you take a look at Rodalink. At Rodalink, you will find a wide range of bike selections, for both outdoor and indoor riding. Not only bikes, but Rodalink also have various bike accessories you can purchase along for better riding experiences.
All the product that is being sold at Rodalink is guaranteed to be the best in quality at an affordable price. Rodalink also partnered with Shop Back, allowing their customers to buy the desired products now and pay for them later at 0% of installment fee charges.
Rodalink also comes with a one-stop cycling shop, giving customers a chance to get buying advice from the professional team and making it easier for the customer to set up and maintain their bike in the future.
So, if you wish to catch up with a healthier lifestyle in the middle of your hectic schedule, consider getting indoor bike equipment such as the turbo trainers Polygon. For a better experience, make sure to get the original product with the best performance only at Rodalink bicycle shop.