One of the most common questions asked beginners about purchasing their first hybrid bike is: "what size hybrid bike do I need"? If you have the same concern, consider yourself lucky because this article will guide you on how to use the bike size calculator and find the perfect bike sizing for a more comfortable ride.
What is a Hybrid Bike?
Before we get into the bike frame size chart and how to choose the right hybrid bike, you will first need to know what a hybrid bike is. The hybrid bikes were first introduced in 1980. Combining the best features of a mountain bike and a road bike allows it to be versatile and ridden on many terrains.
The hybrid bike is sturdier than a road bike, giving it good performance over off-road trails. In the hybrid bike wheel size chart, you will often see that the hybrid bike uses a 700c wheel with treaded tires that allow it to roll with lower rolling resistance on flatter roads while still gripping the road better when riding over the uneven trail with small bumps.
While the hybrid bike can't be ridden over extreme terrain under any weather conditions like what a mountain bike is capable of, nor be able to run at incredible speed as a road bike could, this bike still becomes the best option for riders who want to have a taste of both smooth pavement and rough terrains.
Hybrid Bike Size
Just as how the road bike size chart is measured by its frame size, the hybrid bike is also using the same measurement methods. It counts the distance from the crank center to the top of the frame at the seat tube. Some manufacturers will have their bike chart in inches, while some will make the hybrid bike size chart cm.
Regarding sizing the bike, the different manufacturers might have different sizes for their bike. The chart below determines the hybrid bike size chart Polygon:
| | |
| --- | --- |
| Height in centimeters | Bike Size Chart |
| 150cm to 160cm | S |
| 160cm to 170cm | M |
| 170cm to 180cm | L |
| 180cm to 190cm | XL |
3 Method to Choose Hybrid Bike Right Size
Once you know the bike sizing chart, the next thing you might be wondering about is what size you need and how to choose the right bike size. There will be three different measurements, which is:
The Height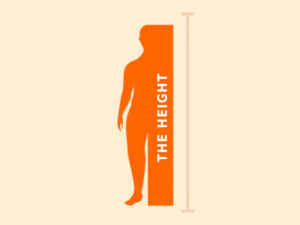 The first method is determining your perfect bike size by measuring your body height by taking off your shoes and standing upright against the wall with your shoulders, legs, and shoulder back. Then use a pencil on your head, holding it horizontally, then make a little mark on the wall and measure the distance from there to the floor.
The Inside Leg Measurement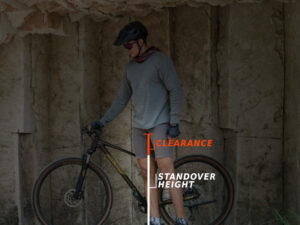 The inside leg measurement is used to calculate riders' stand-over height. Stand-over height is the distance between the top of the bike frame with the rider's crotch area. Your bike is considered to be in perfect sizing if there's at least a 2-inches gap, as this gap will give enough space for you to jump on and off the bike when required while ensuring you are capable of handling it.
The Reach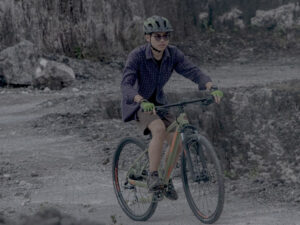 This method is often used when the previous two methods result in the number that gets riders stuck between two sizes. To figure out your reach, you will need to measure your APE index by stretching out your arms and get someone to measure the distance between two of your most extended fingers.
Once you get the number, you can subtract it from your height and see if your arm span is wider than your height or not. If you have a wider arm span than your height, consider getting a bike with a bigger frame, and if your arm span is lesser than your height, you may want to have a smaller frame.
Conclusion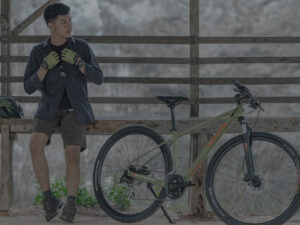 Generally, the method of measuring your perfect hybrid bike sizing is the same as determining the ideal bike size for other types of bikes. So if you are part of the folks who often look around the internet for the answer about "what size of mountain bike do I need," the above method answers your questions.
Aside from that, there's also a mathematical formula to count the ideal bike size for your bike according to the type of bike you want to purchase. The formulas are:
Inseam Length x 0.685 = Ideal Hybrid Bike Size in centimeters;
Inseam Length x 0.225 = Ideal Mountain Bike Size in inches;
Inseam Length x 0.665 = Ideal Road Bike Size in centimeters.
If the calculation results in a decimal number, you can round it up and match it with the manufacturer's bike sizing chart to get the ideal bike size.
Are you looking for a capable hybrid bike that offers the best performance and high quality at an affordable price range? While your friend might laugh at you and say that it is impossible to find a great bike on a budget, we would like to recommend you visit Rodalink and take a look at Polygon hybrid bikes.
Besides, by visiting Rodalink, you will not be required to measure the fitting size of the bike on your own since Rodalink has a one-stop cycling shop with a professional and experienced team that will gladly assist you to get the ideal bike size that perfectly matched with your body figure.
The Polygon bikes are one Indonesian-built bike manufactured with international standards. Since Polygon has its manufacturing factory on its own, it is easier for the manufacturing team to supervise the bike building process and let the bike undergo various strict quality control and impact testing to ensure riders only get the best quality bikes.
It has also become the factor that allows Polygon to come with a price range lower than any of its competitor bike brands of the same level. To get the original Polygon bike, you can visit their official distributor at Jurong East and East Coast: Rodalink.
To get more beneficial offers, you can register to become part of the Rodalink community members. By that, you will be getting special offers and deals while eligible to join the event that is exclusively held for members only.
For a beginner who doesn't know how to measure the correct bike sizing and unsure which type of bike to get, Rodalink has a one-stop cycling shop full of an experienced and professional team that will gladly assist you in finding a bike that suits your riding styles at the ideal sizing. Make your hobby part of your lifestyle today by getting the hybrid bike at Rodalink.
Best Hybrid Bike For You!