Getting a good bike that suits your cycling purpose is the most important step of beginning your cycling journey. But, it is also a great idea to enhance your cycling experience to be more comfortable and fun with the correct accessories. When you dive into the bike accessories section, there are lots of different products offered at the market. To a certain point, it might even confuse you. In this article, we will give the top 4 recommended bike accessories you all beginners must know. Different types of bike and cycling purpose might need other accessories as well. But to get off on the right foot, here are the basics you need!
Bottle and Bottle Cage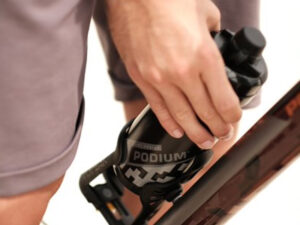 You have heard the term "stay hydrated" probably millions of times now. But, we are going to say it again, stay hydrated, even when you are cycling away on top of your bike! You might think that bringing other stuff with you during your ride is such a hassle. You only want to bring the essentials without having to bring even the smallest of bags. Well, the first bike accessory you need is a water bottle and its cage. A dedicated water bottle will have a sleek and simple design that is very easy to use when you are on-the-go. It serves you just the right amount of hydration needed without being too bulky or even far less than the amount of water you need. You can choose different types of valve for your water bottle. Mostly, there will be 2 types : a one-way squirt valve and a push-pull valve. To use the one-way squirt valve, simply squeeze the water bottle to get the water out of the valve. For the push-pull valve, you will have to open and close the soft rubber with your teeth first and then drink. Insulations are also an option. If you want your water to stay at a certain temperature, say hot or cold, you can look for the double-wall insulated water bottle. But if you are just looking for a simple one, a single-wall bottle will serve its purpose. Note that an insulated water bottle will be slightly heavier than a single wall water bottle.
As for bringing it along with you, there is a dedicated bottle cage mounted on your bike's frame, particularly either the down tube or seat tube. If you are going on a longer ride, you can always bring 2 bottles and mount it on both tubes!
A good simple water bottle is the Topeak TTI TB-650 650 ml Bottle. If you are looking for an insulated one, the Elite Ice Fly 650 ml Bottle is recommended. As for the bottle cage, you can try the simple Topeak Ninja Master+ Cage Z TNJC-Z Bottle Cage before looking for ones with more varied and stylish designs.
Mini Pump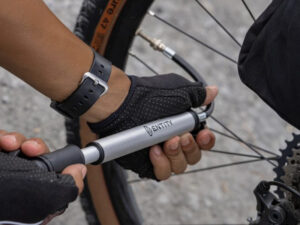 A big part of your cycling journey is your bike's tires. The tire needs to be in its supposed tire pressure to serve its purpose. The recommended pressure will be different for each bike type, such as for a road bike is around 80-130psi and a mountain bike is around 30-60psi. To be sure of the exact pressure, you can look on the side of your tire as manufacturers will emboss the information there.
Now, the most critical part is when you are cycling. A flat tire is very common and unfortunately, no matter how perfect your preparation is, can not be fully avoided. So, it is better to prepare before it becomes a problem on the road! Bringing a mini pump will help a lot with a flat tire. A mini pump is an all in one tool to get your tire in its supposed pressure just with an accessory that is the size of your hand. Even though it is tiny, it has various air-filling capacities, from 90psi to as high as 160psi. For carrying it, you can strap the mini pump beside your bottle cage, completely hassle free! Own the Topeak Peakini II Mini Pump now to save you the stress of a flat tire!
Bag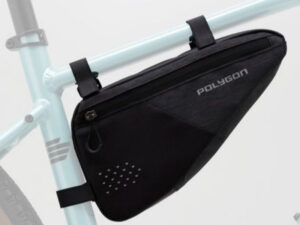 Dedicated bicycle bag will actually save you a lot of hassle rather than annoying you with one. A specifically designed one will have an ergonomic design, very compact and practical, while still have room for you to put all your essentials in. No, it will not be strapped to your body. Instead, your bike will do the job for you! Your bike frame has tons of space for you to strap in your essentials, such as the bottle and its cage, mini pump, and now your bag. So, your body will be completely free of any load and you can cycle comfortably! Bicycle bags will be offered in slightly different shapes, but mostly the same compact size. It will usually also have different strapping spots, such as the top tube, on the handlebars, below the saddle, or a multiway one that you can freely strap wherever according to your preference. For a good starter one, try the Polygon Frame Bag with water resistant features and can be strapped on whichever bike frame parts you want.
Bike/Cyclo Computer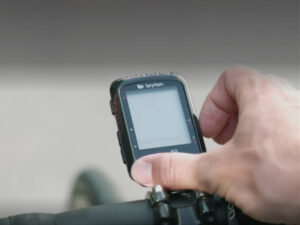 When it comes to cycling, it is all about riding to new places and exploring as much as you can. You might want to go on tour, or take a certain turn that you have never gone on before. As fun as it sounds, navigating your way through unfamiliar ways might be difficult and even get you lost. That is why the last bike accessory you need is a cyclo computer. A basic cyclo computer will have a GPS feature for you to navigate the roads, while an upgraded one will also have health and performance stats feature as well. A cyclo computer is usually 2 to 3 inches big and attached to your handlebars. You can access the data through the device itself or a synched app in your smartphone. A recommended starter one is Bryton Rider 15 Neo Cyclo Computer with Cadence. It has accurate GPS tracking, a smartphone app, customizable workout stats and program, as well as powerful built-in backlight on the screen so you can see it clearly on any kind of lighting. Now, if you are willing to spend more, the Bryton Rider 750 Bike Cyclo Computer with Heart Rate & Speed Cadence has a bigger and coloured screen, and even more workout customization offered.
Shop your bike accessories from Rodalink Malaysia! An easy online shopping at home, with free local delivery, various payment methods, and 0% installment offer. You can also sign up to become a member from your very first purchase. Collect the points and enjoy member-only events and promos! We are also having a sale on bike accessories up on our website now. Shop now before the promo ends!