Nowadays many bicycle shops provide bicycle maintenance or repair for your bike. Have you ever wondered how to clean your bike after you use it daily? Your bike is a collection belonging to moving parts that has mud, grime, and debris. All of the parts need certain maintenance that you should know. Some people would be doing bicycle maintenance once a week or a month. It depends on their needs and the bicycle's condition.
The Cleaning Supplies for the Bike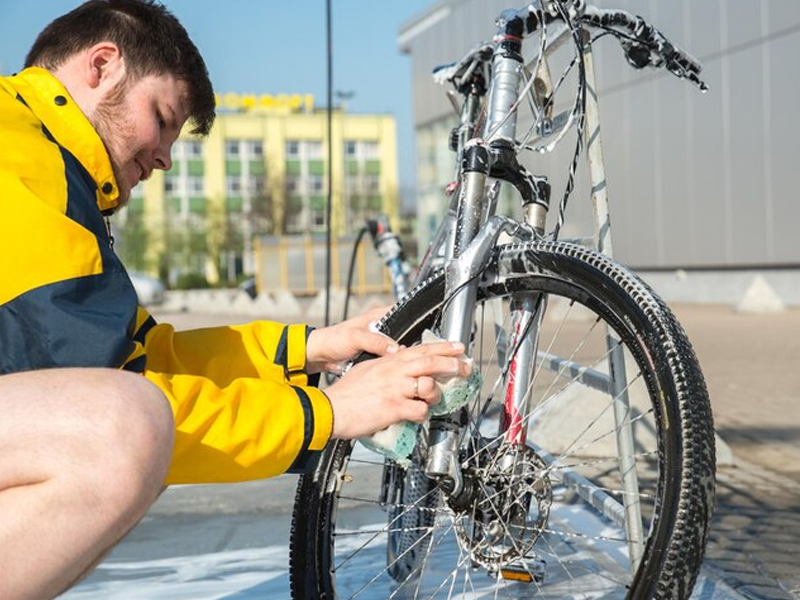 Before cleaning the bicycle, you probably need to know the simple items for your bike, as follows:
Clean rags

This item keeps plenty of hand grease, oil, and wax-related to remove the grime. You will need some rags to clean some bicycle parts. Essure that you used the soft rags for cleaning the bike parts. The use of rags depends on the part of the bicycle.

Brushes

In choosing the brushes you should consider the part of the bicycle to clean up. Make sure your brush could reach the whole parts easily. You can use the old one, or just get them in the bicycle shop near you.

Water

Using water is a must when cleaning the bike. However, you need to be careful since too much water could make a high-pressure hose that will damage the bearing system in your bike.

Soap/cleaner

You will also need soap when cleaning the bicycle. You can buy cycling soap in the bicycle shop or just use your shampoo to clean your basikal. Make sure you clean your basikal gently and don't let any mud, grime, or debris stay on your bikes. But nowadays, there is a cleaner technology that allows the cyclist to clean their bikes with little to no scrubbing. We recommend you to use Finish Line Super Bike Wash Cleaner to clean the bike, it is one of liquid soap. Finish Line Super Bike Wash Cleaner can be an option to clean your bike. You can also use Finish Line Super Bike Wash Concentrate for a better result.

Degreaser

In cleaning the part of your bike, you will need a degreaser to avoid kerosene or turpentine. Choose a solvent that is easier on the environment. Finish Line Citrus Degreaser Drivetrain Cleaner can be a good option to get off your bike drivetrain from kerosene. Or you can use Finish Line EcoTech Multi Degreaser to clean your bike parts, not only the drivetrain but your bicycle brake, bike chain, and many more bike parts. Check out many options of degreaser that Rodalink Malaysia bicycle shop offer, here.

Grease and chain lubricant

The chain is probably an important part of the bicycle, thus you need to choose a lubricant that fits your bike's chain perfectly. This will help you to extend your bicycle's quality. Finish Line Dry Lube Lubricant is one of Rodalink's products to maintain your bike's chain. To see more options for chain lubricant, you can click here and buy the best lubricant for your bike chain. Not only the bicycle chain, but other parts of your bike (such as your hub, bearing, and other else) need grease or lubricant. Rodalink Malaysia bicycle shop offers you a wide range of greasers or lubricants.

Bike stand

The bike's stand allows you to position the bike at a comfortable height while you're working on it. If you think to buy a bike stand, here you go, kedai basikal Rodalink Malaysia has a wide range of bike stands just for you!
The Procedure for Cleaning the Bicycle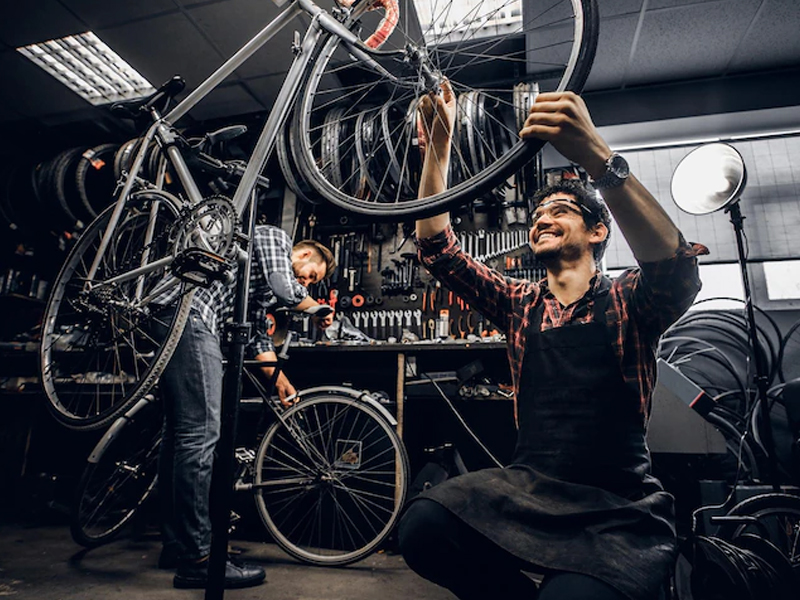 The procedure to clean the bicycle is quite easy. As follow:
First, remove all the accessories attached to the bicycle such as water bottles, bicycle bags, brackets or GPS hangers, gadgets (bike computers), and others. If you will clean an electric bicycle, don't forget to turn off the battery first.
Then position the bicycle in a stable position so that it is maximized to rub. If you have a bicycle stand that would be better. If there is sand or other dirt, you can easily rub them.
And then you can prepare 2 buckets one for soapy water or cleanser and the other for rinsing the sponge or foam or cloth. You can use a dab of soap or dish soap, such as Brooks Proofide Leather Dressing or Finish Line Super Bike Wash Concentrate. After that, don't forget to greaser and lubricate your bike part to avoid corrosion of your bike.
Get the habit of washing your bicycle starting with the dirtiest parts first, usually the chain and bike drivetrain. Also, choosing the degreaser wisely can be beneficial to remove dirt. A good degreaser is non-flammable and contains anti-rust, it can be decomposed by bacteria that will not cause environmental pollution.
Using a degreaser will make it easier to dissolve the black grease/oil/lubricant that sticks. You can use a brush to reach deep and narrow parts, such as the inside of the chain, and the gap between the chaining and the sprocket.
To clean the drivetrain, you can use a degreaser to avoid corrosion from chemical soap. Some degreasers that you can use are our Finish Line Speed Bike Degreaser and Finish Line EcoTech Multi Degreaser.
You can use a brush to remove dirt that sticks while watering and make sure the sand has been removed. Because rubbing a bicycle with a sponge or cloth when sand or rough material is still attached can scratch the bicycle. Note to remind is to flush the bike totally before cleaning. This will help to lose the dirt in your bicycle effectively.
Open the seat post and turn the bike over, if at the time of washing uses a lot of water that might get into the bicycle frame. Seat post holes will help to drain water from inside the bike frame. The bicycle chain needs to be dried because after that it will be re-lubricated, if there is still a lot of water, the lubricant will not get into the crevices of the bicycle chain. The cleaning process could be effectively done with a degreaser and lubricant. You can use Finish Line Dry Lube Lubricant for a better result.
On a bicycle chain, apply a few drops of lubricant to each chain link unit, while turning the crank so that the lubricant can penetrate the chain lengths that have been re-lubricated, turn the crank while cleaning excess lubricant on the chain, so as not to attract dust on the bicycle chain.
Get the Bicycle Cleaner in Rodalink
As a modern bicycle components or spare parts shop, kedai basikal Rodalink Malaysia provides a complete product of bicycle cleaning. You can choose any bicycle maintenance in the shop that you need according to your bike's condition. For further information, you can visit kedai basikal Rodalink Malaysia near you. We provide what you need (cycling needs) with competitive and high-quality products. Get the benefit of free local shipping by being a member of Rodalink community.