So you've decided to start cycling? That's great! Cycling is a great way to get in shape and explore your city or countryside. But before you hit the road, there are some essential skills you need to learn. Let's check it out!
1. Pedaling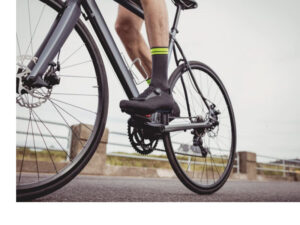 Because it's the most important skill for riding a bike, pedaling is also one of the easiest to learn. Meanwhile, if you do it right—with both feet on your pegs and pushing down with equal force (but not too hard!) at all times—pedaling can help make you faster without making you more tired. One way to master effective pedaling is by setting a long route and concentrating on pedaling with only one leg at a time. Another method is to simply control your pedal strokes when pulling on the upstrokes. When you learn how to pedal efficiently, you no longer need strong quadriceps muscles. Instead, it's important to use your hamstring and gluteal muscles as well.
      It's important to get your bike set up correctly, including saddle height and fore-aft adjustment. If the saddle is too high you're going to have a hard time driving with your heels during pedaling. If the seat is too low, it can cause knee pain. The ideal position is to place your foot so that your leg remains slightly bent at a 90-degree angle while sitting on the pedal with most of your weight placed in front of where you're pedaling.
2. Braking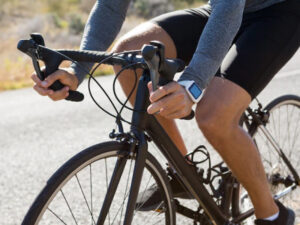 When braking, it's important to use proper technique. To start from the position of your fingers: place your index and middle finger on the brake lever. This will let you control how much or little pressure is applied to stop yourself properly—and in a hurry if need be! Noteworthy is the combined use of front and rear brakes to stop. It's best not to rely only on the rear brake, as this can create cycling problems such as skidding due to your weight being off-center.
      On a downhill track, for example, applying only the rear brake will cause your bike to sway from side to side. If you use only the front brake alone it's guaranteed that things won't go well—your back wheel will skid out and gain no traction on the ground. But using both brakes in harmony can help stop your bike as quickly and efficiently as possible. To slow your bike down, use both brakes and sit well back on the seat with your weight over the rear wheel to keep it from skidding.
      Release part of a brake before reapplying if you feel yourself losing control. The skill of feathering the brake—using a technique in which you release and reapply pressure from your brakes lightly, repeatedly, without locking them up so they don't skid while maintaining control over speed—is important to learn. Feathering your brakes on long descents helps prevent wheel overheating. Knowing how to brake in different conditions is important for a safe ride. As you ride, by varying your speed and using the brakes at various points along the route it is possible to get a feel for how long it takes to come to a stop from different speeds.
3. Balancing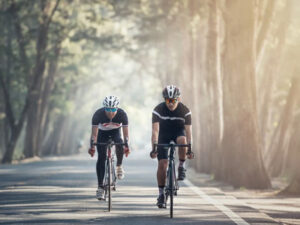 It's normal to feel unsteady when you first learn how to ride a bike, but with practice, your sense of balance will improve. To help develop that skill more quickly, try riding along various different roads and corners—that way if you do lose control at least no one else is around! Another trick for improving concentration while cycling is becoming comfortable looking down as well as the back (when necessary)
      It's also a good idea to practice your balance by riding at slower speeds. Most cyclists find it hard to keep their balance when going slowly, and cone drills can be a great way of improving this skill. The cone drills help you learn how to balance while cycling, which will enable you not to sway too much in turns. To improve your balance while cycling, adjust the way you sit on the bike. A more upright position will help you to maintain a better balance. You can also work out regularly to build core strength—that's important for keeping your center of gravity low and balanced throughout all kinds of riding conditions!
4. Shifting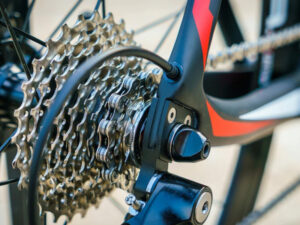 The ideal pedaling cadence for normal cycling is 90 revolutions per minute, or about 1.5 revolutions every second. To achieve this optimal pedal rotation frequency, we must be diligent in changing gears to suit road conditions and foot strength—especially when the going gets tough! When riding uphill, shift into a higher gear before beginning the climb and pedal smoothly while shifting gears. This will make the gear change process faster with less noise when changing gears. If your bike has a front and rear sprocket, avoid crossing the chain between them by using different-sized chainrings or sprockets at each end.
      The skill of shifting gears is a necessary element in cycling. The rider must develop the ability to shift the front and rear gears with their thumb while keeping control over steering motion. The choices for front gears are typically large, medium, and small. The large gear is used for speed on straightaways; the medium gear is useful in the event of a less sharp grade; while small gears should be utilized when going up heavy grades. Its usefulness is inverted from front to back. The biggest gears are for heavy climbing, while the smallest ones catch up with speed.
      The art of combining variations in the front and rear gears is a skill that must be developed by each individual cyclist. Since bicycles are fully mechanical, shifting must be done while pedaling—not when you're coasting or stopped at red lights. It is also important to note that for every gear shift there must be a pause, and at least one pedal rotation. If the rider shifts gear too quickly or improperly, it could break the chain or damage the bike's gears.
5. Descending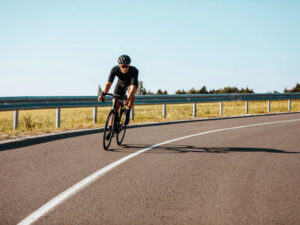 During a very steep descent, shift your weight onto the bicycle's saddle. If necessary stand while moving backward from the saddle, so that more of your body is over the rear wheel and less on top of it. Look ahead so you can anticipate what's coming, instead of focusing on what is happening now. With your hands in the correct position for maximum control over the bicycle at all times, you'll be able to respond quickly and effectively when something unexpected happens. Bikes are more likely to overturn if they hit an obstacle or something else.
Conclusion
      After reading the article above, you can learn the skills that you must master before starting cycling. First you can learn to maintain balance, then learn to pedal properly. Next, learn to do braking, shifting, and descending which are no less important when cycling. If you are just about to start your cycling activity, and are looking for a bike that suits your needs, you can visit the Rodalink Malaysia website.
      Why Rodalink? You can get various benefits such as free local delivery with 0% installment! Not only that, by joining as a member of Rodalink Malaysia, you can get various benefits and information updates related to on-going promos at Rodalink Malaysia. With a variety of payment methods to choose from, it's now easier than ever to buy a bicycle and its accessories! Come visit the Rodalink Malaysia website and start your cycling adventure!