When you dive into the cycling world, the word "MTB" must have been heard several times now. It is a famous category of cycling, which is also recommended for every cyclist to at least try it once. The track experience will definitely serve you something new instead of the usual cycling on the road.
Before we dive in deeper, let's talk about what MTB cycling is. MTB is short for a mountain bike. Yes, just like the name suggests, it is a cycling activity in the mountains. If you are beginning to picture very narrow tracks with extreme bumps all over it, you would be correct. It is definitely a more adrenaline-pumping activity, focusing more on taking the different obstacles on the track rather than going fast.
Types of Suspension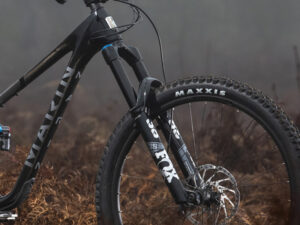 Before diving deeper into each MTB type, a very differing aspect of each bike type is the suspension. A suspension is basically the system that will insulate the roughness of the terrain. It absorbs the shock from bumping into obstacles and makes the ride much more comfortable for cyclists. The suspension can be quite heavy, which is why there is something called a hardtail and a full suspension. A hardtail is when the suspension is only on the front wheel of the bike, while a full suspension is on both the front and rear wheels. The full-suspension MTB will be much more comfortable, but significantly heavier at the same time compared to a hardtail.
Types of Mountain Bike
Now that we have learned about suspension types, let's get into the MTB! Even mountain biking has different kinds of tracks and the cyclists' riding type. It will differ on the track location, what kinds of obstacles you will be taking, and the season when you are mountain biking. For each kind, there are different types of MTB bike that will serve you the best. Let's talk about it one by one!
Leisure Mountain Bike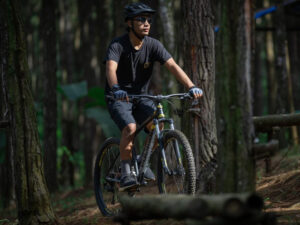 You can say that a leisure mountain bike is entry-level for beginners who are just trying out MTB, specifically for cross country (keep reading to find out more). It is a versatile mountain bike with characteristics that are considered to be lightweight compared to other MTB bike types. The suspension type is a hardtail and the frame is made from alloy material. It is easy enough for beginners to off-road leisurely with comfort and style. Our most recommended is the Polygon Premier Mountain Bike Series with an aluminum frame, Shimano drivetrain, and 8 to 9-speed options. Or you can see the affordable one, the Polygon Cascade Mountain Bike Series. With an aluminum frame and Shimano drivetrain too, and a range speed of around 7 to 8-speed option.
Cross Country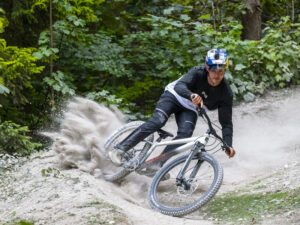 Next up is cross country. The cross-country mountain bike is best for uphill or rolling terrain. Cross-country MTB is capable of descending fast and technical trails altogether. Even though mountain biking usually relates to performing different stunts on obstacles, you can actually still go for a longer ride on the rougher terrain. Compared to other types of mountain bikes, the cross-country type has a slacker geometry. From the technical aspects, the XC mountain bike has an aggressive geometry with a head tube angle of 68°-70°which creates upright positions. Besides that, the cross-country mountain bike has suspension travel of around 100mm to 120mm.
This type of basikal mountain bike has a hardtail or a full suspension. It makes the bike able to be cycled through forests, fields, gravel paths, meadow paths, tracks with gradients and descents, and even some rocky mountains. A cross-country MTB bike is best for its maneuverability feature, where the design supports the cyclists' ability to move it smoothly on different tracks.
For beginner mountain bikers, it's really good to get one because cross-country mountain bike is more affordable, user-friendly, and easy to maintain. You can buy the Polygon Syncline Mountain Bike Series or the Polygon Xtrada Mountain Bike Series with Shimano Deore drivetrain for a hardtail option. For a full suspension type, you can try the Polygon Siskiu D Mountain Bike Series, which has a Shimano Deore or SLX drivetrain. For Marin Bikes, we recommend Marin Bobcat Trail Mountain Bike Series. It is the best combination for riding fast and tackling obstacles!
Trail Mountain Bike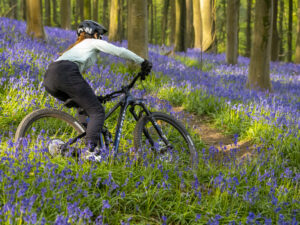 A trail mountain bike is by far the most common type that cyclists will have. They are the most broadly capable style of mountain bikes, for a variety of uses. Trail mountain bike is best for everyday rides on all types of terrains, it has all-around capabilities to climb uphills efficiently and descend well on technical single track. Trail bike geometry is a good mix between cross-country and enduro bikes, with a full suspension, and a travel fork of around 120-150mm. A trail mountain bike has slack geometry with a head tube angle of 65°-66° and is usually equipped with a dropper post. It is comfortable to climb but with tougher components and frame, heavier tires, and a more relaxed sitting position for facing the hardest of trails. For a trail mountain bike, you can try the Polygon Siskiu Dual Suspension Bike Series, with alloy material and Shimano drivetrain. For our best quality series, the Polygon Siskiu T Dual Suspension Bike Series is your best pick. Featuring alloy material, Shimano Deore drivetrain, and 12-speed options. Our recommendation from Marin Bike is the Marin Rift Zone Mountain Bike Series.
Enduro Bike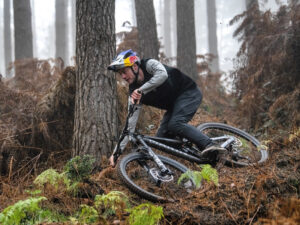 Enduro MTB is a general one that you can use for a wider range of cycling activities in the mountains. It's suitable for aggressive downhill terrains and maintaining the debility uphill. The suspension type is full, with a travel fork of around 150-180mm. Enduro mountain bike has slack geometry with a head tube angle of  63°-65° and is mostly equipped with a dropper seat post. It is suitable for light and longer tours in the lowlands, tackling ascents, and downhill descents on moderate trails, but also possible for going up the hill, as well as going for some jumps and drops. The frame built is very strong and rigid, able to withstand the toughest of terrains or light off-roading on the outskirts of a forest. Several times, an enduro mountain bike is used for the descending race. To get the best enduro mountain bike, you can try the Polygon Siskiu N9 Dual Suspension Bike. With aluminum material, Shimano Deore drivetrain, and 12-speed options. It is the ultimate off-road racing machine! From another well-known bike brand, we recommend Marin Alpine Trail Mountain Bike Series.
Downhill Mountain Bike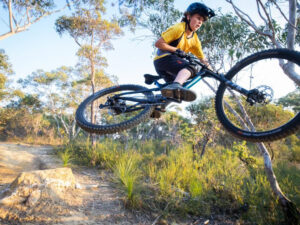 The downhill mountain bike is specifically designed to be able to cruise downhill as fast as possible. The shape is very distinguishable, with wider handlebars, thick tires, low saddle position, and full suspension. This design is meant to optimize the center of gravity so that cyclists can be as stable as possible when flying through rough vertical tracks. A downhill mountain bike geometry has a suspension travel of around 200mm and is equipped with a head tube angle of less than 63°. Downhill mountain bike also has a low fixed seat to eliminate pedaling uphill. Cyclists usually take their bikes up the hills and ride their bikes specifically for descending the hills. There are no specific Polygon bikes for downhill, but you can use the Polygon Siskiu N9 Dual Suspension Bike. The guaranteed durability is supported with aluminum material and a Shimano Deore drivetrain which is best for the best stability and control during an off-road session.
To shop for the best high-quality basikal mountain bike, you can visit Rodalink Malaysia! Visit our store by searching kedai basikal near me and choose the location you prefer. For a complete lineup of our products, you can look for mountain bike Malaysia on our website. We are offering free local delivery, with various payment methods, and 0% installment. By signing up to become a Rodalink Member, you can get special discounts and offers as well. Make sure you do not miss out on the limited event!