There is this question often asked by beginners, "what is the best type of bike I can get?". Well, to simplify it, the answer is a gravel bike. Why? Because it is a multi-use bike you can ride on any kind of terrain. The bike itself already comes with handy characteristics so that beginners do not have to worry about changing up parts or learning about all the bewildering mechanisms. To further know about the benefits of gravel bikes, let's keep on reading!
Versatility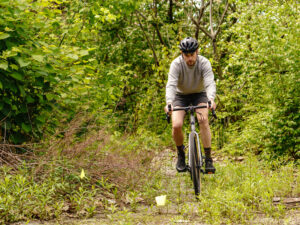 As mentioned before, gravel bikes are greatly versatile, due to their characteristics which are a mix of road bike and mountain bike. This bike is good for both rides on the tarmac, gravel path, and even dirt road. Additionally, a gravel bike is also the bike you will want to go with for touring. The thick frame will provide more space to hold your luggage mounts just fine. Of course, for specific racing purposes or light off-road riding, this bike will not be the best. But, for the average user or beginners, this bike is a great one to start with.
Tyre Options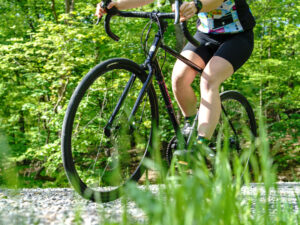 For gravel bikes, you can choose either a 700c or 650b tire. A 700c has a bigger wheel diameter and thinner tire, usually around 40-45mm. On the other hand, for the same bike frame, it can fit a 650b. A 650b has smaller wheel diameter and thicker tire, which can be up to 47-55mm. For off-road purposes, many cyclists prefer the smaller wheels to provide more tire clearance and grip from its thicker tires. But, if you are looking for a faster ride on the roads, the bigger tire will be able to roll more smoothly, then a 700c tire will suit you better. You can choose the slicker surface of the 700c or 650b tire with sufficient width (45-55mm) to make your gravel bike roll smooth and fast on the road.
Various Gearing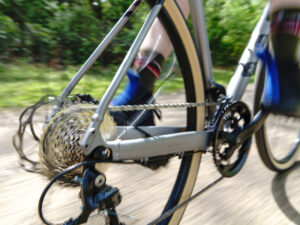 Gearing setting is really up to a cyclist's personal preference. But, a gravel bike can offer you a wide range of options for you to choose from. Starting from the chainring number, you can get a 1x, 2x, or 3x. The speed options are also usually around 8 to 11. If you want to go simple, you can just go with the 1x chainring. This choice is best for beginners as you do not have to figure out how to operate complicated gears. For a 1x chainring gravel bike, we would recommend checking out the Marin Nicasio Gravel Bike. It is made from CrMo material, with 8 speed option, and Shimano Claris drivetrain.
But, if you are up to learn the technicalities of your bike, you can choose the 2x for smoother gear changing. This type of chainring is also best if you want to chase speed. Our recommendation will be the Polygon Bend R2 Gravel Bike. With Polygon special alloy ALX material, it also uses Shimano Sora drivetrain that offers 2×9 speed options. But, keep in mind that gravel biking means you will deal with a lot of dirt and mud. An extra chainring will add to another part you have to meticulously clean and maintain.
Lastly is the 3x chainring. This type of bike will offer you more gearing options, so you can determine which combination suits your riding style perfectly. Our favorite has to be the Marin Four Corners Gravel Bike. The frame material is from Marin's own special CrMo, equipped with Shimano Sora 3×9 speed options.
To learn more in depth about gravel bike gear options, click this article!
Comfortable Riding Position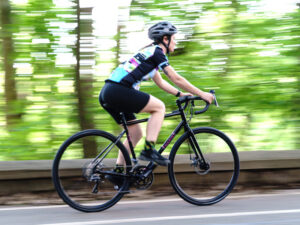 Gravel bike geometry is built to be more relaxed than a road bike, but still more compact than a mountain bike. This means, it has a good balance in between. When you are off-roading, you can use the flatter part of the handlebars to have a more upright riding position and even drop your seat post to reduce the hunch. But, when you are in racing mode, you can easily just drop down on the handlebar and raise your seat post to increase your aerodynamics.
It's a lot of Fun!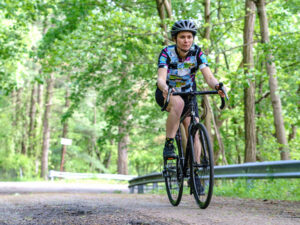 With the versatile use of gravel bikes, you can go on any different kinds of rides. Your friends asking you to join them on a ride in a complex? Hop on your gravel bike! Wanting a change of scenery and ride in the forest? Let's go! Basically, it is just a bunch of fun activities waiting to be discovered when you finally decide to explore the paths. You can always try something new, without having to worry about whether your bike can take on the terrains or not.
And that wraps up our top 5 reasons why you should choose a gravel bike! To explore your options and find your perfect fit, come and visit Rodalink Malaysia! Search for kedai basikal near me and pick the store location closest to you. Our team is ready to pair you with our best gravel bike! If you decide to shop online, you can enjoy free local delivery, pick from our various payment methods, and even get a 0% installment offer. We are also having bike parts and accessories sale in our store right now. Shop now to complete your gravel biking essentials! Oh, and remember to sign up to become a Rodalink Member, so you will be eligible for exclusive promos and offers in the future. Happy shopping!
Get Your Best Gravel Bike Now!
Discover Your Needs at Rodalink Now!