Rodalink Malaysia offers a wide range of cycling products. You might already know about the various types of bikes we offer, but do you know that we also have kids bikes? Yes, a mini size of your bike to be used for a smaller child! Now you probably think, is it really necessary to buy bikes for kids? What are the benefits of riding bicycle for kids? Let's take a look at them one by one.
Cycling Benefits for Kids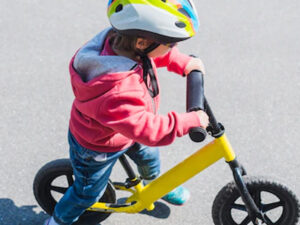 For adults, cycling can be used as means of simple transportation, a fun relaxing activity, or even as a sport, and the same goes for kids. Learning how to ride a bicycle for kids will come a long way, some even consider it as one of the basic skills kids should learn at a very young age. Adults can start teaching kids on how to ride a bike even as early as when the kids are just 1,5 years old. When kids are balanced enough and have been walking for a long time, this is the extra ability that can help support their growth and development, whether it is physically or mentally.
Practicing Balance
By learning how to cycle, kids will further develop their balancing skills. When sitting on top of a bike, they have to figure out how to balance themselves so that they can cycle and control their bike comfortably. At first, they will learn using the balance bike which has small training wheels on each side of the rear wheels. As they get more handy with it, the training wheels will be taken out and kids will have to learn to balance themselves even more. This will help them develop their motoric and coordination skills as they are taking over the bike and preventing themselves from falling. Shop for kids balance bikes now by clicking here.
Health Benefits
Even as a fun activity, cycling still has that benefit of a light sport. It gives good exercise as the kids are actively moving, strengthening their body and leg muscles.
Increased Focus
A study once found that kids who learned how to cycle have better focus and are ready to absorb information from school rather than kids who have not learned it yet.
Learning How To Navigate
One of the fun things about riding a bicycle for kids is that they will have the chance to explore. They can navigate their ways to get to a certain place, back to where they started, and figure out shortcuts. This can help to increase their memorizing and intuitive skills.
Enhance Social Skills
During their cycling activity, kids will be cruising through their neighborhood and meeting a lot of people. This is one of the ways that they will meet other people outside their family and develop social skills. Children will learn how to not get scared of strangers, how to interact with new people, and practice on their confidence. Cycling will help them get used to making friends and not be as shy anymore.
Boost Their Emotional Wellbeing
Being outside and seeing new scenery can be a breath of fresh air that kids need. They get to enjoy themselves and have lots and lots of fun! It promotes a positive mental attitude and relieves stress, even on kids!
Kids Bike at Rodalink Malaysia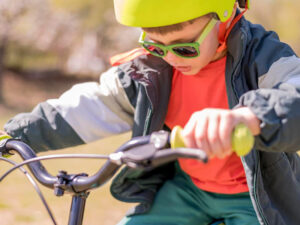 At Rodalink Malaysia, we offer kids bikes in three different categories, which are the regular kids bike, BMX kids bike, and mountain kids bike.
The regular kids bikes are good for beginners, when they are just starting to learn how to ride a bike. It is even suitable for kids as young as 18 months and up to 5 years old. Our best selling one is the Strider Sport 12 Balance Kids Bike 2016. With Mini-Grip handlebars that have safety pads, ergonomic saddles, and are made from lightweight steel material. The best pick for your kids to join the family cycling activity!
The BMX and mountain (MTB) kids bikes are intended for the bigger kids who already mastered riding bikes well enough. Just like adult bikes, the BMX is recommended for when cyclists are aiming for speed, mobility, and strength during off-roading. Our best pick is the Polygon Rogue BMX Bike. Made from Alloy material that is durable and lightweight, it is sturdy enough but still comfortable to cycle. Great for when you are taking your kids for a slight off-roading or a fun cycling day in the city!
Lastly, the mountain (MTB) kids bikes are recommended for heavier off-roading. It is crafted for better shock absorption, climbing, and the ability to be cycled through more various terrains. Our pick will be the Polygon Siskiu D24 Dual Suspension Bike. The dual suspension feature will offer maximum shock absorption. Made from the high quality alloy material and comes with an 8 speed option, perfect for exploring new challenges with your kids.
Conclusion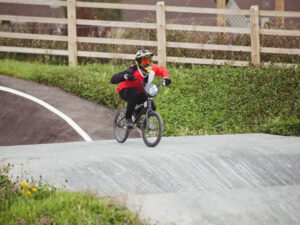 Riding a bicycle for kids offers a lot of benefits, supporting both their physical and mental growth and development. Studies have proven that kids that do regular exercise and used to being active are more able to absorb information and excel at their school. Starting as young as 18 months is proven to be safe and even very much recommended. With supervised learning, kids will teach themselves on how to balance their body even more, how to control their body movements and coordination, and handle pain when they fall. It practices patience and resilience, as well as hard-work.
Rodalink Malaysia offers a wide range of kids bikes, in various types of regular kids bikes, to BMX and mountain (MTB) kids bikes. Manufactured by the same reputable brands, we offer high quality bikes for everyone in the family!
Start shopping via our website to get free local delivery. Parents can choose the payment method that suits them best and enjoy 0% installment. Sign up to become a member of the Rodalink Community to collect your points right away and get exclusive promos as well as events. You can consult with our staff by visiting our offline store. Search for "kids bicycle shop near me" and click on the location you prefer. We are also having a sale on bike accessories. So, get shopping now for your kids complete bike set before the promo ends!