When it comes to off-roading on your bike, there are several types of cycling out there, one of them is enduro MTB. It is a fun type of cycling where you will be conquering a bunch of different obstacles, proving your fitness, skill, and speed on top of your bike. While it might sound extreme, enduro MTB is actually a beginner friendly sport! Excited to know more? Let us tell you all about it!
Enduro MTB – What Is It?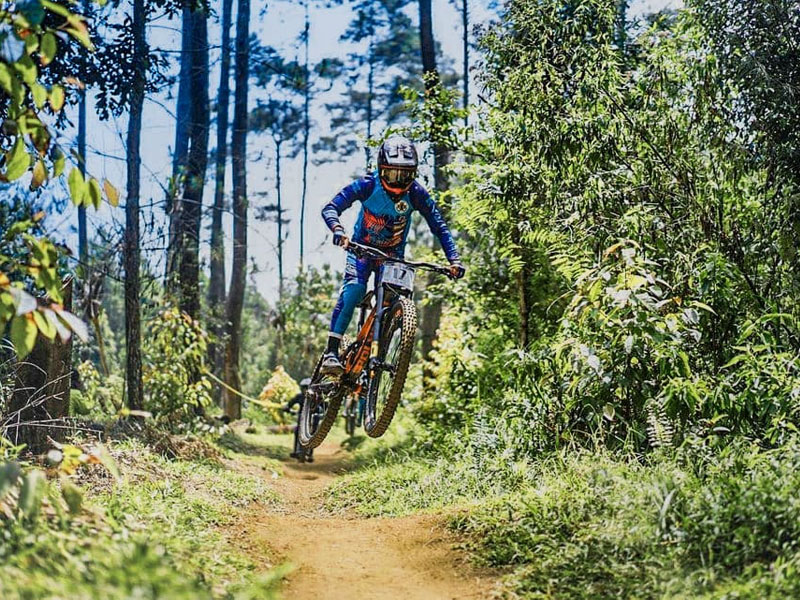 Just as the name suggests, enduro is a type of MTB cycling where you prove your endurance. It is a mix between cross country and trail MTB. Cross country MTB focuses on the speed and different types of uphill and downhill ride, while trail MTB focuses on going down steep hills and jumping all around the track.
Enduro race is usually divided into several stages. Each stage is a track of a downhill ride with various obstacles, even a 10% climb to challenge your skill and fitness. Between the stages, there will be an uphill ride. The race is determined by time. The time it takes for cyclists to finish each stage will be accumulated to find the winner. The transfer section between stages are usually not timed, but oftenly given a time limit for cyclists to finish.
Where Can You Do Enduro MTB?
Since enduro MTB is a race, to do this sport, you will have to find races. There are a lot of it thrown all over the world, even in your local area. When you are about to enter, do your research first and determine which one will fit your skill and fitness. A beginner friendly one will be about 25 km long and takes 20 minutes for each stage. For a professional one, it can be 65 km with 1 hour timed stages. Typically, this type of race will be held on a mountain to get both uphill and downhill terrains.
What To Wear for Enduro MTB?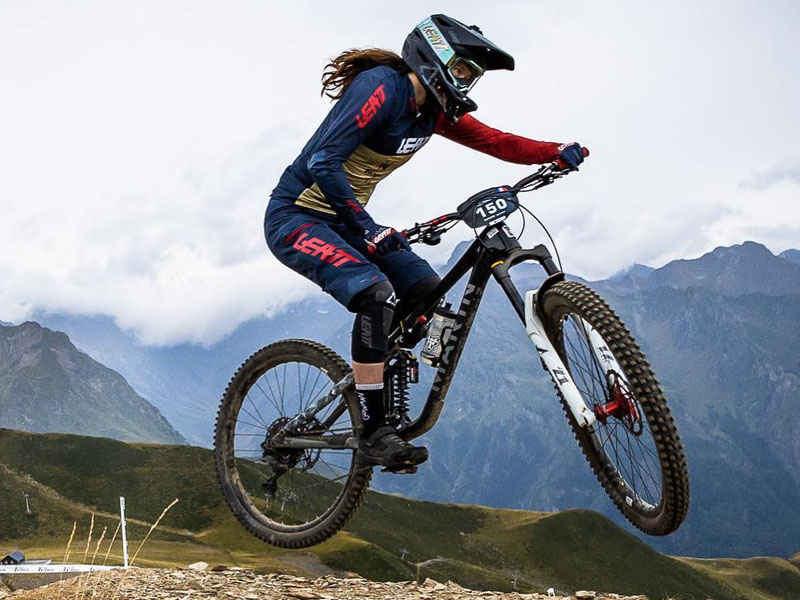 Enduro MTB is a more extreme type of sport, so you need to prioritize your safety at all times. So, remember to wear your MTB helmet such as the Entity MH020 Mountain Bike Helmet. It features 17 air vents for cooling effect and an easy dial fit system for its adjuster. Secondly, as you will be riding through various types of natural tracks, you have to protect your eyes from dirt and mud splashes. An eyewear such as the Shimano S-Phyre X Polarized Sunglasses. It has full UV 400 protection and offers radiused temples with non-slip pattern for secure fit and comfort. Guaranteed to protect your eyes and stay in place even with all the bumps and jumps. Another essentials you need is pads, to protect your knees, shin, and elbows from impact if you happen to crash.
To further increase your comfort and performance, you will need a cycling jersey such as the Polygon AM Duron Long Sleeve Jersey. A long sleeve will protect your arms better, whether it is from dirt, scratches, or even sunburn. This jersey is made from 100% polyester with a hollow texture for breathability, durable, and lightweight features. Plus, it has one hidden pocket on the side and a special cloth for wiping glasses on the front. For the shorts, you will want to opt for one that is not too tight, such as the Bellwether Baggy Ultralight Gel Short. Made from a hydrophobic polyester outer shell and has a mesh inner short with chamois. This material makes the pants waterproof, durable, lightweight, and even has reflective tabs for increased visibility.
Lastly, you will want to bring a bag, or at least a water bottle to keep you hydrated. Since you will be riding for a long time, conquering various obstacles, you will want to bring your own kit for when your bike comes across a problem. A starter pack such as tools for flat tires, phone, food, and enough water to last you the day. It is always a good idea to take a snack break during the transfer section, enjoy the scene on top of the mountain while refilling your energy.
For enduro MTB, it is best to use a dual suspension bike. To ensure your comfort while riding the various obstacles downhill, you will need all the shock absorption you can get. Plus, since the ride uphill is not timed, the weight of your bike will not be a problem.
Our recommendation will be the Polygon Collosus N9 Dual Suspension Bike. Made from Polygon's special ALX alloy material for guaranteed durability and lightweight features. This bike also has Shimano Deore drivetrain with 12 speed options. When you are going up and down the hill, you will want more speed options according to your preferences.
Shop for your enduro MTB starter kit from Rodalink Malaysia now! You can visit our offline store to get assistance from our team. Look for kedai basikal near me and pick the store location closest to you. If you choose to shop from Rodalink Malaysia website, you can enjoy free local delivery, 0% installment, and choose from our various payments that works best for you. We are also having a sale for bike accessories, so you can get your complete essentials at the best price now! Plus, make sure you sign up to become a Rodalink Member. This way, you are eligible to enjoy exclusive promos and events. Shop now!