Gravel bike is one of the bikes that has become an 'idol' lately. Many people are curious about this type of bike, some of them even question whether Gravel bikes are just a trend, or can they be a valuable investment? Is it worth it to buy a Gravel bike? All these questions you can answer by reading this article. We'll give you a 'everything you need to know' guide before choosing your Gravel bike! Let's get started!
What Is a Gravel Bike?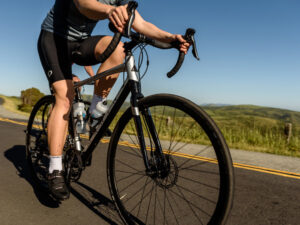 So, before that, it would be better for us to know what a Gravel bike is and what it is used for.
A gravel bike is a hybrid of the best features of road, cyclocross, and mountain bikes. Gravel bikes combine the features of both mountain and road bikes, allowing riders to explore areas normally inaccessible by traditional road or city cycling.
A gravel bike is designed to let you ride over many different surfaces, from smooth roads to bumpy trails. A drop-bar frame and sporty geometry make for speedy road rides—but wide tires, lower gearing, and stable handling also give you the confidence needed when heading off the beaten path.
Riding a bike designed for multi-terrain excursions means that you can incorporate gravel roads into your usual route, mixing it up with forest tracks and trails on byways along the way.
If you want to ride farther and faster than a road bike, but don't want to give up a mountain bike's comfort or off-road capability, consider getting one designed for riding on gravel.
Gravel Bike Characteristics
The variety of gravel bikes on the market means there's a model that can meet every rider's needs: Some are designed for maximum speed, while others prioritize comfort over control. The right gravel bike for you depends on your type of riding. So let's take a closer look at the design features that define a typical gravel bike:
1. Gravel Bike Frame Material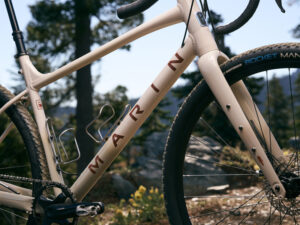 Gravel bikes, like other types of bicycles, are available in a range of frame materials: aluminum and carbon tend to be the most common. Aluminum is a popular frame material for bikes because it is lightweight and affordable. Carbon fiber frames are often lighter than aluminum ones. In addition to aluminum and carbon, steel and titanium gravel bikes are also available. These other materials provide more options for aerodynamic tube designs as well as rigidity and comfort.
2. Gravel Bike Geometry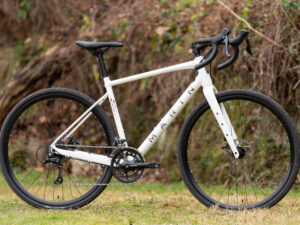 Gravel bikes have higher head tubes and slacker angles than cyclocross bikes, making them comfortable for long rides. They're also appropriate for ultra-marathons—even over many hours spent in the saddle!
The gravel bike's low bottom bracket gives it a distinct ride quality when compared to its road and cyclocross counterparts. The low bottom bracket makes the bike perform admirably at high speeds on rough terrain, unlike other bikes that can get thrown off their line by bumps or cracks in the pavement.
3. Gravel Bike Handlebars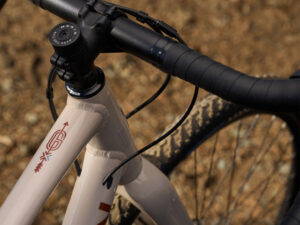 Drop bars are standard on most gravel bikes. They give you a low center of gravity for confident handling when the going gets rough, and they're easy to maneuver in tight spots as well. Flared handlebars give riders greater control over steering. It is also possible to get extra room for your handlebar bag, but a flat bar gravel bike may be better if you need more handgrips while braking on bumpy surfaces. You'll have much greater control of the bike and can negotiate obstacles with ease.
4. Gravel Bike Wheel & Tire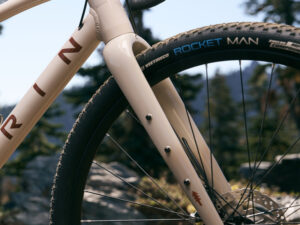 Gravel bikes are a specialized type of road bike with large tires that make for more comfortable riding on rough terrain. Gravel bikes typically have clearance for between 28mm and 47mm tires, but they can accommodate either 700c or 650b wheels (depending on the frame). 700c wheels are smoother and more efficient, allowing you to retain momentum. 650b wheels allow for swiffer acceleration but don't perform as well on the tarmac.
Gravel bikes typically have plenty of clearance for larger tires, enabling riders to run lower pressures—as low as 40 psi—for more comfort and traction on uneven surfaces.
5. Gravel Bike Brakes & Drivetrain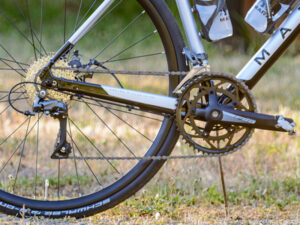 Gravel riders have begun to adopt 1x drivetrains, which offer a similar range as 2x group sets and are easier to shift when riding on technical terrain. This system is simpler, so it requires less maintenance and has fewer wear-and-tear components. It weighs less, too—thus decreasing the chance of defects.
Disc brakes are used in all types of bikes, from road to gravel. They made it possible for larger-tired and off-road bicycles with drop bars (the most popular kind) to have hydraulic disc braking systems—which were previously only available on mountain bikes. Many cheaper gravel bikes will be specced with mechanical disc brakes.
Disc brakes offer consistent, effective stopping—crucial for gravel bikes-and leave plenty of room for wide tires required off-road riding.
6. Gravel Bike Accessory Mounts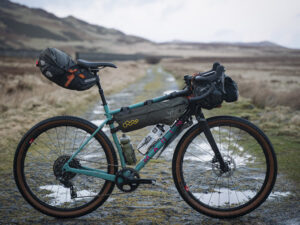 Gravel bikes often feature mounts for accessories and luggage. Some models come with a top tube bag mount (compatible bags sold separately), which is useful for storing snacks or essential supplies on long rides—or during gravel races! Some bikes have an extra mount on the fork blades to accommodate extra water bottles. And some models may include a mounting bracket for dynamo lights near the tip of their steering tubes.
After reading this article, you probably already have an idea about which gravel bike to choose and which one suits your cycling needs. If you're looking for a 'gravel bike' or 'kedai basikal' in Malaysia that sells a wide selection of gravel bikes, you can visit Rodalink Malaysia's website! Why choose Rodalink Malaysia? You can take advantage of various benefits—like free local delivery and 0% installment! Moreover, by joining as a member of Rodalink Malaysia, you will be able to receive information related to ongoing promotions. You can find various types of gravel bikes from well-known brands such as Marin Gravel Bike or Polygon Gravel Bike. With a variety of payment methods to choose from, it's never been easier than ever to purchase a bicycle or its accessories! Start your fun cycling experience with Rodalink Malaysia.