Like we have talked about before, gravel bikes is a category under road bikes that basically has some characteristics of an MTB bike. It has a bulkier design than a performance road bike, but still thinner than an MTB. It is a very versatile bike, the one that you can use for day-to-day commuting, fast riding on the smooth pavement, or even a slight off-roading.
One other differing part between a road bike and an MTB bike is the handlebar. A road bike has a drop handlebar, meaning the cyclist's hand position will be lower than the saddle. It is to make the body bent lower and hence lay flatter to increase aerodynamics. An MTB bike on the other hand, has a flat handlebar, which makes the cyclist's hand position in the same height as the saddle. This position is much more natural and gives better control over the bike. Now, a gravel bike will mostly be offered with a drop handlebar. But, it is also common to find ones with a flat handlebar nowadays. The question is, which one should you go for? In this article we will be talking about the pros and cons of flat bar gravel bikes and why it would be suitable for you. Let's keep on reading!
Flat Bar Gravel Bike
A gravel bike is already a good-in-between of a road bike and an MTB bike. But, if you put a flat handlebar on it, it will lean more towards the MTB spectrum. Not to worry though, it is still great as a bike to ride in the city! Here are the pros (advantages) of a flat bar gravel bike.
#1 More Control and Comfort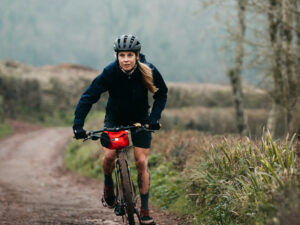 As mentioned before, a flat handlebar offers a more natural riding position and grip. Thus, it will give the cyclist better control over their bike. A handlebar with wider and flatter shape will maximize a cyclist's leverage over the front wheel. When riding through rough off-road terrains, this flat bar shape will enhance your control. On super rough gravel or singletrack, flat bars can help cyclists to ride faster, have better stability, and then explore farther. Flat bar gravel bike also has a more upright riding position, so the chance of getting back pain after your journey is much less.
#2 More Confidence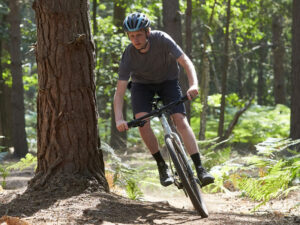 When cycling through rough terrains, cyclists need to have the confidence in order to be able to conquer the obstacles. It will be much easier when you know you can trust your bike. Knowing that your bike has the build and quality that offer you full control and stability is an assurance in itself of a great cycling journey ahead. Plus, a flat bar gravel bike is currently less spotted in the cycling community. Meaning, a flat bar gravel bike is a unique piece to have! What better way of showing off your hobby in a way that is extraordinary?
Now, let's take a look at the cons (disadvantages) of a flat bar gravel bike.
#1 Less Aerodynamics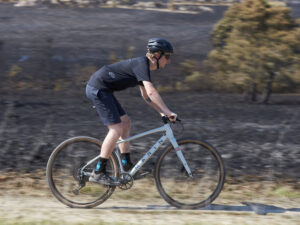 Aerodynamics means an object has characteristics that have a purpose of reducing drag from the air. When cycling, certain cyclists love to aim for the fast-riding, chasing speed faster than they have ever hit before. When a cyclist is flying down the street, the air will result in a drag reaction when it comes in contact with their body, hence slowing down the speed of their cycling. That is why, a performance road bike will have a drop handlebar, in order to make the cyclist's body lay as flat as possible, reducing as much drag as they can. A flat bar gravel bike means that the cyclists will be sitting more upright on their saddle, giving more body surface to contact with the air, resulting in more drag. So, a flat handlebar is great for control, but not as good for speed.
#2 Fewer Hand Positions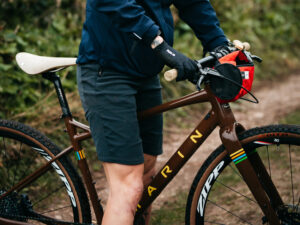 With drop handlebars, you have 3 options for hand positions. The first one is the standard hand position which lays flat. The second one is a more upright position on the bar tops. The third one is a lower position in the dropped part of the handlebars. With a flat bar gravel bike, you are committed to just one hand position, which is the standard one. This is very beneficial for beginners who might not want to figure out which hand position is best for certain scenarios, or a very dedicated off-roading cyclist that will need as much control over their bike as possible.
Best Flat Bar Gravel Bike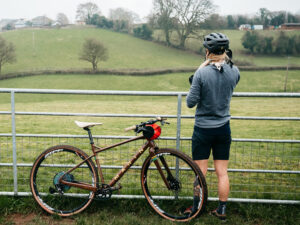 If you have decided that a flat bar gravel bike is for you, now it is time to shop! You can look for flat bar gravel bike malaysia at Rodalink Malaysia. Our best recommendation is the Marin DSX Gravel Bike line up, particularly the Marin DSX 2 Gravel Bike. The DSX 2 is made from alloy material that is very lightweight and durable. It can withstand any type of bumps and obstacles on the terrain, with a good shock absorption feature to it. It has a 12 speed option so you can always adjust it to the terrain you are facing and the riding style you prefer that day. With Shimano Deore drivetrain, it has improved control for smooth riding, improved chain stability, and sharp shifting on the trail. Great for the steep terrain, fast-riding through the downhill, and a track full of fun challenges.
If you are looking for a classic drop bar gravel bike, we also have a line up from Marin and Polygon as well. A Polygon gravel bike of our choice is the Polygon Bend R5 Gravel Bike. Made from specialty Polygon Gravel ALX alloy material, with 11 speed option, and Shimano GRX drivetrain for best gravel biking experience. Read more guides for your first gravel bike here!
Shop for your gravel bike malaysia now at Rodalink Malaysia! You can visit our store by searching for a bicycle shop or kedai basikal near me, then choose the closest location to you. You can get professional help from our team to choose the best bike for you! Or, shop via our website to enjoy free local delivery, as well as various payment methods with 0% installment. You can complete your gravel biking essentials with the sale we are having on bike parts and accessories too. Plus, sign up to become a Rodalink Member to enjoy extra discounts and promos. Get shopping now!