Picking the type of bike you should go for can be overwhelming. With the various types available at the market and the innovation of each product, some features might be overlapping with each other. For instance, if you want a bike that has a versatile use, then you are met with hybrid bike and gravel bike, which might seem to be very similar for beginners. So, how can you choose the right bike for you?
A very specific and differing feature of a bike is its handlebar. A handlebar is the stem that cyclists hold to steer the bike. There are two types of handlebar, a flat bar and a drop bar. The name basically describes itself. It is talking about the shape of the handlebar, which a flat bar will have, well, a flat shape. While a drop bar will have a curve that is dropped down, hanging lower than a regular flat bar.
Each handlebar type will have its own pros and cons. Before we give you a summary of each, let's learn a little bit deeper about each type!
Flat Bar Overview and Bikes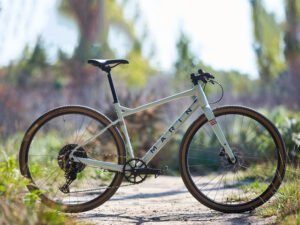 Just as described earlier, a flat bar bike will have a flat shaped handlebar. The stem is in a straight shape that goes towards the sides of the bike. Starting with body position, a flat bar will give you a more upright sitting position. It is much more comfortable for beginners, since cyclists will not be bending their backs too much, hence it requires less flexibility. But, due to the upright position, this means more area of cyclists' bodies are going to be in contact with the air. This will reduce aerodynamics, making cyclists not be able to reach the maximum speed they can with said effort. But since the flat bars are also wider, it is easier for cyclists to balance themselves on top of their bike, giving cyclists agility and stability when cycling. It will be much easier to weave through obstacles on top of a flat bar.
Usually, bikes that use flat bars are a city bike and hybrid bike. City bike is best used for commuting in the city, such as the Marin Fairfax ST 2 City Bike. Made from lightweight alloy material, with Shimano Altus drivetrain, and 8 speed options. For a hybrid bike, you can actually use this one for cycling on different types of terrains, such as gravel paths and light dirt at the park. Our recommendation would be the Polygon Heist X7 Hybrid Bike. The frame is made from a lightweight alloy material, complete with 11-speed Shimano Deore Mix. Drivetrain.
Drop Bar Overview and Bikes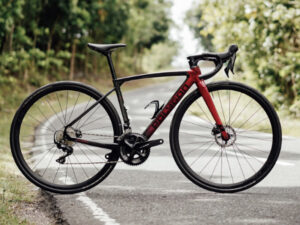 Drop bar bikes actually have 3 hand positions. One is on the hoods, which are the pointy part of the handlebar which curves upwards. This position is what most cyclists will use when they are cycling leisurely. The second one is the drops, the downward curve one. This position is usually used when cyclists are chasing speed. The last one is the tops, which are the flat part, for when cyclists want to relieve some of the strain from the other hand positions and have a more upright riding position. With the different types of hand positions, a drop bar is actually much more comfortable for touring, since cyclists can change their hand position according to needs. A drop bar will also give cyclists more aerodynamics, meaning they can reach their maximum speed with the effort they are giving. The length of a drop bar is narrower than a flat bar, making the cyclists' body squeeze into a narrower position. It is good for aerodynamics, but bad for ease. Cyclists will not be able to move as freely and maneuver their bike because of this. This results in less agility and stability when cycling.
Drop bars are most commonly found in road bikes, such as the Polygon Strattos S3 Road Bike. It is made from Polygon's special ALX alloy material which is lightweight yet durable at the same time. Supported with Shimano Sora drivetrain and has 11 speed option. Road bikes are best for cyclists with speed as their first priority while cycling. Another bike type with a drop bar is a gravel bike. This type of bike is good for both cycling in the city and slight off-roading. You can take this bike from the pavement to the outskirts of a forest. Our recommendation will be the Marin Nicasio Gravel Bike 2020. The frame is made from lightweight alloy material, complete with Shimano Claris drivetrain, and 8 speed options.
Summary
To conclude the difference between a flat bar and drop bar, here is a table description for you.
| | Flat Bar | Drop Bar |
| --- | --- | --- |
| Comfort | More upright riding position, great for beginners | 3 different type of hand position, great for touring |
| Speed | Less aerodynamics, average speed | Improved aerodynamics, maximum speed |
| Ease | Better agility and stability, suitable for weaving through obstacles | Less agility and stability, better for straight lanes |
Now that you have learned about each type, this is the time to decide on which bike is suitable for you! Come and visit Rodalink Malaysia to get help from our professional team! Search for kedai basikal near me and pick our store location that is closest to you. The easy to follow direction will navigate you towards our store with no hassle! If you decide to shop online, you can enjoy a free local delivery, as well as 0% installment from various payment methods. We are also having a sale on bike parts and accessories, so you can get your complete package of your new bike and its essentials from Rodalink! Plus, if you sign up to become a member of Rodalink Community, you will be eligible for exclusive promos and events. Start shopping now so you do not miss out on our offers!
Explore More Bikes at Rodalink Now!