You have picked a folding bike for your daily commute. It is small, practical, and an efficient way of transportation. But, there is still a way for you to make your daily commuting a lot more comfortable. Having the right accessories for your folding bike will give you maximum comfort and also upgrade your safety while cycling in the city. You do need to spend extra cash, but it will be worth the investment.
When tapping into the bike accessories category, there are a lot of products offered out there. Beginner cyclists may become overwhelmed by the different options out there. So, in this article, we have curated the basic folding bike accessories you need. Just the simplest items to help support your cycling activity!
Safety Gears
Riding your bike along with other road-users requires caution. You need to be cycling in the correct path or even a dedicated bicycle lane, following the traffic rules, and be constantly aware of other road-users. But, ensuring your safety can be boosted with other bike accessories as well. See what you might need below!
Helmet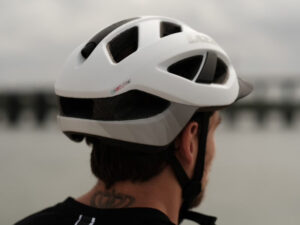 Yes, not only motorcycle users that need to wear a helmet, but cyclists too! Helmet will protect your head from impact in case you crash. It reduces the risks of injury and might even save your life!
There are several types of bike helmet offered in the market, differing on its protection level. Since folding bike riders usually cycle casually in the city, you will not need a heavy duty one. You can find yours in the city helmet section, where the helmets will be lightweight, have good air ventilation, and have a more casual and stylish design so you can wear it anywhere without looking funny. Beginner cyclists can opt for the Polygon Cliff Bike Helmet. It has 19 air vents for maximum cooling feature, made from durable yet lightweight polycarbonate shell, and has a modern design.
Front and Rear Lights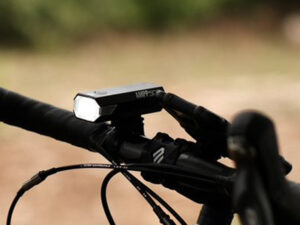 Vehicles with 2 wheels are required to use lights, even in broad daylight. This will help riders become more noticeable, especially to car drivers. Keeping your presence known on the road to other road-users is just as important as you are staying aware of them. Plus, it also helps you see the terrain and obstacles ahead when natural light no longer suffices.
For beginners, we would recommend the Topeak HighLite Combo Race Light Set. It is a set that comes with front and rear lights, so you do not need to look for separate ones. It is water-resistant and made from LEDs, super bright and will not get hot. One battery use will serve you 70 hours of constant light or 140 hours of blinking lights. Super long-wearing so you do not need to worry about it running out!
Bike Lock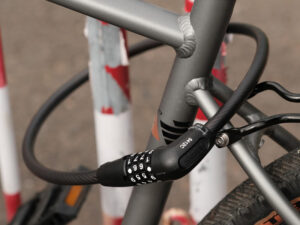 Even though we said that a folding bike in particular is safer than other bikes, cyclists still need to have a bike lock ready. Just in case, you can not bring your bike somewhere, or you just simply do not want to, you will be able to lock your bike outside at a parking spot. No need to worry about bike theft and you can go about your day stress-free. When you return, your folding bike is still safe and sound just where you left it. You can get the Entity CL30 Lock with Number for starters. The number lock is much safer than ones with regular keys since thieves can pick at the hole and potentially destroy the mechanism. The Entity CL30 has coil cable that is very thick and durable so thieves can not cut through it either.
Folding Bike Apparel
Your cycling apparel is also key to making your riding activity much more comfortable and enjoyable. Here is what beginners might need.
Gloves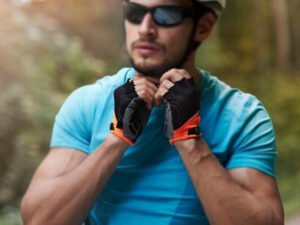 Bike gloves will give cyclists a better grip on the handlebars, especially when the palms are sweaty. The layer of barrier between the cyclists' palms and handlebars also means it can prevent calluses from gripping the handlebars for a long period of time. Besides that, cyclists might even be riding their folding bike first thing in the morning before school or work, so the gloves can protect their hands from freezing in the cold air. Bonus part is that bicycle gloves also come with paddings, meaning it can protect your palm during a crash and reduce the impact transmitted. For a good beginner one, we would recommend the Polygon XC Misty Bike Gloves. It is a half finger design so cyclists will not sweat too much, has good breathable material, with gel paddings, and a simpler design to wear casually.
Glasses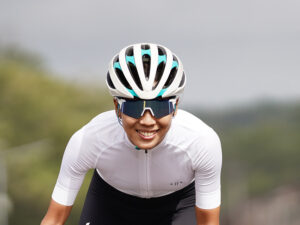 Glasses will aid with protecting your eyes from dirt and debris on the road. Especially when cycling in the city, there will be lots of pollution that might irritate your eyes. The visor on the glasses also helps to reduce the intense sun rays, making it more comfortable for your eyes to cycle even on the brightest sunny days. A good beginner friendly one is the Shimano Pulsar RideScape CE-PLSR2-HC Sunglasses. It has black sleek design, suitable for everyday use, and also a UV protection to protect the eye area from getting sunburned.
Additional Folding Bike Accessories
After covering the basics, here are some additional folding bike accessories recommendations to further enhance your comfort!
Cyclo Computer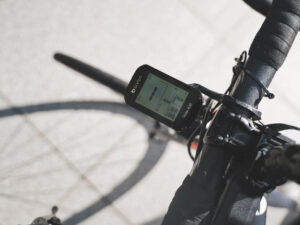 A cyclo computer has GPS built in it, so cyclists do not get lost when cycling through new roads. An upgraded version will also have health tracking and stats for sport purposes. For beginners, you will only need the basics that cover GPS and other information such as your speed and the clock. You should opt for Bryton Rider 15 Neo Cyclo Computer with Cadence for a good beginner one. It is water-resistant with 16 hours battery lifetime and can be connected to your smartphone using an app, which allows you to explore more of its features.
Gauge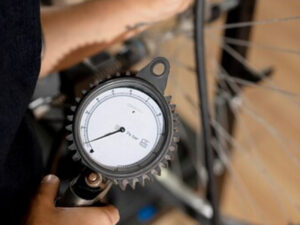 The wheels are the most crucial part of your cycling. Having the correct tire pressure will make your wheels roll more smoothly and be able to handle obstacles better. Having pocket-sized pump with gauge will help you keep the optimal tire pressure and adjust it when needed. We recommend the Topeak Pocketshock DXG 360 psi Shock Pump for the best of both worlds! No more flat tire problem when you have this ready.
Conclusion
Bicycle is an investment. From picking the right folding bike (click here to see how) and completing the accessories you need. Your daily commuting has just got a lot better with the right equipment!
Shop your folding bike accessories from Rodalink Malaysia to enjoy free local delivery, with various payment methods and 0% installment. You can also join our membership to enjoy exclusive events and promos. We are also having a sale on bike accessories! There is no better time to visit our website. Shop now before the promo ends!