We have talked about the importance of defining your cycling purposes before deciding on what type of bike you should go for. On the market, there are road bikes, gravel/hybrid bikes, mountain bikes, and lastly, folding bikes. The first three types have very specific use for it, you can only use it on certain terrain, and usually is a pick for somewhat of a dedicated hobby or professional cyclist. But then that leaves a question, what about the normal day-to-day commuter needs? Well, folding bikes are the answer! If you are just looking for a bike as an option of transportation, without ever intending on using it as a sport, a folding bike is your best pick. If you have not heard of it before, do not worry. It is arguably the smaller section on the market, but there are some good options out there that might fit your needs just right. If you are interested, let's learn more about it!
What is a Folding Bike?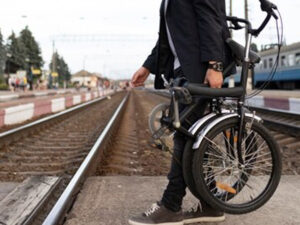 The name already describes the product clearly. A folding bike is a bike that, well, folds. Instead of the regular, rigid, and whole frame of a bike, a folding bike's frame will have several hinges spread throughout. The position of the hinges indicates where the frame will fold and makes the overall size and shape of the bike significantly smaller and more compact.
Usually, a folding bike will have two hinges. The first one is located in the middle of the top tube. This will split the bike into two sections. The first section will include the rear wheel, along with its whole triangle rear frame, and also the pedal as well as its crank mechanism. The second section is the majority of the top tube and the front wheel. This hinge will fold the bike so that both wheels are positioned side by side. The second hinge is placed on the head tube, so that the whole of the head tube as well as the handlebars can be folded down, placed on one side of the joined wheels earlier. The handlebars will also be twisted so that it can become flat with the rest of the folded shape. In its folded form, cyclists can carry their bike by holding it on its top tube. It only takes around one minute (even less!) to either fold or unfold the bike, arguably fast and practical for busy commuters!
Folding Bike Sizes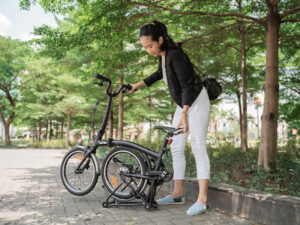 Because of its small size, folding bikes are only offered in 2 sizes. This size is determined by its wheel. The options are either a 16" or a 20" one, which also affects the overall size when it is folded. Smaller wheels are more lightweight and easier to carry. When it comes to riding it, smaller wheels will give cyclists more control and ease of maneuver. A bigger wheel will be much smoother to ride and able to handle more various terrains, as well as a naturally more shock-absorbing than a smaller wheel. But, the folded size will be bigger and you will notice it being heavier when carried. If you prefer the 16" but want to improve the shock-absorbing feature, you can look for ones with suspension, but note that it will add a little bit of weight.
Other than that, another extra feature a folding bike will offer is whether it is a single speed or has gear options. You can choose whichever that fits your needs, whether you have to go fast and will do several climbing along your way, or just a relaxed cycling on flat roads.
Benefits of Folding Bikes
There are 3 top benefits of using a folding bike than just any regular bike. Let's discover it one by one!
Easy to Transport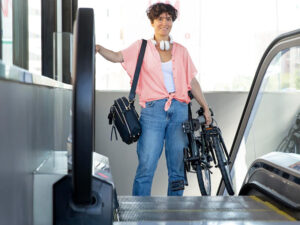 Folding bikes makes it possible for cyclists to go through pathways that are not suitable for regular bikes. You can go up and down the stairs, bring it inside a building, bring it inside public transportations (which is usually banned, such as the bus and train). Just basically where you can walk, you can bring your folding bike with you. This is very convenient when you have to travel a longer distance and have to switch between methods of transportation. Instead of walking far to the train or bus station, or rent a taxi that will be costly, you can ride your folding bike instead. It is faster, cheaper, takes less energy, and also gives you a little bit of exercise at the same time. So much benefit with just a bike!
Easy to Store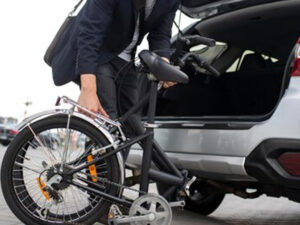 Obviously, folding bikes will be much easier to store compared to a regular bike. The whole size and shape of the bike is reduced by a lot, even up to 50% of its original dimensions! This is a great option for someone who lives in an apartment or house, with not much space left for storage. Cyclists can easily store their folding bike anywhere, under their furniture, inside one of their storage compartments, hung on the wall, propped up against any flat surfaces, and so many other alternatives. Storing a fully functioning bike has never been this easy!
Security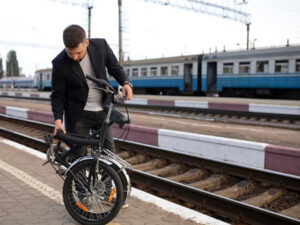 Because of its compact shape and size, like we mentioned earlier, cyclists can literally take their folding bike anywhere. Cyclists will not need to worry about the security of their bike from leaving it outside in the parking area. Plus, there is no need for purchasing a good bike lock since they will not be needing it anyway. Instead of leaving the bike, cyclists can take it wherever they go, keeping it safe and secure by their side. Bike theft? Never heard of it!
Beginner Tips for Buying Your First Folding Bike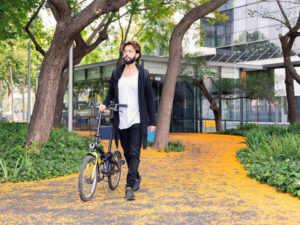 When looking for which folding bike to buy, look for ones from reputable brands. Since you will be using it often, you need to find ones that are proven to be made from durable materials, most importantly on the hinges. You will not want the hinges to become loose easily, or on the contrary, too stiff to a point where it is difficult to fold or unfold your bike. Cyclists also need to consider their preferred weight, which will determine the wheel size and extra added features such as an option for suspensions.
To select high quality folding bikes, go to Rodalink Malaysia! We have a selection of Polygon folding bikes and Tern folding bikes you can choose from. With a variety of different features you opt for according to your needs. A good starter one is the Tern Link B8 Folding Bike. It already has 8 gear options, mechanical disc brakes, and can be folded or unfolded in just around 10 seconds! An upgraded recommendation will be the Tern Verge P10 Folding Bike with 10 gear options, Shimano hydraulic disc, and a very smooth folding and unfolding mechanism. After reading the basic guides to choosing the right foldable bike, you can also read guides for folding bike accessories here!
Click here to enjoy free local delivery, with various payment methods and 0% installment! Also, become a member of Rodalink Community to enjoy exclusive events and promos. And to top it all off, complete your folding bike with accessories which are currently on sale at our website! Shop now!