You have bought your folding bike, now it is time for you to use it. During each use, some parts will degrade, whether it is broken, or just need regular service. So, just like any other bike, it needs maintenance so that it can serve its purpose for a longer period of time. There are some general maintenance that you need to do, but also specific ones for your folding bike, which will differ from the maintenance for other types of bike. Let's learn more about it!
How to Maintain Your Folding Bike
In order to prolong the life of your bike, you will need to do regular maintenance so that each part is well taken care of. Besides prolonging the life, maintenance will also ensure that each part is working without a fuss, so that you can cycle it comfortably and fulfill its supposed performance.
Cleaning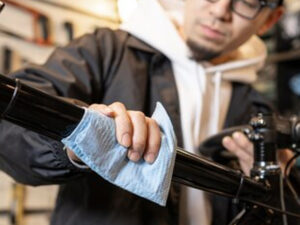 Folding bikes are meant to be used for day-to-day commuting, meaning it has a higher chance of being exposed to more dirt, compared to a bicycle that you would use for once in a while touring. Folding bikes also have a lot of nooks and crevices. Combined with the piled up dirt, rinsing your basikal lipat using only a high pressure water will not cut it. You will need a dedicated soap and scrub each part with detail.
To get started, here are the products that you need :
Now that you have all the essentials, here is how you are going to clean your basikal lipat.
Most bicycle issues usually come from the chain. Dirty chains have piled up dirt and grease if it is not cleaned thoroughly before lubricating. So, to clean your folding bike chains, all you have to do is use a dedicated degreaser, such as the Finish Line EcoTech Multi Degreaser. You can use this degreaser to not only clean the chains, but also the overall drivetrain of your folding bike. All you have to do is spray the degreaser to the drivetrain's parts, such as the chain and sprocket, rear and front derailleur, and the chain wheel. You can also use it to clean the brake pads! After spraying thoroughly, let it dry and voila, a clean drivetrain and brake!
When it comes to the frame, you will want to stay away from using a high pressure water cleaner. The high pressure can actually chip some of the paint from your frame or even cause damages to some fragile parts. To get a thorough clean, use a bike wash (cleaner) such as the Finish Line Super Bike Wash Cleaner. You only need to apply the bike wash to the frame, handlebars, saddle, rim, and then wipe it down using a smooth cloth. No water needed!
Lubricating
One of the most important things you have to remember about maintaining your bike is lubricating the chain. Dry bike chains can lead up to corrosion and the constant friction can finally result in a broken chain, causing much more problems to fix. After cleansing the chain, make sure you lubricate it. Our recommendation is the Finish Line Wet Lube Lubricant. But, if you are often cycling on a wet road, you can opt for the Finish Line Teflon Plus Dry Lube instead. It is also suitable to use on the derailleurs, shifters, cables, and brakes pivot points. If you are unsure on which one you should get, you can visit our store to get the best recommendations from our professional team!
A unique part of a folding bike is that it has hinges, which needs to be lubricated as well. If it gets harder to unfold and fold your bike, try to loosen all the screws and apply a few drops of lubricant to the hinges. If it still does not work, you can bring your folding bike to Rodalink's shop for further inspection and repairing.
Inspection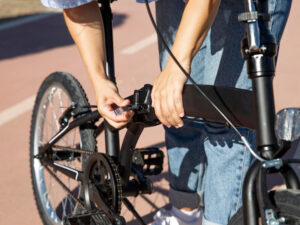 Besides maintaining the cleanliness and lubrication, you also need to inspect your folding bike for its function and safety. The inspection needs to be done frequently, or before any rides. It is to ensure that all of the bike functions are working properly so it minimizes the chance of you facing a problem while you are on your way.
Tire Pressure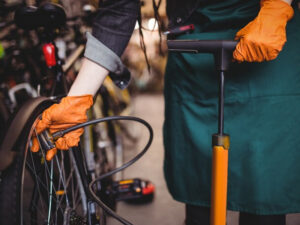 First things first, check the tire pressure of your folding bike. The right tire pressure will give you a smoother roll on the road and comfortability. Bikes with lower tire pressure than it should will be much harder to control and even resulting in damages to the rim. On the other hand, higher tire pressure over the recommended amount can be dangerous as it can lead to explosion. You can find the optimum tire pressure on the side of the tire itself, usually embossed by manufacturers.
Brakes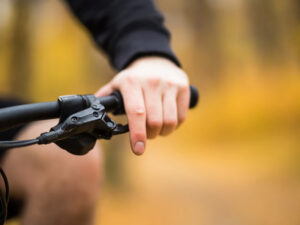 Another part of your bikes that needs to be checked often is the brake. You would not want your break to wear off and finally not function well when you are trying to slow your speed on the road. If you hear a screeching or squealing sound when you are pulling the brake, it is time to replace the pads or add more brake fluid.
Lights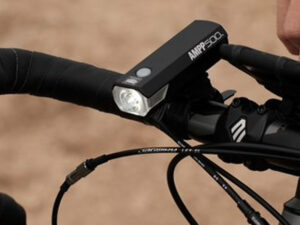 It is mandatory for vehicles with 2 wheels to have their lights on even during midday. So, make sure your front and rear lights are working and wipe away any dust that might be covering the lights before you go on your cycling journey.
Chain Repairing
If you feel like your pedaling has been getting more difficult, it might be because you need a replacement for your bike's chain. You can take your bike to Rodalink's one-stop cycling shop to get your chain inspected and repaired.
Conclusion
That concludes the 3 easy steps to complete the folding bike maintenance you need to remember : cleaning, lubricating, and inspection. Make sure you visit Rodalink to get high quality bike maintenance products that you need! We are having a free local delivery promo live on our website, so start shopping now! You can also choose the payment method that suits you best and even enjoy 0% installment. There is currently a sale on bike parts and accessories as well, so you can complete your biking gear with our high quality products!
Sign up to become a part of the Rodalink Member and get more discounts! You can collect points and get offers for exclusive promos and events. Click here to visit our website.
Find High-Quality Bike Maintenance Now!