You're probably familiar with folding bikes by now. They've been gaining in popularity in recent years, thanks in part to the growing interest in urban cycling and the rise of bike-sharing programs.
But what you might not know is that folding bikes come in all shapes and sizes. So which one is right for you? In this article, we'll introduce you to the different sizes of folding bikes and explain the advantages and disadvantages of each.
Folding Bike Size, Weight, and Folding Mechanism
When choosing the right folding bike size for you, there are a few things you'll need to take into consideration. The first is how you'll be using your bike. If you'll mostly be using it for commuting, you'll want one that's lightweight and easy to fold up and unfold in less than 10 seconds, while others can take a little longer.If you'll be using your bike for leisure rides as well, you may want to choose the size that suits your needs for a more comfortable ride.
Another thing to consider is how much space you have to store your bike. Most folding bikes fold up to a much smaller size than regular bikes, but there are some larger models available if you have the room. Choose the model that's best suited to your needs.
Therefore, you have to consider the size, weight, how to fold the folding bike (folding mechanism). It will help you select the best folding bike that suits your needs. Let's start breaking it down one by one:
Folding Bike Size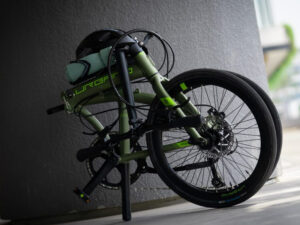 A foldie can have a variety of wheel sizes, ranging from 10 inches to 26 inches. However, the common sizes are 16 inches, 20 inches, and 24 inches.
The 16-inch wheel is the smallest and most lightweight folding bike you can find. Smaller wheels mean a smaller, lighter product—ideal for easy transport. This folding bike with 16-inch wheels has a downside, which is that it is less comfortable when used for long-distance trips such as touring. Also, The small diameter of the tires has an effect on the speed of the folding bike. Compared to other size of folding bicycles, it will be slower.
The 20-inch version of this popular bike is somewhat larger than the 16-inch one. However, it provides a more stable ride. The 20-inch version provides a good balance of portability and performance. In comparison with the 16-inch model, this bike remains manageable even when folded—and offers better riding quality than the smaller one does too! The downside to this 20-inch wheel is heavier than the 16-inch model. A 20 inch folding bike definitely has bigger dimensions, so it requires more space. Bikes of this size are mostly heavier, but again it depends on the materials and components used.
You Might Love This!
The last, a 24-inch folding bike is also significantly larger than the 20 inches one but because of its increased wheel size, it's more stable to ride and can help you deal with hills or bumpy roads. Bikes with this wheel size are challenging to transport by public transportation; some modes of transport won't let riders bring large bikes on. Although it's possible to bring a 24-inch folded bike on board, most passengers will prefer not to do so. Most people find that their full-size bikes fit easily into the trunk of their cars without requiring any additional racks or cases.
Folding Bike Weight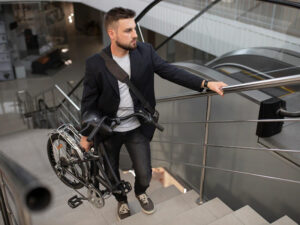 The weight of a folding bike is affected by the material used in manufacturing its frame. A lighter frame material, such as carbon fiber and titanium—which can increase the price at once—will make it easier for you to carry your ride around.
Folding Mechanism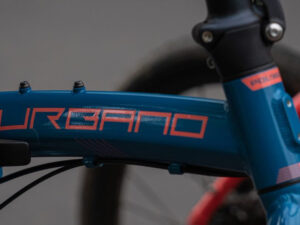 Naturally, people want a folding bike that is easy to fold and unfold. If you are one of those people who run late for the train or misses a deadline because your bicycle was difficult to open, then you'll appreciate how essential it is to find such an efficient mode of transportation.
Tips to choose Folding Bike
If you're looking for a folding bike, it's essential to find the right size. Here are a few tips to help you:
Weight: The lighter the bike, the easier it is to transport. Consider your own physical strength when making this decision.
Size: When folded, a larger bike will take up more space, so think about where you will store it in your home and how you plan to take it with you on the go. Not all bike frames will fold down to the same dimensions and weight. Measure before buying and make sure that your chosen bike is suitable for where you'll be using it and how it will fit in a vehicle or on public transport.
Time needed in folding and unfolding a bike: Folding bikes may be designed to fold quickly and easily, but some require more time than others—it's worth considering if time is a factor for you.
Once you know what size folding bike works best for your needs and lifestyle, buying one should be easy. Keep these points in mind before purchasing a folding bike and start rolling off into the great unknown!
Folding Bike Brand Recommended!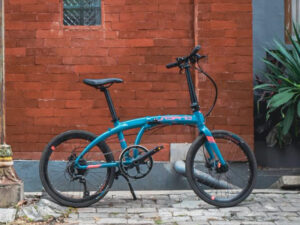 If you are looking for a quality folding bicycle and have many choices, you can consider buying a folding bicycle from the Polygon and Tern brands. For Tern folding bikes, there are two series that you can choose from, including; Series Tern Link Folding Bike, and Series Tern Verge.
Besides the Tern brand, you can also try folding bicycles from the Polygon brand. There are two recommended types of folding bikes for you to choose from, namely the Polygon Urbano 3 Folding Bike and the Polygon Urbano 5 Folding Bike.
The Polygon folding bike, with its ALX Aluminium frame Safety Lock & Magnetic features, is the lightest yet strongest of all folding bikes. For example, Polygon Urbano 5 is perfect for anyone who wants to avoid back pain during cycling. The upright position provided by the frame of this bike makes it much more comfortable than other models on the market—all while still giving riders greater visibility.
Polygon Urbano 5 is also a smoother-riding folding bike whose 20-inch wheels reduce rolling resistance. Get a better experience for long-distance trips—Urbano 5 performs better than 16″ bikes on bumpy roads, too!
You Might Love This!
Conclusion
Ultimately, the size of the folding bike that you choose will come down to how and where you plan to use it. If you need a bike that you can take on public transport or store in a small space, then a smaller folding bike would be the best option. However, if you plan to use your folding bike for longer rides or need a bike that is more sturdy, then you may want to consider a model that is a bit larger in size.
If you are thinking about buying a folding bike, Rodalink is the place to go. With over forty years of experience manufacturing bicycles in Asia, this company has established itself as one of the leading suppliers in its field. You can find a large selection of bikes, parts, and accessories at Rodalink.
If you're a beginner cyclist, there's no need to worry; Rodalink will offer you excellent service. Furthermore, purchasing is easy—all that's needed is registering an account, choosing your dream bike, and paying easily with various payment options
Visit Rodalink's page to find out about special offers and other interesting information. Don't miss the ongoing promotions, which will make your bicycle purchases even more affordable! Enjoy FREE local delivery when you order from Rodalink Malaysia!
Get Your Folding Bike at Rodalink Now!