Do you want to buy a mountain bike but are unsure whether you should purchase a full suspension model? Need help understanding the components of mountain bike suspensions and recommendations for an affordable full suspension option? Look to this article for answers to any questions you have about us.
By the end of this post, you'll know exactly how to set up your full-suspension mountain bike for maximum performance.
What is a Full Suspension Mountain Bike?
Before we jump into the characteristics and components of a full-suspension mountain bike, it would be better if we get to know more about "what is a full-suspension mountain bike".
So, a full suspension mountain bike is a bike that has both front and rear suspension. This means the bike will absorb more impact as you ride, which is especially important when you're dealing with rough terrain. The key reason why you should choose a full-suspension bike is to find the right balance between comfort and performance. Even so, it never hurts to make sure that the suspension is tight enough so you don't lose power, or make sure that it's not too tight, which will cause discomfort and fatigue, before starting to use your full-suspension bike.
However, perhaps some of you are wondering, "why should you choose a full suspension mountain bike?"
Yeah! You should choose a full-suspension mountain bike because it will help you perform better on the trails. When you choose to use a full-suspension mountain bike, it will be easier for you to navigate through tight corners and stay on your bike when you hit bumps. With a full-suspension mountain bike, you don't have to adjust your bike every time you ride it. But if you're going for a serious mountain biking session, it's worth taking the time to make sure your bike is properly tuned.
Now, let's talk about the benefits of having a full-suspension mountain bike. You will find that your bike handles much better on rough terrain and you can ride for longer distances without feeling tired.
Full Suspension Mountain Bike Characteristics and Components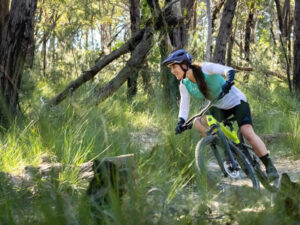 Full suspension bikes have two suspensions: front and rear. They are mountain bikes with the most diverse frame designs—the existence of rear suspension makes it so that the bicycle is divided into two parts, rather than just one. The designers of a bicycle can place the shocks and pivots in different places to create unique bike characteristics. The suspension's position on the frame is vertical (upright) and horizontal (falling down). The orientation doesn't really have much of an impact, as it is more determined by how the frame system reacts to pressure or load.
Polygon, one of the world's leading bicycle brands, uses the NAILD R3ACT system for its premium full-suspension models. This suspension system is developed by NAILD and used exclusively by Polygon and Marin bikes—to increase comfort, control, and efficiency. You can find various types of full-suspension mountain bikes such as the Polygon Full-Suspension mountain bike or Marin Full-Suspension mountain bike at Rodalink Malaysia.
We have already discussed what a full-suspension mountain bike is, now it's time to discuss the components of full-suspension MTB, including:
1. Frames
Full-suspension mountain bikes are built with rear shocks which make the design and manufacture costs of this type of bike higher than that of a regular hardtail. The complexity of this design also means that you have to spend more money on maintenance. Also, full-suspension mountain bikes have a more attractive frame than regular hard-tail bikes.
2. Bike Rear Shock
As we discussed earlier, full-suspension mountain bikes have rear shocks or rear suspensions that are useful for dampening shocks in the rear tires. There are two types of rear shocks that are distinguished from their working system, namely:
Air Rear Shock
This type of rear shock uses air the way it works. When compared, the weight of this type of rear shock is lighter than the coil and has features such as a fork.
Coil/Per Rear Shock
This type of rear shock uses a coil as the way it works. It has a heavier weight and has fork-like features too.
3. The wheel
Both regular and full-suspension hard-tail bikes have almost the same wheel size. Usually, you can find full-suspension bikes with sizes from 27.5 inches to 29 inches. Likewise, with hardtail bikes, the wheel size is in the range of these numbers. The difference is that the hardtail ring is equipped with a lighter rim with more durable hub sealing bearings.
4. Weight
Full-suspension mountain bikes weigh more than regular hardtail bikes. This is because the additional rear shock will also add weight to the bike. In comparison, the Polygon Siskiu T8 full-suspension mountain bike weighs around 15.2 kg, while the regular Polygon hardtail mountain bike, Xtrada 7 weighs around 13 kg, 2.2kg lighter than the full-suspended one.
Conclusion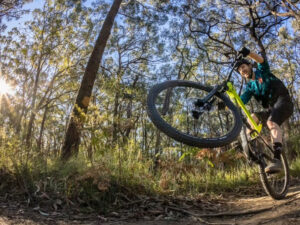 Choosing a full-suspension mountain bike can help you get the most out of your ride. With the contents of this article, you will be able to leak information about the benefits you get when choosing a full-suspension bike that suits your riding style and terrain.
Well, considering the right suspension can improve your handling, make pedaling easier, and increase your comfort while driving. The quality of the suspension on a bike can also significantly affect its price.
If you need help choosing a full-suspension mountain bike that suits your style, come to Rodalink Malaysia and consult our team of professionals—they'll help choose the bike for you from beginner to superstar performance! Also, if you are a cyclist or a rider looking for a bike shop near you to purchase the best mountain bike that fits your needs, visit a Rodalink dealer or online webshop.
Rodalink offers a wide range of brands of bicycles such as Polygon Mountain Bike and Marin Mountain Bike. Rodalink Malaysia also offers high-quality features as well as accessories and parts that will complete your cycling starter pack. It is convenient to buy from Rodalink because you can make purchases 24/7 through the online web store. In addition, you will also have your bike delivered in front of your doorstep—it has been assembled by experts so it's ready-to-ride! Buy your dream bike on Rodalink and get free shipping!