Another day, another (new) term you are learning about cycling. In this article, we will not be talking about the bike for once. Instead, we are going to talk about the shoes we are wearing. Yes, even for riding your bicycle, you can get special shoes that will make the pedaling more effective. These special shoes are called clipless shoes or cleat shoes. In particular, cleats are the clipping mechanism which attaches your shoes to the pedal so that it sticks perfectly. There are 2 types of cleats, the two-bolt cleats which are also called the SPD, that pair with double-sided pedals. The other one is the three-bolt cleats which are also called the SPD-SL, that pair with single-sided pedals. Now, before we dive in deeper, let's learn the basics of cleat shoes versus regular shoes first.
Cycling with Cleat Shoes vs Regular Shoes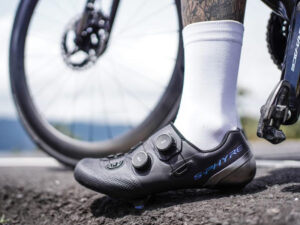 When you are cycling, you are transferring a lot of effort from your leg to your pedals. In certain conditions, when the effort is too much, your feet can slip away from your pedals. This is because there is no restraint that is holding your feet to stay stuck to your pedal. Back in the day, even professionals will have to compensate by strapping their feet to their pedals. Now, we have a mechanism called the clipless shoes that uses cleats to properly lock your feet.
The clipless name itself is actually contradictory to the mechanism, because you are clipping your feet to the pedals, just "automatically" I guess we can say, rather than strapping it manually. The cleats will lock into the specific pedals so that your feet will not slip away when you are riding in any kind of conditions, even when you are pedaling upwards. The effort you give when going up will also be transferred into power which moves the bike, making sure no effort is left to waste.
To clip in your cleat shoes to the pedals, all you have to do is slide the front of the cleat under the catch on the pedal. After that, you press down hard with your heel to make it clip. Once it is clipped, you can feel it clicking under your feet and even hear the click sound it makes. To clip out, all you have to do is twist your heel out towards the side. It is a whole new habit you have to learn. But, with some practice, you will get the hang of it in no time!
Now that we have learned the basics, let's take a look at the differences between the 2 most popular types of cleats you can find on the market, which are the SPD and SPD-SL
SPD Cleats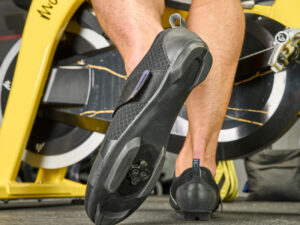 As briefly mentioned before, an SPD cleat is a two-bolt mechanism cleat. Just as seen in the picture, the cleat has 2 bolts which will connect to the pedals. Now, let's talk about the pedals. An SPD pedal is a double-sided pedal. This means, you can clip your shoes on either side without having to worry if the pedal is upside-down.
The SPD type is most suitable for mountain biking and gravel biking, basically an off-road type of cycling. SPD pedals have smaller platforms which are good for off-roading, as your pedals will not get in the way when you are facing extreme obstacles. A pedal that is too big might hit the obstacle you are trying to conquer, potentially interfering with your cycling or even cause more problems.
SPD type also offers you better control over your bicycle. This is good when you are looking for stability when cycling through extremely rough or even slippery terrains.
SPD cleats are also more comfortable to walk on. The two-bolt system is smaller than the three-bolt one, making the two-bolt cleat not bulge as much as the three-bolt. The thickness of the cleat might even be the same with the thickness of the rubber grid on your sole, making it less of a noticeable addition to your shoes. It is also easier to attach SPD cleats as it is more compatible with most shoes on the market.
SPD-SL Cleats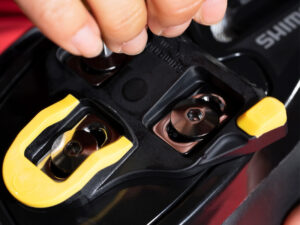 The other type of cleat is the SPD-SL, which has three bolts. This cleat size is bigger than the SPD cleat, meaning that the SPD-SL pedals will also have bigger platforms. This characteristic makes it great for road bikes. The bigger platform will absorb more power from the pedaling effort you give, transferring it into maximum speed when you are cutting through air. This makes cyclists have better stability and power transfer.
SPD-SL pedals are also a single-sided pedal. Meaning, you can only clip onto the pedal from one side. You have to get used to knowing if the right side is up yet. If not, it will take some time for you to turn on the pedal first, then stabilize it, before clipping in.
SPD-SL cleats also have better float. A float is the clearance your feet have for moving while you are still clipped in. So, clipping in does not mean your feet are rigidly stuck to one position only. You can slightly adjust your footing position to give yourself more comfort over the course of your ride. This feature is super beneficial for cyclists who have posture, knee, or other leg problems and pains so that they can adjust their feet position according to their needs.
SPD-SL cleats are more uncomfortable to walk on. The bigger cleat size means it is thicker as well. The thickness will override your shoes' rubber grid, making the cleat bulge out and produce clicking noises when you walk around. But, the good news is, you can find shoe cleat cover to help with the clicking noise, as well as protecting your cleats from wearing down due to frictions with the floor.
Despite the differences, it is still possible to use SPD cleats for road biking. If you have a routine of stopping at cafes during your road bike journey, SPD cleats might be better as you will be walking around more comfortably. By all means, do what is most comfortable for you! You can still get the hang of road biking even with SPD cleats.
Conclusion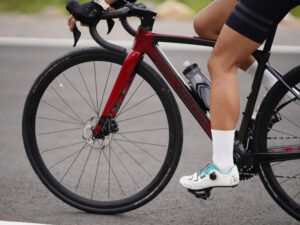 To conclude, SPD cleats are suitable for MTB bikes and gravel bikes, basically an off-roading kind of cycling. It has two bolts and a smaller size of cleats and pedals. This is better for having maximum control over your bike. On the other hand, SPD-SL cleats are suitable for road bikes. It has three bolts and a bigger size of cleats and pedals. This type is better for stability and maximum power transfer for chasing as well as maintaining speed.
To upgrade your cycling using cleat shoes, you can shop your footwear from Rodalink Malaysia now! We have a wide selection of shoes from a reputable brand such as Fi'zi:k and Shimano. The cleats brand is also from Shimano, the one who originally founded SPD and SPD-SL cleats! The price range is also very high. You can definitely find the one that suits your budget and still get the highest quality!
If you are unsure about which shoes and cleats to buy, you can visit Rodalink Malaysia store to consult with our professional team. Just search for kedai basikal near me and click on the store location that is closest to you. The directions will guide you to our store without hassle! You can also shop online through our website and enjoy free local delivery. Just a few taps on your phone and we will deliver it right to your front door! Oh, and also, there is a bike accessories and parts sale on Rodalink Malaysia. What better time to upgrade your cycling experience than now? You can enjoy 0% installment and choose from the various payment methods for your shopping! Plus, if you sign up to become a member of Rodalink Community, you will be eligible for exclusive promos and events. Shop now before the offer ends!
Explore Cycling Shoes at Rodalink Now!