In previous articles, we have talked about the differences between road bike vs mountain bike. Then, we have also discussed the differences between hybrid bike vs road bike. Amongst the various types of bikes the market offers us nowadays, there is also a widely known type, as famous as the road bike, which is the gravel bike. Gravel bike has a big cult following on its own, highlighting the duality of this particular bike. Let's talk about the differences compared to road bike!
Function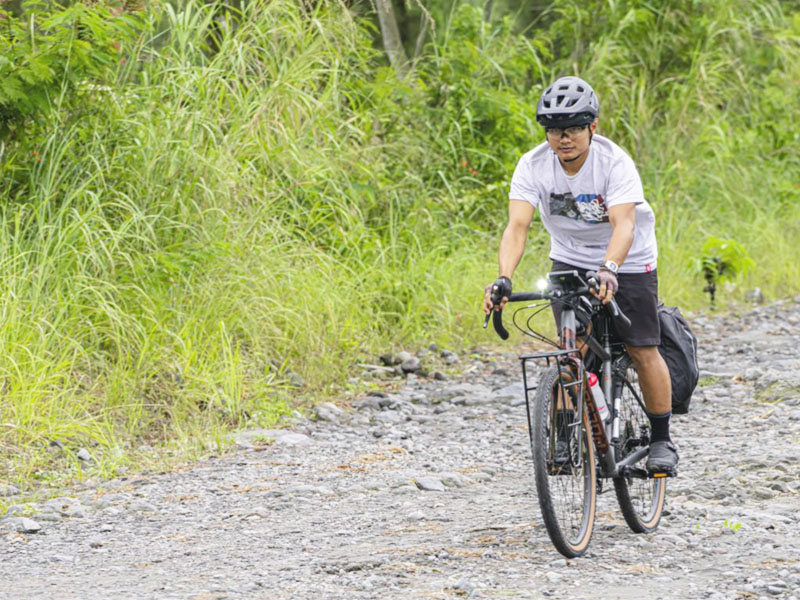 The number one guide when it comes to determining a type of bike, and whether you should get it or not, is the function of the bike itself. What are your goals when riding a bike? Can the bike function in fulfilling your goals? Here are the functions of gravel bike and road bike:
Gravel Bike: meant to be cycled for slight off-roading purposes, whether it is on the gravel paths, dirt roads, fire trails, or even singletracks.
Road Bike: meant to be cycled for speed on smooth pavements, tarmac roads.
Even so, there are mini categories within the gravel bike and road bike itself, making both types very versatile and can be cycled on tarmac or off-road. But, there are small details of each bike that make a big difference which you will soon notice one ride at a time.
Gravel Bike and Road Bike Differences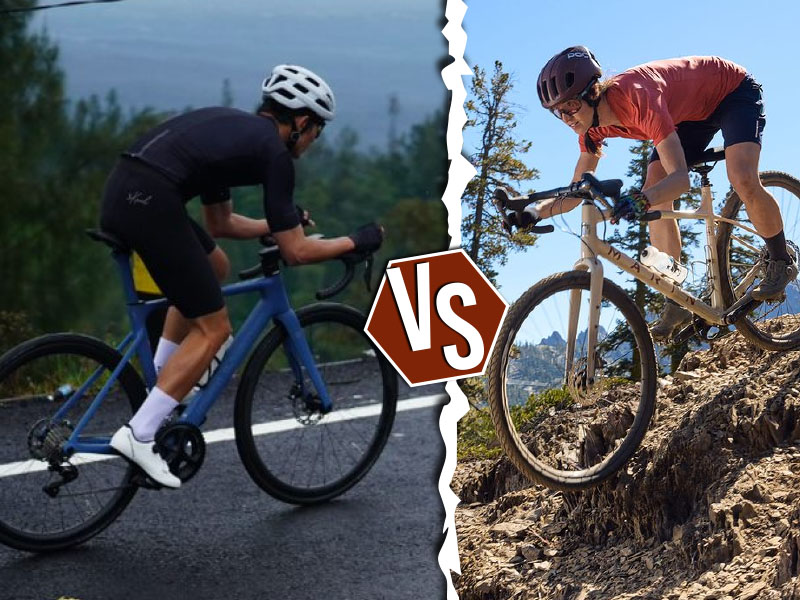 Here are the differences (mainly on its build) of gravel bikes and road bikes.
Geometry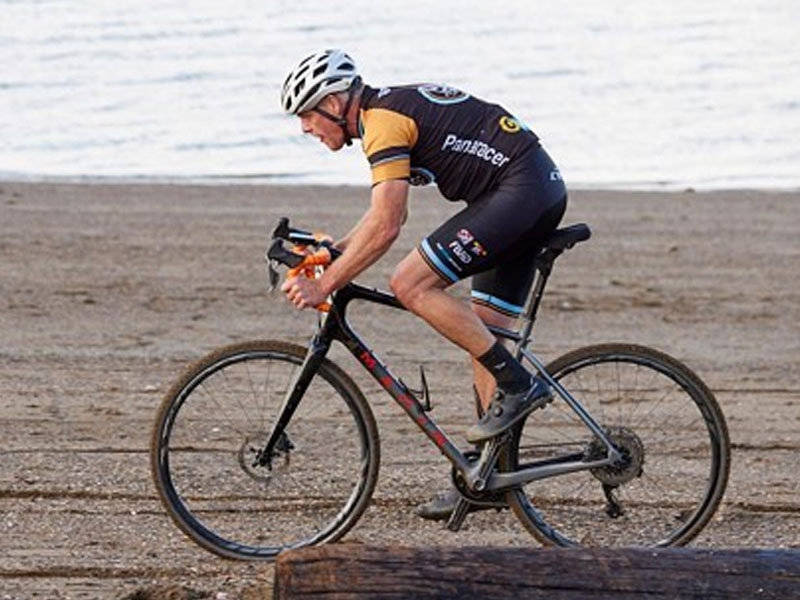 Both gravel bikes and road bikes can appear very similar. But, once you take a closer look at it, you will notice these differences.
Gravel bikes have longer wheelbases, lower height, and more angled head tube to reach your body closer. When it comes to sitting position, your body will be more upright. This geometry will support better stability, control, as well as comfort when you are cycling over uneven surfaces.
Road bikes will have shorter wheelbases, higher height, and more up straight head tube. The straighter head tube will come further from your seatpost, making your body position lay flatter, hence increasing aerodynamics. This will enable you to chase your maximum speed.
Tire/Clearance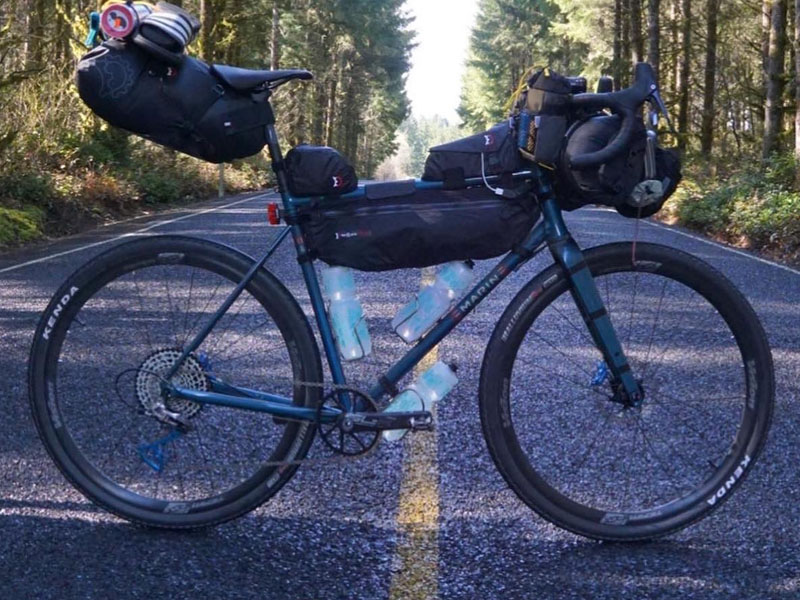 Tires play a huge part on how your bike performs. Basically, wider tires will have more grip and enable you to keep better balance and control. On the other hand, slimmer tires allow you to roll more smoothly. Since the contact area is smaller, the rolling resistance is also smaller, making your bike go faster.
With that said, road bikes will have slimmer tires, with around 28mm to 32mm and sports 700c wheels. Whereas gravel bikes will usually come with tires around 33mm to 35mm and 650b wheels. Going closer, you will also notice that gravel bike tires have deeper tread pattern and knobs to be able to grip onto any off-road surfaces, while road bike tires will be much smoother and plain looking.
Frame Material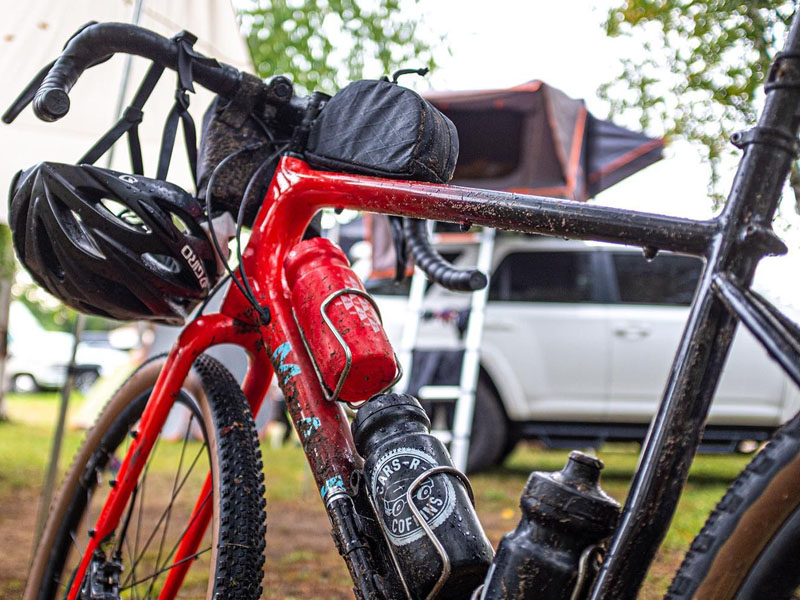 When it comes to materials, there is no specific material for each type. Both gravel bikes and road bikes can be made from either steel, aluminum, or carbon fiber. Steel being the OG material is known for its lightweight characteristic and cheaper price point. But, nowadays, it is rarely used since steel is more prone to corrosion and rusting. Even with the technology and innovation, manufacturers usually opt for the latter two instead.
Aluminum or alloy is the more affordable version of carbon fiber. It is still lightweight and durable, enabling it to handle shocks and bumps without sacrificing speed. If you are a beginner and looking for an entry-level bike, you can look for ones made from this material.
Lastly, carbon fiber is probably the most common material used, due to its durability. Still lightweight, but also stiff and has great vibration absorption at the same time. The price point will be higher than ones made out of alloy. So, if you are willing to invest or looking for an upgrade from your current bike, you can choose ones made from carbon fiber.
Mounting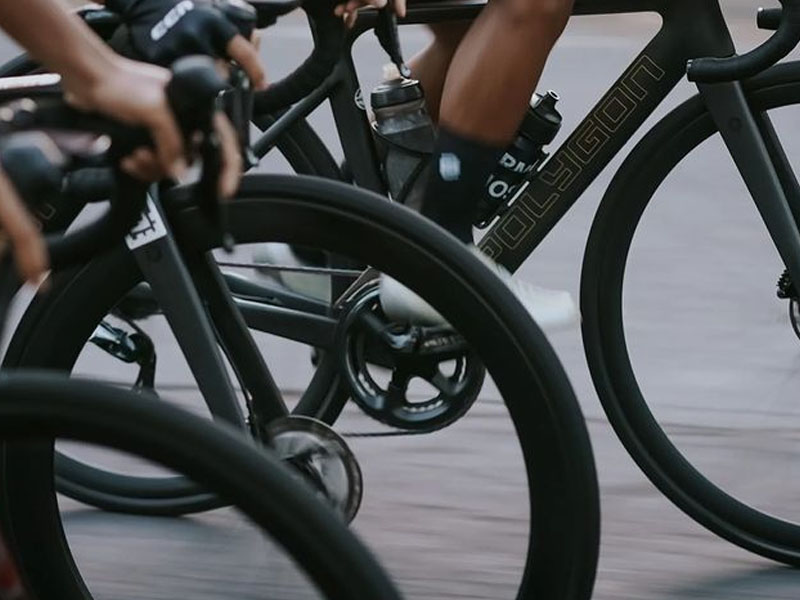 Just as discussed earlier, gravel bikes have longer geometry compared to road bikes. This also affects the mounting points available. Usually on a road bike, you can only fit a pair of bottle rack/cage to make sure you stay hydrated along the ride. For gravel bikes, you will have more room to carry some basic tools in case you have a flat tire or a loose screw. You will be able to mount your essentials on the top tube, fork legs, and even down tube. Plus, your gravel bike frame geometry will offer more room for you to install mudguard/fenders, to keep your frame from dirt and mudsplashes.
Need extra luggage? Discover quality bag bike now!
Handlebar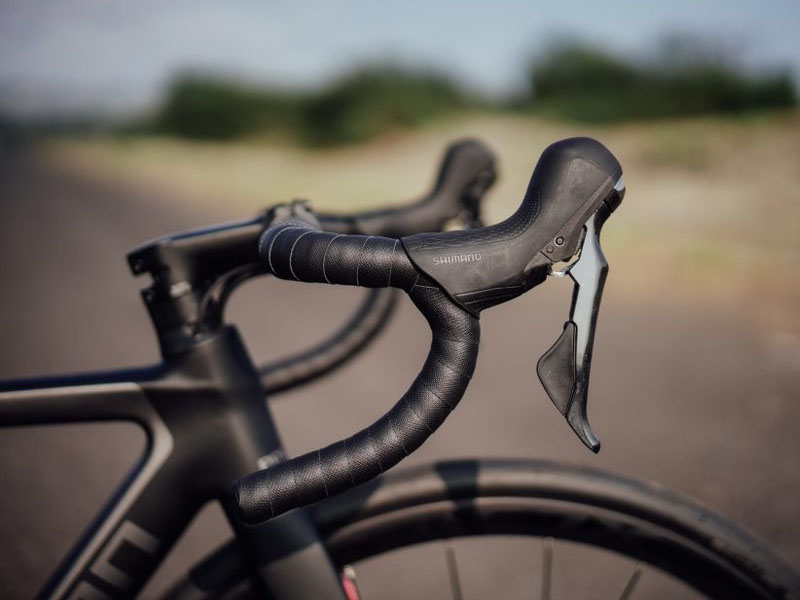 You will find shorter and narrower handlebars on a road bike. The drop part of the handlebar will go straight down, to keep your body shape as compact as possible. The goal is to have less contact area with the wind, to increase aerodynamics.
On the contrary, gravel bikes will have flare handlebars. This means, the drop part of the handlebar will drop on an angle towards the outside of the bike. This will give your overall arm posture more room to move, so you can maneuver your bike more freely for better control and stability.
That wraps up our guide on gravel bike vs road bike! If you are looking for high quality bikes, visit Rodalink Malaysia now! You can look for kedai basikal near me and pick the store location closest to you. We are having a free local delivery service, as well as a 0% installment, which you can pick from our various payment methods. We are also having a sale on bike accessories, so this is the best time for you to get your complete cycling gear! Make sure you are signed up as a Rodalink Member to get exclusive promos and events. Shop now!
SHOP QUALITY ROAD OR GRAVEL BIKE
Discover Your Needs at Rodalink Now!